Monarch Air Group provides private air charter in Santa Barbara, CA. Our clients benefit from top-notch service, unrelenting dedication to safety, wide selection of aircraft, and years of experience in chartering private jets. To obtain a free quote, please use our online quoting tool provided below, or call toll-free 1-877-281-3051.
Charter a private jet to/from Santa Barbara:
Book a Private Jet Charter to and from Santa Barbara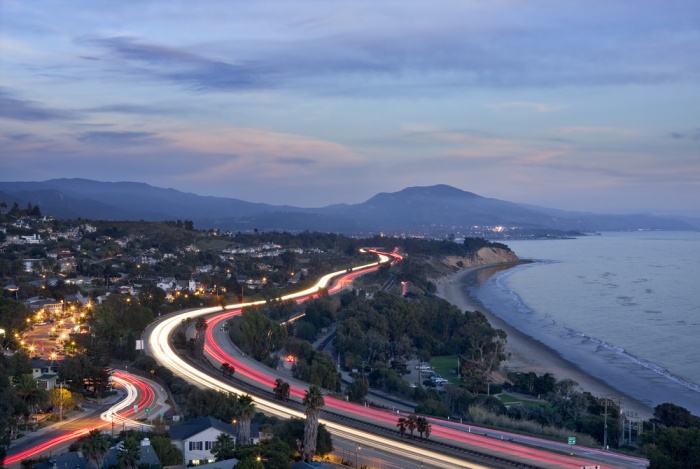 Monarch Air Group provides private jet charter flights in and out of Santa Barbara, California, USA.
Situated against the Santa Ynez Mountains, Santa Barbara is a resort city in California, on the Pacific coast. Having natural beauty surroundings, warm year-round climate, Spanish architecture, and mountainous scenery, Santa Barbara welcomes tourists from all parts of the world.
The downtown area has a beautiful blend of restored 19th-century Mission Revival and adobes architecture. The most famous attractions are the Santa Barbara Bowl, the Santa Barbara County Courthouse, Casa de la Guerra, the Granada Theater, the Arlington Theater, the Lobero Theater, and the El Paseo Theatre. Stearns Wharf, the oldest operating wharf on the West Coast, is home to fine restaurants, exhibits, and shops.
Nicknamed "American Riviera", Santa Barbara has many exotic plants and palm trees lining the streets. Santa Barbara hosts many annual festivals and cultural events including the Fiesta, the Santa Barbara Arts and Crafts Show, the Summer Solstice Parade, and the Santa Barbara International Film Festival.
Santa Barbara Airports are within 70 miles
SBA, KSBA, Santa Barbara Municipal Airport, Santa Barbara, CA
OXR, KOXR, Oxnard Airport, Oxnard, CA
CMA, KCMA, Camarillo Airport, Camarillo, CA
NTD, KNTD, Point Mugu Nas Airport, Point Mugu, CA
LPC, KLPC, Lompoc Airport, Lompoc, CA
VBG, KVBG, Vandenberg AFB Airport, Lompoc, CA
SMX, KSMX, Santa Maria Public Airport, Santa Maria, CA
VNY, KVNY, Van Nuys Airport, Van Nuys, CA
WHP, KWHP, Whiteman Airport, Los Angeles, CA
SMO, KSMO, Santa Monica Municipal Airport, Santa Monica, CA
FAQ for private flight to Santa Barbara
Why choose a charter jet to Santa Barbara with Monarch Air Group?
The demand for business aviation services remains high year after year. Santa Barbara private jet charters can meet all customer requirements and provide additional comfort, saving you valuable time. Choose your departure point and destination and you're presented with available jet options, a list of optional services, and more. Please call one of our agents, regarding charter jet Santa Barbara.
How much does it cost to book a Santa Barbara private jet charter?
As for Santa Barbara private jet costs, it's mostly determined by the class of aircraft and the range of the flight. The booking time is not as important as on commercial flights. You will know the exact price of an air charter to Santa Barbara after you get detailed advice from our specialists. On our website, you will also find a charter flight cost calculator, for an approximate estimate of the cost of your flight.
Here are some approximate prices for private flights to Santa Barbara:
Charter a Private Jet from Teterboro to Santa Barbara: light jet – starting at $ 36,740;
Charter Flights from Seattle to Santa Barbara: turboprop – starting at $ 12,360;
Private Charter Flights from Houston to Santa Barbara: light jet – starting at $ 25,240.
What is the best plane to choose for Santa Barbara charter flights?
The cost of a private flight and the comfort of the flight is mainly determined by the type of aircraft. Aircraft for air charter service Santa Barbara are selected according to the requirements of the customers. For example, light jets are better suited for flights of a few people for a short distance, and the lease of the heavy jet will be more expensive, but the level of comfort will be significantly higher. To enquire about the aircraft you are interested in, please submit the flight request form, or call our agents 24/7 at 1-877-281-3051.
| Aircraft type | Passengers | Non-stop range | Cruising speed | Intended use |
| --- | --- | --- | --- | --- |
| Light Jet | up to 6 passengers | about 700 – 2000 miles | 476 to 518 mph | for comfortable short- to mid-range distances |
| Midsize Jet | up to 10 passengers | about 1300 – 1500 miles | 422 to 541 mph | to fly nonstop from coast to coast |
| Super midsize Jet | up to 10 passengers | about 3.500 – 4.000 miles | 490 to 590 mph | for longer flights |
| Heavy Jet | up to 18 passengers | about 6.000 miles | 480 to 551 mph | traveling overseas in luxury for an intercontinental flight |
| Turboprops | up to 10 passengers | about 600 – 1.900 miles | 220 to 360  mph | for short- to mid-range flights |
| Ultra-Long Range Jet | up to 19 passengers | about 2,800 – 7,685 miles | 460 to 594 mph | for long-haul travels |
| Helicopters | up to 28 passengers | about 250 – 600 miles | 150 to 175 mph | for passenger and cargo transportation |
What are the benefits of flying a Santa Barbara private jet?
Renting a private jet has some distinct advantages over commercial flights. Flying should be a pleasure, and we will make your charter flight as personalized and comfortable as possible. For more information on private plane charter Santa Barbara, please contact our consultants. You may ask any questions to get more precise information about your flight arrangements. Moreover, you can take advantage of our group charter flight service and make your group travel in maximum comfort.
How to book a Santa Barbara empty leg flight?
Empty legs offer travelers the option of flying on a private jet with a clear cost advantage. These flights become available when the aircraft returns to base after disembarkation or when it heads to the passenger boarding area. We are ready to advise you on any questions regarding Santa Barbara empty leg flights. You can contact us at your convenience, we will help you with airport and hotel transfers.
Popular Destinations near Santa Barbara by Private Jet
Malibu – is a sunny city that offers many high-end shopping malls, and impeccable beaches and can entertain even the most demanding private flight passenger.
Van Nuys – offers a list of the best restaurants, stores, and cultural venues near Los Angeles.
Santa Monica – perfect for tourists and business travelers, offers a variety of entertainment, an exciting assortment of restaurants, beaches, and unique museums.
Beverly Hills – is America's most famous shopping district, offering world-class service to residents and visitors.
Burbank – surrounded by scenic mountains, offers visitors a variety of interesting tours, live theaters, picnic areas, and many public green spaces.
Our clients travel on efficient and comfortable private jets. If you haven't found the answers to all your questions here, you can contact our experienced and reliable team at any time or visit our air charter FAQ page.