Monarch Air Group provides private air charter in San Diego, CA. Our clients benefit from top-notch service, unrelenting dedication to safety, wide selection of aircraft, and years of experience in chartering private jets. To obtain a free quote, please use our online quoting tool provided below, or call toll-free 1-877-281-3051.
Charter a private jet to&from San Diego
Book a Private Jet Charter to and from San Diego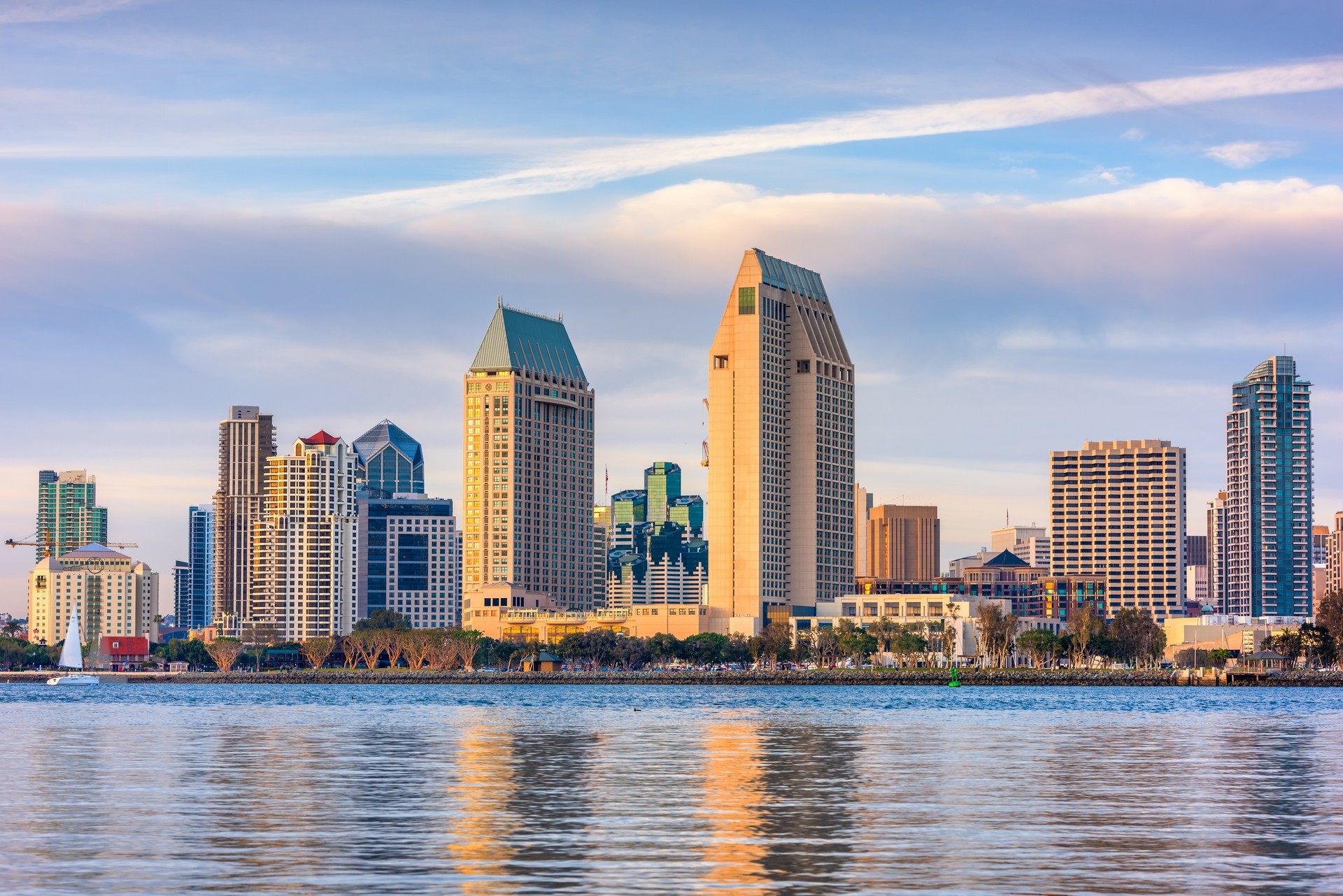 Monarch Air Group offers private jet charter services to and from San Diego, CA, USA.
San Diego is California's second-largest city on the Pacific coast. The city is known for its gentle year-round climate, long coastline, and natural harbor. About 3 million people live here. Also, the emerald hills and beautiful weather draw lovers of different kinds of recreation here yearly.
San Diego is close to the border of Mexico, giving it a great mix of cultures and a great variety of colorful attractions. The city center offers travelers famous tourist attractions, luxury hotels, and restaurants. In addition, visitors to San Diego can visit the local zoo, which has about 650 species of animals, or the SeaWorld aquarium to see Garra rufa fish and a bamboo shark.
Also, while traveling in San Diego, you should definitely try the most popular activity – surfing. Furthermore, the city hosts many cultural events throughout the year. Among them is the Martin Luther King Jr. Parade, which features multicultural performances, and the Mainly Mozart Festival for classical music fans.
Private jet travelers to San Diego have a choice of over 11 airports, located within a 50 miles radius of the city itself, to fly into. The major airports in San Diego used for private travel include San Diego International Airport (SAN), Brown Field Muni Airport (SDN), and Gillespie Field Airport (SEE). Please check Monarch Air Group fleet. There are also a great variety of one-way and empty leg flights available for charter in the San Diego area.
Airports for Private Jet near San Diego
SAN, KSAN, San Diego International Airport, San Diego, CA
TIJ, MMTJ, Tijuana International Airport, Tijuana, Mexico
CLD, KCRQ, CRQ, McClellan-Palomar Airport, Carlsbad, CA
SDM, KSDM, Brown Field Municipal Airport, San Diego, CA
Hotels in San Diego
Omni Hotel San Diego, 675 L St, San Diego.
Hotel Solamar, 435 6th Avenue, San Diego.
Hotel Indigo San Diego, 509 9th Avenue, San Diego.
The Us Grant, San Diego, 326 Broadway, San Diego.
Omni Hotel San Diego, 675 L St, San Diego.
Hotel Solamar, 435 6th Avenue, San Diego.
Manchester Grand Hyatt San Diego, 1 Market Pl, San Diego.
Hotel Indigo San Diego, 509 9th Avenue, San Diego.
Sofia Hotel, 150 West Broadway, San Diego.
Omni Hotel San Diego, 675 L St, San Diego.
FAQ for a Private Jet Charter Flights to San Diego
Why choose a charter jet to San Diego with Monarch Air Group?
Monarch Air Group provides private flights to and from San Diego and offers only real aircraft for rent, all tested and safe. Our team will fulfill your requirements to ensure that our services meet your expectations. Give one of our agents a call about charter jet San Diego. You decide when to take off, where to land, who to bring, and what services and amenities will be provided on board.
How much does it cost to book a San Diego private jet charter?
The cost of a San Diego private jet depends on the aircraft type and the flight range. Therefore, the service is calculated for each customer. If you can't find the information you need for the San Diego air charter, you can contact us by phone or e-mail. We will calculate the cost of the desired route, focusing on finding the most economical solution. Moreover, you can estimate the flight cost by using the charter flight cost calculator.
Here are some approximate prices for private flights to San Diego:
To / From
Location
Price flight
(in one-way)
Aircraft
Type
New York
from $31,200
Midsize jet
Miami
from $32,300
Midsize jet
Seattle
from $18,690
Light jet
Las Vegas
from $4,500
Piston
Houston
from $23,630
Light jet
*Estimated price before taxes & fees.
What types of private jets can use for San Diego charter flights?
Monarch Air Group has access to a vast network of private jets, giving you the flexibility to choose a plane for San Diego charter flights. We are pleased to provide you with a suitable solution and expert advice. From various aircraft types, we can offer VIP jets, turboprop heavy jets, or light jets for San Diego private jet charters.
| Aircraft type | Passengers | Non-stop range | Cruising speed | Intended use |
| --- | --- | --- | --- | --- |
| Light Jet | up to 6 passengers | about 700 – 2000 miles | 476 to 518 mph | for comfortable short- to mid-range distances |
| Midsize Jet | up to 10 passengers | about 1300 – 1500 miles | 422 to 541 mph | to fly nonstop from coast to coast |
| Super midsize Jet | up to 10 passengers | about 3.500 – 4.000 miles | 490 to 590 mph | for longer flights |
| Heavy Jet | up to 18 passengers | about 6.000 miles | 480 to 551 mph | traveling overseas in luxury for an intercontinental flight |
| Turboprops | up to 10 passengers | about 600 – 1.900 miles | 220 to 360 mph | for short- to mid-range flights |
| Ultra-Long Range Jet | up to 19 passengers | about 2,800 – 7,685 miles | 460 to 594 mph | for long-haul travels |
| Helicopters | up to 28 passengers | about 250 – 600 miles | 150 to 175 mph | for passenger and cargo transportation |
What are the advantages of flying on a San Diego private jet?
Renting a private jet has several undeniable advantages over commercial flights. First, it is a private space that makes enjoyable travel moments as comfortable as possible. Departure times and destinations can be chosen tailored to your travel plan. This flexible planning is complemented by a high level of comfort, even with group charter flights for passengers. Our specialist is available to you 24 hours, seven days a week, for all your private plane charter San Diego needs.
Popular Destinations near San Diego by Private Jet
Palm Springs—is a desert city and a favorite destination for celebrities, business, and leisure travelers.
Los Angeles—is considered one of the top tourist destinations and the world's entertainment capital.
Long Beach—20 miles south of downtown Los Angeles, is a great outdoor retreat and an ideal destination for business travelers.
Carlsbad—on the Pacific Coast, is a picturesque coastal town that reflects the heritage of the region's diverse cultures.
Our clients travel on efficient and comfortable private jets. If you haven't found the answers to all your questions, you can contact our experienced and reliable team at any time or visit our air charter FAQ page.