Monarch Air Group provides private air charter in Salzburg. Our clients benefit from top-notch service, unrelenting dedication to safety, wide selection of aircraft, and years of experience in chartering private jets. To obtain a free quote, please use our online quoting tool provided below, or call toll-free 1-877-281-3051.
Charter a private jet in Salzburg
Book a Private Jet Charter to Salzburg, Austria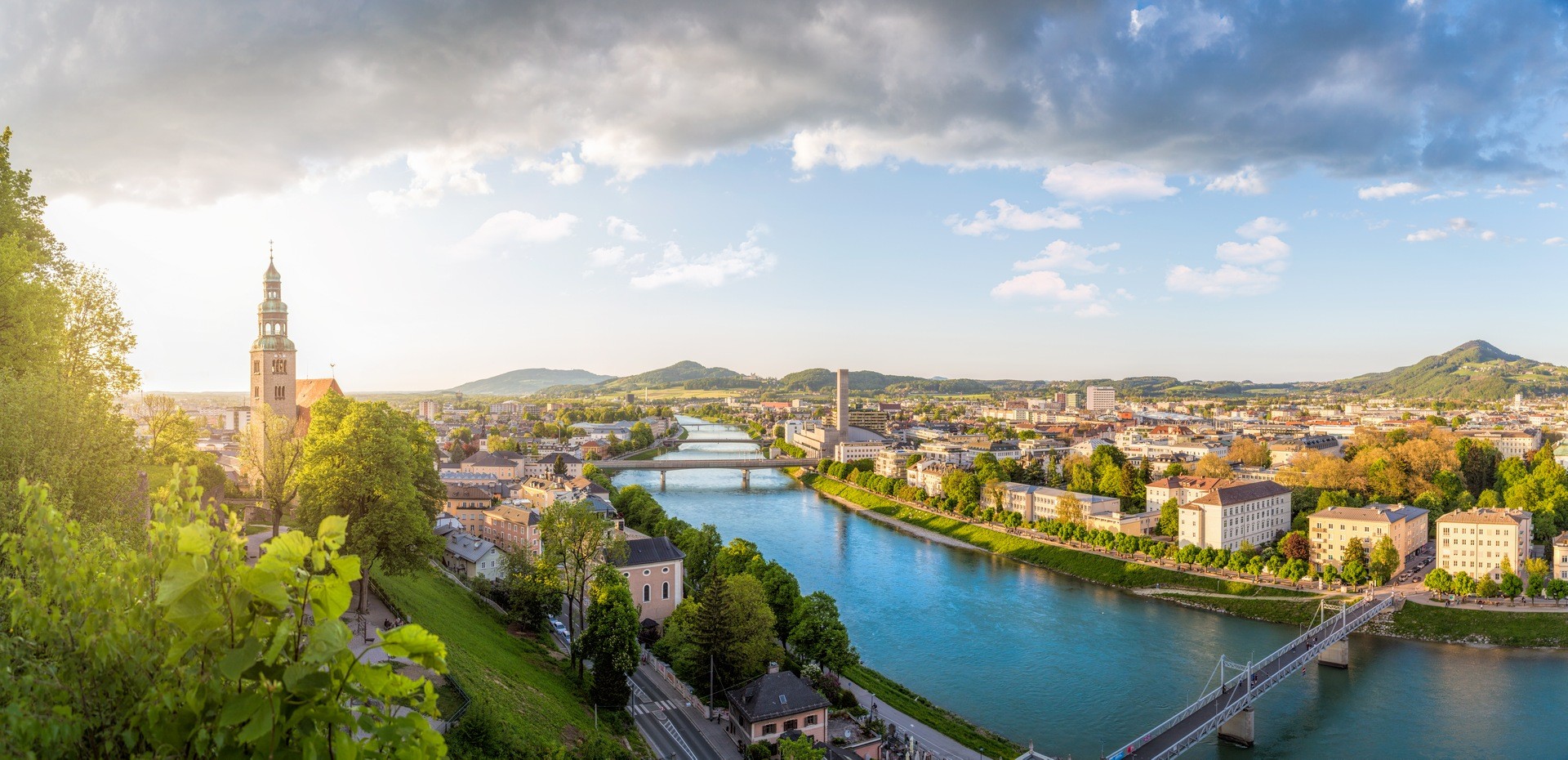 Monarch Air Group offers a wide variety of private jet charter options to and from Salzburg, Austria.
At the northern foothills of the Alps on the banks of the Salzach River lies the beautiful city of Salzburg, the fourth largest in Austria. It is one of the best-preserved urban centers and is a UNESCO World Heritage Site. Take a private jet charter to Salzburg and journey through the historic center and picturesque surroundings.
Salzburg attracts stunning mountain scenery, fascinating history, and unique sights. In its centuries-long history, the city has preserved a collection of magnificent works of architecture and is considered one of the most picturesque places in Austria. Late spring is the perfect time for a private charter flight to Salzburg, a picturesque Austrian city. At this period, Salzburg offers the opportunity to enjoy its delightful sights outdoors in comfort and enjoyment.
With a private jet to Salzburg, take a stroll along the historic Getreidegasse shopping street, and visit the stunningly landscaped Mirabel Palace or the Salzburg Cathedral. The city's major attractions include St. Peter's Abbey, Mozart's Residence, St. Sebastian's cemetery, Nonnberg Abbey, Untersberg mountain, the lakes area called Salzkammergut, Salzburg Zoo, the castles and parks of Hellbrunn.
The charter jet to/from Salzburg is served by Salzburg Airport (SZG), the largest international airport in Austria that offers domestic and international flights and is located 1 mile from the city center.
Cost to charter a private jet to or from Salzburg
The cost of a private jet to Salzburg will vary depending on the size of the private jet, duration, flight time, and other factors. Here are some price options for private jets to or from Salzburg.
To/From Location
London
Athens
Paris
Aircraft Type
Turboprops
Turboprops
Light Jet
Estimated Price
(One-Way)
$12,500 – $17,500
$16,500 – $22,500
$12,700 – $17,400
Flight Duration
2hr 35min
3hr 40min
1hr 37min
Salzburg Private Jet Airports within 70 miles
LNZ, Blue Danube
MUC, Franz Josef Strauss
SZG, W. A. Mozart
FAQs: Private Jet Flights to Salzburg
Why choose a private jet to Salzburg with Monarch Air Group?
Monarch Air Group offers a private jet charter to Salzburg, Austria, an unscheduled personal flight tailored to your personal needs. With Salzburg private charter flights, you rent the whole plane, which gives you complete flexibility and quicker transfers. You'll enjoy first-class service and the attention of courteous staff at private jet rentals in Salzburg.
How much does it cost to book a Salzburg private jet charter?
The price of a Salzburg private jet charter varies between $5,600 and $11,000 per billable flight hour and is dependent mainly on the distance flown and the aircraft class. The bigger the aircraft and the farther away you fly, the more expensive the charter flight to Salzburg will cost.
What types of private jets can use for Salzburg charter flights?
We have access to all sizes of private jets, including the most popular executive jets available for Salzburg air charter service. To choose the most suitable option among Salzburg jets, you need to consider how many passengers are flying, the flight time, where to land, and the level of comfort you want on board.
What are the advantages of flying on a Salzburg private jet?
With private jet charters Salzburg, you can enjoy all the benefits of private aviation. Chartering on a private jet means you can forget the hassle of showing up 2 hours before departure and long lines at the airport for inspection and boarding. A private flight offers privacy, personal space, personalized service, and luxurious surroundings.
Popular destinations near Salzburg by private jet
Vienna – a majestic city with traditional architecture, is home to some of Austria's most famous tourist attractions.
Innsbruck – in the west of the country, it's a place where winter sports are combined with outstanding imperial architecture.
Hallstatt – one of the best places in Austria, between the lakes and mountains in the Salzkammergut region, offers many tourist attractions.
Graz – is filled with Renaissance and Baroque architecture and many exciting sights in the country's southeast.
Our clients travel on efficient and comfortable private jets. If you have yet to find the answers to all your questions here, you can contact our experienced and reliable team at any time or visit our air charter FAQ page.