Monarch Air Group provides private air charter in Saginaw, Michigan. Our clients benefit from top-notch service, unrelenting dedication to safety, wide selection of aircraft, and years of experience in chartering private jets. To obtain a free quote, please use our online quoting tool provided below, or call toll-free 1-877-281-3051.
Charter a private jet in Saginaw, MI:
About Saginaw, Michigan, United States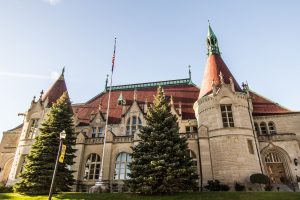 Monarch Air Group offers a wide variety of private jet charter options to and from Saginaw, Michigan, United States.
Located in the Mid-Michigan area, Saginaw is the county seat of and a welcoming city in Saginaw County, with a population of almost 52,000 residents. The city lies in the heart of the Great Lakes Bay Region and is famous for its fabulous cultural activities and special events. Saginaw provides a plethora of business opportunities and leisure activities. It has a stable economy that is mainly focused on clean energy, manufacturing exports, and innovation.
There are abundant attractions to discover in Saginaw, including the Saginaw Art Museum, Pride and Country Village, Saginaw Veterans Memorial Plaza, Saginaw Valley Rail Trail, Hoyt Park, Fashion Square Mall, Hoyt Library, Andersen Enrichment Center, Ojibway Island, Japanese Cultural Center, Mid-Michigan Children's Museum, Shiawassee National Wildlife Refuge, and Castle Museum.
The two nearest major airports are MBS International Airport situated 14 miles from the city center and Bishop International Airport located 38 miles from Saginaw.
Saginaw, MI Airports within 70 miles
1. AMN, Gratiot Community, Alma, United States.
2. ECA, Emmet County Airport, East Tawas, United States.
3. FNT, Bishop International Airport, Flint, United States.
4. GDW, Gladwin, Gladwin, United States.
5. LAN, Capital City, Lansing, United States.
6. MOP, Municipal, Mount Pleasant, United States.
7. PTK, Pontiac, Pontiac, United States.
8. TEW, Mason Jewett Field, Mason, United States.
Hotels in Saginaw, MI
1. Bancroft Wine & Martini Bar, 101 South Washington Avenue, Saginaw.
2. Castle Museum of Saginaw County, 500 Federal Avenue, Saginaw.
3. Panda House Chinese Restaurant, 1010 North Niagara Street, Saginaw.
4. Milano's Pizza, 3085 Bay Road #14, Saginaw.
5. Centro Grille, 4882 Gratiot Road, Saginaw.
6. Ramada Saginaw Hotel & Suites, I-675 Exit 3, 3325 Davenport Avenue, Saginaw.
7. Regency Inn, 5655 Dixie Highway, Saginaw.
8. Perry's Schuch Hotel, 303 North Hamilton Street, Saginaw.
9. Montague Inn, 1581 S Washington Ave, Saginaw.
10.  Genji Japanese Steak House Inc, 3870 Bay Road, Saginaw.
11. Olive Garden, 3630 Bay Road, Saginaw.
12.  Tony's Original Restaurant, 2612 State Street, Saginaw.