Monarch Air Group provides private air charter in Sacramento, CA. Our clients benefit from top-notch service, unrelenting dedication to safety, wide selection of aircraft, and years of experience in chartering private jets. To obtain a free quote, please use our online quoting tool provided below, or call toll-free 1-877-281-3051.
Charter a private jet in Sacramento:
Private Jet Charter to and from Sacramento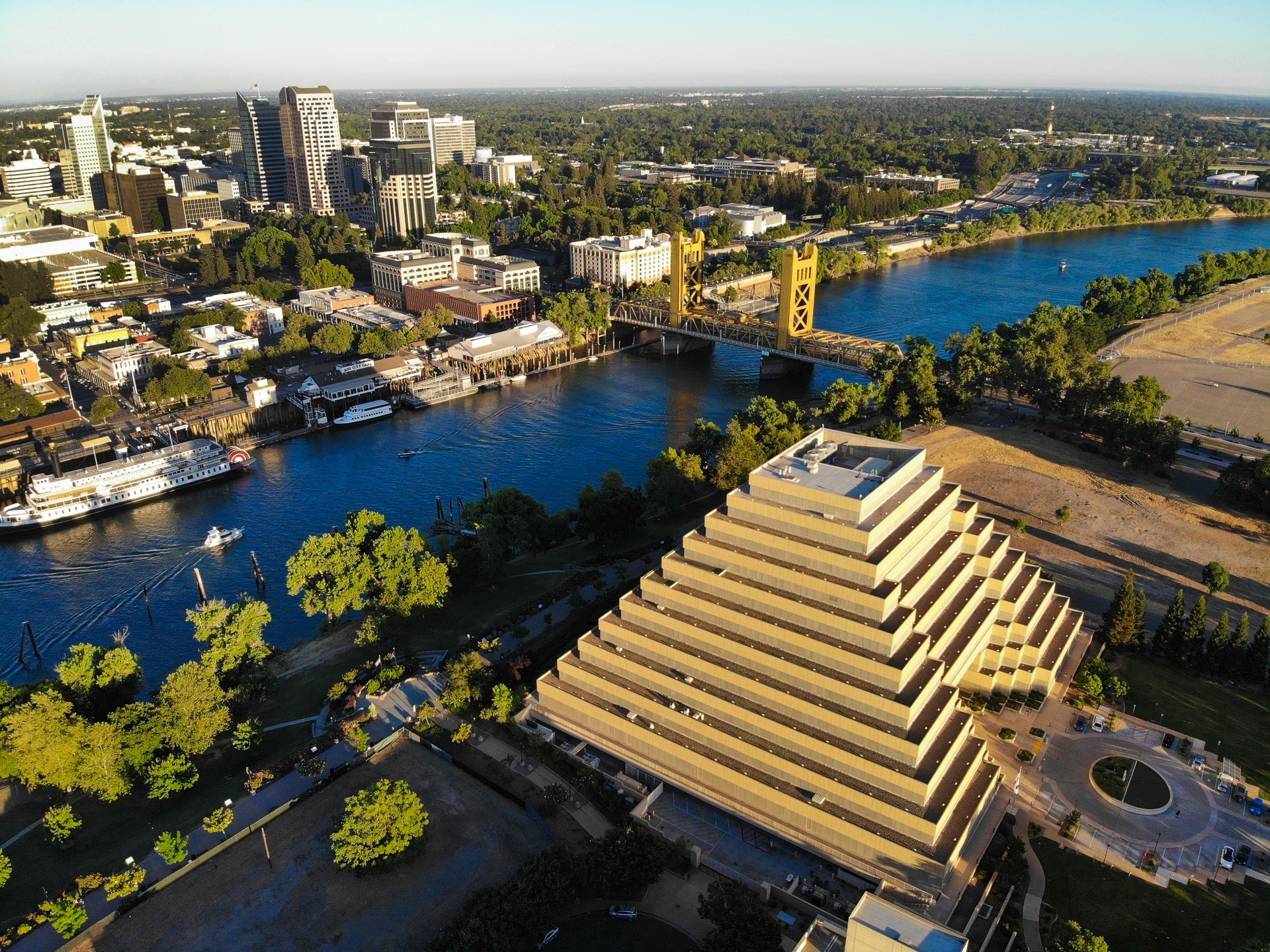 Monarch Air Group offers private jet charter services to and from Sacramento, CA.
Nestled in California's vibrant Central Valley, Sacramento is a thriving city that combines a rich history with modern amenities and a bustling cultural scene. As the capital of California, the city offers many activities and attractions that cater to a diverse range of interests. Whether you're a history buff, a nature enthusiast, or an art lover, Sacramento private jet charter is a captivating destination that has something for everyone.
Once you've chartered a private jet to Sacramento, step back in time as you wander through the charming streets of Old Sacramento, a historic district that reflects the city's rich Gold Rush heritage. Stroll along wooden sidewalks, explore restored 19th-century buildings, and visit captivating museums like the California State Railroad Museum and the Sacramento History Museum. Hop on a riverboat for a leisurely cruise along the Sacramento River and marvel at the stunning views.
With a private jet to Sacramento, pay a visit to the stunning California State Capitol building, where decisions shaping the state's future are made. Take a guided tour to explore the grand architecture, and historical artifacts, and learn about California's political history. Afterward, wander through the adjacent Capitol Park, a beautiful urban oasis featuring lush gardens, memorial statues, and diverse plant species.
When booking a private jet to Sacramento, escape the hustle and bustle of the city and immerse yourself in nature at the American River Parkway. Stretching 23 miles along the American River, this scenic park offers a multitude of outdoor activities. Hike or bike along the extensive trail system, go fishing, have a picnic, or simply relax by the riverside and soak in the tranquil ambiance.
The 6,000-acre Sacramento International Airport is situated 10.5 miles to the northwest of Downtown Sacramento in Sacramento County, California, United States.
Sacramento Private Jet Rental Cost
Sacramento private jet rental range from $2,000 – $17,000 per billable flight hour or more. Turboprop jets cost from $1,800 to $2,400 per hour, light jets cost from $2,400 to $3,900, mid-size or super-midsize jets cost from $4,200 to $8,100 per flight hour, while heavy and ultra-long range jets per flight hour cost from $7,200 to $17,800.
Airports for Private Jet near Sacramento
APC, Napa County, Napa, United States.
AUN, Auburn, Auburn, United States.
BAB, Beale AFB, Marysville, United States.
BLU, Blue Canyon, Blue Canyon, United States.
CCR, Buchanan Fld, Concord, United States.
COA, Columbia, Columbia, United States.
JBK, Berkeley, Berkeley, United States.
JBS, Hacienda Bus.Park H/P, Pleasanton, United States.
JCE, Convention Center H/P, Oakland, United States.
JEM, Heliport, Emeryville, United States.
LVK, Livermore, Livermore, United States.
MCC, Mcclellan AFB, Sacramento, United States.
MHR, Sacramento Mather Airport, Sacramento, CA, United States.
MYV, Yuba County, Marysville, United States.
NOT, Novato, Novato, United States.
OVE, Oroville, Oroville, United States.
PVF, Placerville, Placerville, United States.
SAC, Executive, Sacramento, United States.
SCK, Stockton Metropolitan Airport, Stockton, United States.
SMF, Sacramento International, Sacramento, CA, United States.
Hotels in Sacramento
Citizen Hotel, 926 J Street, Sacramento.
Delta King Hotel, 1000 Front Street, Sacramento.
Delta King Hotel, 1000 Front Street, Sacramento.
Governors Inn Hotel Sacramento Hotel – Newly Remodeled!, 210 Richards Boulevard, Sacramento.
Super 8 Sacramento State Capitol/Downtown, 216 Bannon Street, Sacramento.
Embassy Suites Sacramento Riverfront Promenade, 100 Capitol Mall, Sacramento.
Holiday Inn, 300 J Street, Sacramento.
Sheraton Grand Sacramento Hotel, 1230 J Street, 13th and J Street, Sacramento.
Citizen Hotel, 926 J Street, Sacramento.
Embassy Suites Sacramento Riverfront Promenade, 100 Capitol Mall, Sacramento.
FAQ: Private Jet Flights to Sacramento
Why choose a charter jet to Sacramento with Monarch Air Group?
When you choose Monarch Air Group to organize your trip to Sacramento, your safety and enjoyment will always take precedence. Our private aircraft are outfitted with cutting-edge technology to improve your flight. Your journey should be enjoyable, unique, and unforgettable.
What Types of the Private Jets Can Use for Sacramento?
When choosing a private aircraft for a trip to Sacramento, Monarch Air Group considers some essential factors. The route, required range, cost, and passengers are included. While providing charter services, your comfort, safety, and enjoyment of the journey are our top priorities.
What are the Benefits of Flying Sacramento Private Jet?
Private airplane travel has a lot of benefits. You can choose the people and places you want to visit when you charter a private plane to Sacramento. We might be able to offer you a luxurious private aircraft, depending on the number of passengers and the number of open departure seats. Any demands you may have can be met by our travel specialist twenty-four hours a day, seven days a week.
Can I Bring My Pet on a Private Jet to Sacramento?
Monarch Air Group is proud to offer pet-friendly flights to Sacramento since we cherish and adore all animals. Considering the particular requirements and limitations of any flight is crucial, though. The safety of your traveling companions is one of our top priorities.
Popular Destinations near Sacramento by Private Jet
Just an hour and a half from Sacramento, Lake Berryessa is a popular destination for boating, fishing, and hiking. Visitors can also enjoy swimming, kayaking, and picnicking in this beautiful natural setting.
If you're a wine lover, Napa Valley is a must-visit destination. Located just an hour and a half from Sacramento, this region is known for its world-class wineries, gourmet food, and luxurious spas.
San Francisco is one of the most popular destinations in California, and it's only a 90-minute drive from Sacramento. The city is known for its iconic landmarks, such as the Golden Gate Bridge, Alcatraz Island, and Fisherman's Wharf. You can explore the city's diverse neighborhoods, sample local cuisine, and soak up the vibrant culture.
Modern technology is installed in our private aircraft to maximize flight efficiency and security. We work hard to give you outstanding customer service and all the details required for a unique experience. For further information, please visit our "Frequently Asked Questions" section or get in touch with us.