Monarch Air Group provides private air charter in Rosario, Argentina. Our clients benefit from top-notch service, unrelenting dedication to safety, wide selection of aircraft, and years of experience in chartering private jets. To obtain a free quote, please use our online quoting tool provided below, or call toll-free 1-877-281-3051.
Charter a private jet to&from Rosario
About Rosario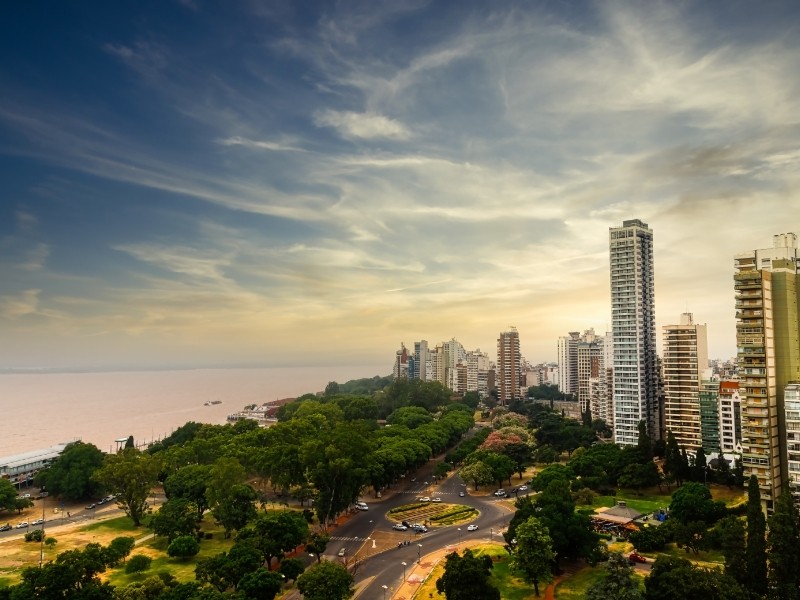 Monarch Air Group offers private jet charter services to and from Rosario, Argentina.
Rosario is the third largest city in Argentina, home to nearly 2 million residents. The city is popular with leisure travelers because of its lively culture, friendly hospitality and natural setting on the Paraná River. The Paraná River is the second longest river in South America. The river flows 3,000 miles across the continent before it reaches the Atlantic Ocean. Rosario is situated at a bend in the river where it turns east and flows for 300 miles before it reaches the Atlantic Ocean.
An exploration of Rosario's unique attractions begins with Monumento a la Bandera, the site where the flag of Argentina was first flown on February 27, 1812. The 230-ft. (70 m) monument was built with stone from the Andes Mountains to commemorate the Revolution of 1810. In a touching tribute, an eternal flame honors the memory of the armed forces.
Despite the Paraná River and delta's muddy appearance, kayaking and boating are popular ways to explore the river. Visitors can traverse the wide-open waters of the Paraná and paddle along its shoreline to spot colorful tropical birds, ducks, turtles and other animals that gather at the shoreline.
The sandy promenade and grassy areas of La Costanera are popular gathering places, especially for a scenic view of the river. Guided bike tours are a great way to take in the city's neo-classical architecture, tree-lined streets and public plazas.
At the southern end of La Costanera, Parque Urquiza is a popular attraction for families. The Municipal Astronomical Complex includes a Planetarium, Observatory and museum. Throughout the year, live concerts can be enjoyed at the Humberto De Nito Municipal Amphitheater.
Rosario – Islas Malvinas International Airport (SAAR), formerly known as Fisherton International Airport, is the primary airport that serves the city of Rosario. The airport is 8 miles (3 km) from downtown Rosario.
Rosario Map
Airports within 70 miles For Private Jets to Rosario
1. ROS, Rosario – Islas Malvinas International Airport, Rosario, Argentina
2. SFN, Sauce Viejo Airport, Santa Fe, Argentina
3. PRA, General Justo José de Urquiza Airport, Parana, Argentina
4. AEP, Jorge Newbery Airfield, Buenos Aires, Argentina
5. EPA, El Palomar Airport, El Palomar, Argentina
6. EZE, Ministro Pistarini International Airport, Buenos Aires, Argentina