Monarch Air Group provides private air charter in Reno, NV. Our clients benefit from top-notch service, unrelenting dedication to safety, wide selection of aircraft, and years of experience in chartering private jets. To obtain a free quote, please use our online quoting tool provided below, or call toll-free 1-877-281-3051.
Charter a private jet in Reno:
Private Jet Charter to and from Reno, Nevada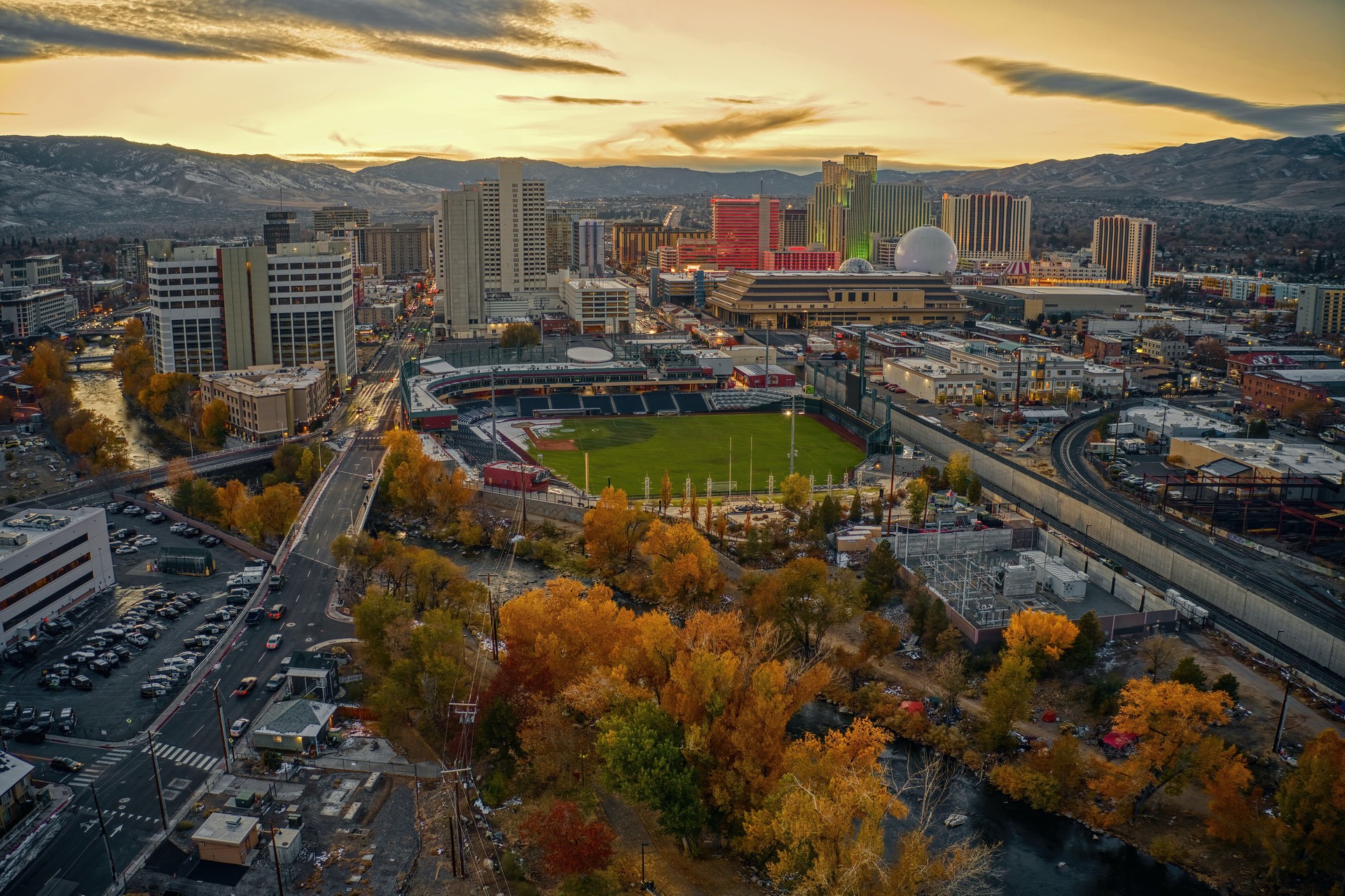 Monarch Air Group provides private jet charter flights in and out of Reno, Nevada, USA.
Reno, located in western Nevada, serves as the county seat of Washoe County. With approximately 225,221 residents, the city has earned the nickname "The Biggest Little City in the World." It holds the distinction of being the birthplace of the renowned gaming corporation Harrah's Entertainment. Whether you're a nature enthusiast, a gaming aficionado, or an art lover, Reno private jet charter has something for everyone.
One of the highlights of Reno is the charming Riverwalk District, located along the banks of the Truckee River. Book a private jet to Reno and stroll along the scenic Riverwalk, lined with restaurants, cafes, shops, and art galleries. Enjoy a leisurely brunch at a riverside eatery, browse the unique boutiques for local crafts and souvenirs, or admire the vibrant street art that adorns the district. The Riverwalk District hosts various events and festivals annually, providing a lively and cultural experience.
Reno has a rich history as a gambling destination, and a visit to this city wouldn't be complete without trying your luck at one of its many casinos. Once you've chartered a private jet to Reno, test your skills at the blackjack or poker tables, spin the roulette wheel, or try your hand at the slot machines. The city's casinos offer a range of entertainment options, including live shows, concerts, and fine dining experiences. Remember to explore the iconic and historic Harrah's, Eldorado, and Peppermill casinos, which have become symbols of Reno's lively gaming scene.
Reno is also an ideal base camp for outdoor enthusiasts due to its proximity to stunning natural landscapes. Lake Tahoe, known for its crystal-clear waters and breathtaking scenery, is just a short drive away. Rent a private jet to Reno and engage in various water sports such as kayaking, paddleboarding, or simply relaxing on the sandy beaches. For hiking and biking enthusiasts, the nearby Sierra Nevada mountains provide endless trails with picturesque views of alpine meadows, towering peaks, and cascading waterfalls.
Reno-Tahoe International Airport (RNO / KRNO), 5 miles from the city's center, serves the region.
Reno Private Jet Rental Cost
Reno private jet rental range from $2,000 – $17,000 per billable flight hour or more. Turboprop jets cost from $1,800 to $2,400 per hour; light jets cost from $2,400 to $3,900; mid-size or super-midsize jets cost from $4,200 to $8,100 per flight hour, while heavy and ultra-long range jets per flight hour cost from $7,200 to $17,800.
Airports for Private Jets near Reno
BLU, Blue Canyon, Blue Canyon
CSN, Carson City, Carson City
EYR, Yerington, Yerington
FLX, Municipal, Fallon
MEV, Douglas County, Minden
NFL, NAS, Fallon
TKF, Truckee-Tahoe, Truckee, CA
TVL, South Lake Tahoe, South Lake Tahoe
FAQ: Private Jet Flights to Reno
Why choose a charter jet to Reno with Monarch Air Group?
When you choose Monarch Air Group for a private flight to Reno, your safety and comfort come first. Our private aircraft are outfitted with luxurious amenities to make your flight more pleasant. In addition, we strive to make your trip memorable, enjoyable, and special.
What Types of the Private Jets Can Use for Reno?
Monarch Air Group considers a number of essential factors when selecting a private aircraft for the voyage to Reno. Cost, passenger capacity, required range, and itinerary are included. Our staff prioritizes your safety, happiness, and comfort in every aspect of our charter services.
What are the Benefits of Flying Reno Private Jet?
Private aircraft offers many benefits over alternative modes of transportation when traveling to Reno. As a reputable provider of private jet rentals, we admit the importance of accommodating your budget, preferences, and schedule. We are committed to offering flexible travel options, allowing us to tailor your trip to your specifications and create a unique, seamless experience.
Can I Bring My Pet on a Private Jet to Reno?
Monarch Air Group is pleased to offer flights to Reno that are pet-friendly because we respect and value all animals. Nonetheless, it is crucial to comprehend each route's particular rules and restrictions. We guarantee the security and comfort of your traveling companions.
Popular Destinations near Reno by Private Jet
Located southeast of Reno, Virginia City is a historic town that preserves the spirit of the Wild West. It was once a booming mining town during the Comstock Lode era and features preserved 19th-century buildings, saloons, museums, and mine tours.
Positioned west of Reno, Truckee is a charming mountain town in California. It is a gateway to popular ski resorts like Northstar California Resort and offers a historic downtown area with shops, galleries, and restaurants.
Virginia City is a historic town located southeast of Reno and remains a popular tourist destination, drawing visitors with its rich history, Old West charm, and preserved architecture. It is home to several museums that showcase its rich history, including the Comstock History Center, the Nevada State Museum, and the Mark Twain Museum at the Territorial Enterprise. Visitors can also take guided mine tours to explore the underground mining world.
Our private aircraft are equipped with advanced technologies in order to guarantee the dependability and efficacy of your flight. We endeavor to exceed your expectations because your total satisfaction is our top priority. Please refer to our "Frequently Asked Questions" section or contact us for further information. Additionally, we pursuit to provide exceptional service and all the necessary information for an unforgettable flight.