Monarch Air Group provides private air charter in Raleigh, NC. Our clients benefit from top-notch service, unrelenting dedication to safety, wide selection of aircraft, and years of experience in chartering private jets. To obtain a free quote, please use our online quoting tool provided below, or call toll-free 1-877-281-3051.
Charter a private jet in Raleigh
Book a Private Jet Charter to and from Raleigh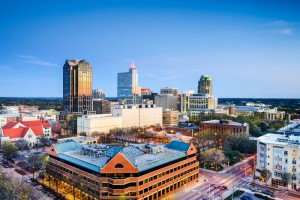 Monarch Air Group offers private jet charter services to and from Raleigh, NC, USA.
Often called "the City of Oaks", Raleigh is the capital of the state of North Carolina. In 2008 Raleigh had over 400,000 people and was ranked the second most populated city in North Carolina and the fastest-growing city in the United States.
Being one of the United States' best high-tech and biotech research foundations, Raleigh's industry is mainly based around medical, electrical, and telecommunication development. In 2009, WomenCo magazine on their list for best cities to start or grow your career rated Raleigh #5. Raleigh has something to offer both tourists and families.
There are the 1st published U.S.newspaper, the J.C.Raulstom Arboretum Botanical gardens, and many visual arts centers, and museums.
Airports for Private Jet near Raleigh
KTTA, Raleigh Exec Jetport-lee, Sanford, NC
K5W5, Triple W, Raleigh, NC
KW17, Raleigh East, Knightdale, NC
00NC, North Raleigh, Louisburg, NC
RDU, KRDU, Raleigh-Durham International Airport, Raleigh, NC
LFN, KLHZ, LHZ, Triangle North Executive Airport, Louisburg, NC
KHRJ, HRJ, Harnett Regional Jetport, Erwin, NC
IGX, KIGX, Horace Williams Airport, Chapel Hill, NC
KTDF, TDF, Person County Airport, Roxboro, NC
RWI, KRWI, Rocky Mount-Wilson Regional Airport, Rocky Mount, NC
KHNZ, HNZ, Henderson-Oxford Airport, Oxford, NC
Hotels in Raleigh
Sheraton Raleigh Hotel, 421 South Salisbury Street, Raleigh.
Sheraton Raleigh Hotel, 421 South Salisbury Street, Raleigh.
Clarion Hotel State Capital, 320 Hillsborough St, Raleigh.
Holiday Inn Brownstone Hotel, 1707 Hillsborough Street, Raleigh.
Sheraton Raleigh Hotel, 421 South Salisbury Street, Raleigh.
Clarion Hotel State Capital, 320 Hillsborough St, Raleigh.
Holiday Inn Brownstone Hotel, 1707 Hillsborough Street, Raleigh.
FAQ for a Private Jet Charter Flights to Raleigh
Why choose a charter jet to Raleigh with Monarch Air Group?
No matter what purpose you book your private jet for, we offer an unparalleled commitment to providing the highest service standards. We offer a fully personalized luxury Raleigh private jet charter travel experience. You get 24/7 support and guarantees of safety and reliability. Call one of our agents for a charter jet to Raleigh.
How much does it cost to book a Raleigh private jet charter?
Several factors influence the cost of a Raleigh private jet, such as the number of passengers, the distance, and the aircraft type. Therefore, this service is not formulaic and is calculated individually for each client. You can contact our experts if you have not found the necessary information on the air charter Raleigh. Moreover, you can estimate the flight cost by using our charter flight cost calculator.
Here are some approximate prices for private flights to Raleigh:
To / From
Location
Price flight
(in one-way)
Aircraft
Type
New York
from $6,040
Piston
Miami
from $9,550
Turboprop
Los Angeles
from $34,270
Light jet
Las Vegas
from $32,600
Light jet
Chicago
from $12,590
Turboprop
*Estimated price before taxes & fees.
What types of private jets can use for Raleigh charter flights?
Our charter experts can find affordable and competitively priced aircraft options for Raleigh charter flights in no time. Your choice depends on the range of your flight, the level of comfort you require, and the number of passengers. We provide expert aircraft selection assistance and 24/7 support for any questions.
| Aircraft type | Passengers | Non-stop range | Cruising speed | Intended use |
| --- | --- | --- | --- | --- |
| Light Jet | up to 6 passengers | about 700 – 2000 miles | 476 to 518 mph | for comfortable short- to mid-range distances |
| Midsize Jet | up to 10 passengers | about 1300 – 1500 miles | 422 to 541 mph | to fly nonstop from coast to coast |
| Super midsize Jet | up to 10 passengers | about 3.500 – 4.000 miles | 490 to 590 mph | for longer flights |
| Heavy Jet | up to 18 passengers | about 6.000 miles | 480 to 551 mph | traveling overseas in luxury for an intercontinental flight |
| Turboprops | up to 10 passengers | about 600 – 1.900 miles | 220 to 360 mph | for short- to mid-range flights |
| Ultra-Long Range Jet | up to 19 passengers | about 2,800 – 7,685 miles | 460 to 594 mph | for long-haul travels |
| Helicopters | up to 28 passengers | about 250 – 600 miles | 150 to 175 mph | for passenger and cargo transportation |
What are the advantages of flying on a Raleigh private jet?
Chartering a private jet has several undeniable advantages over commercial flights. We are ready to provide almost any service you may need during your private plane charter to Raleigh. Some services we provide are catering, hotel transfers, or individual meals on board. Our specialist is available to you 24/7 for all your needs.
Popular Destinations near Raleigh by private jet
Greensboro—is a great daytime destination with a wealth of history, art, and entertainment.
Charlotte—is the largest city in its state and the center of finance, business, and technology.
Richmond—is Virginia's state capital, offering many cultural and business opportunities.
Columbia—is home to performing arts venues, entertainment events, and festivals.
Our clients travel on efficient and comfortable private jets. If you haven't found the answers to all your questions, you can contact our experienced and reliable team at any time or visit our air charter FAQ page.