Monarch Air Group provides private air charter in Raleigh, NC. Our clients benefit from top-notch service, unrelenting dedication to safety, wide selection of aircraft, and years of experience in chartering private jets. To obtain a free quote, please use our online quoting tool provided below, or call toll-free 1-877-281-3051.
Charter a private jet in Raleigh
Private Jet Charter to and from Raleigh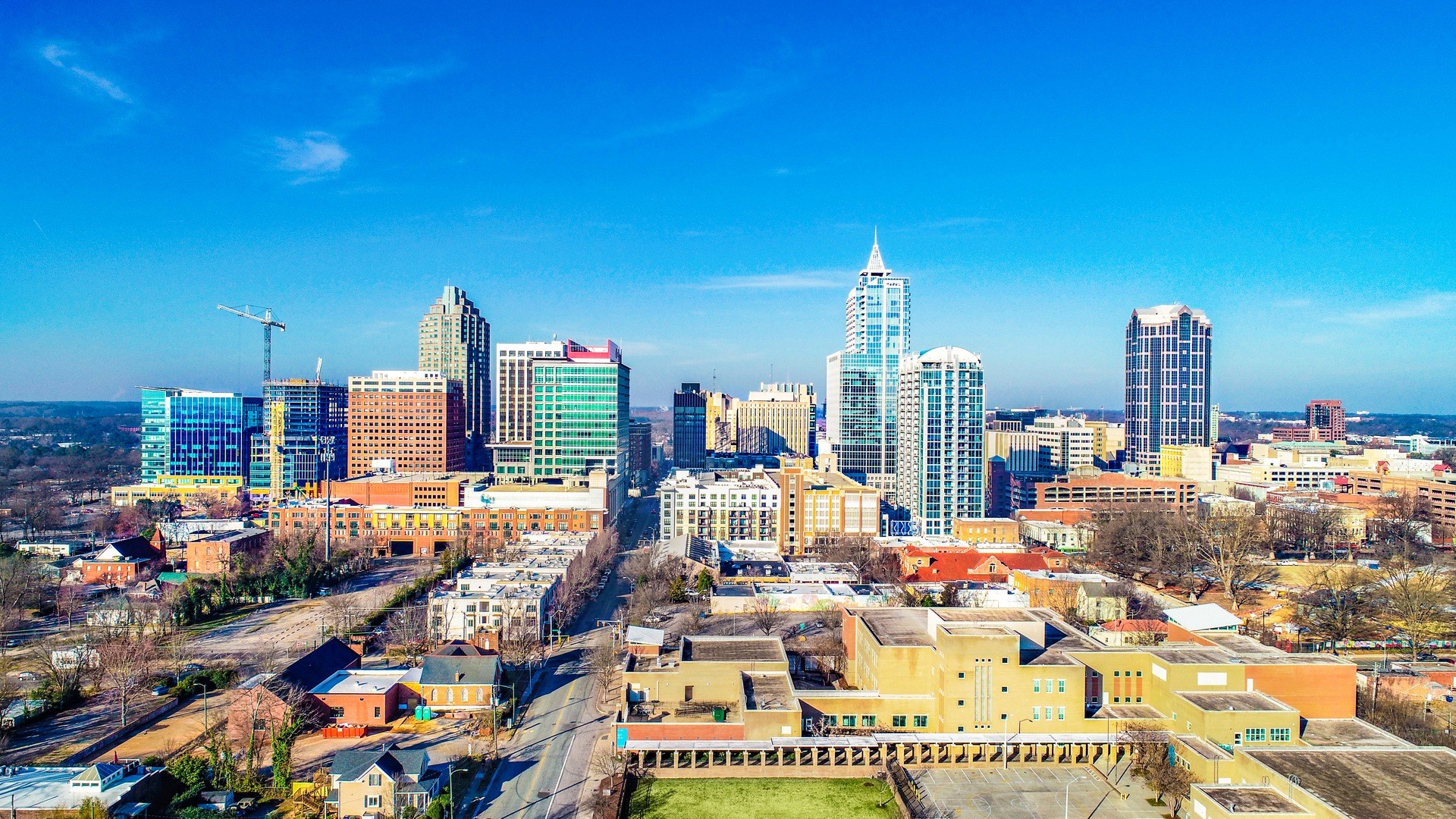 Monarch Air Group offers private jet charter services to and from Raleigh.
Raleigh, known as "the City of Oaks," proudly stands as the capital of North Carolina. With a population exceeding 400,000 in 2008, it was the second most populous city in the state and the fastest-growing city in the entire United States. From its tree-lined streets and historical landmarks to its burgeoning food and arts scene, Raleigh private jet flight has something for everyone.
Renowned as a leading hub for high-tech and biotech research, Raleigh boasts a thriving industry centered on medical advancements, electrical innovations, and telecommunications. It has been recognized as one of the United States' top locations for pursuing careers in these fields. In 2009, WomenCo magazine ranked Raleigh as the fifth-best city for starting or advancing one's professional journey. So, whether you're a history buff, nature enthusiast, or simply looking for a memorable experience, Raleigh private jet charter offers top attractions and activities to explore.
When chartering a private jet to Raleigh, begin your journey by delving into the fascinating world of science at the North Carolina Museum of Natural Sciences. With four floors of interactive exhibits, including dinosaur fossils, live animals, and hands-on displays, this museum offers a captivating experience for visitors of all ages. Don't miss the impressive Nature Research Center, where you can engage in citizen science projects and witness scientists at work.
Rent a private jet to Raleugh and escape the hustle and bustle of the city by visiting the tranquil JC Raulston Arboretum. Spanning over 10 acres, this botanical garden is a haven for plant lovers and nature enthusiasts. Take a stroll through the picturesque grounds, admire the vibrant blooms, and gain inspiration for your garden. The arboretum also hosts educational programs and events throughout the year.
Raleigh–Durham International Airport is North Carolina's primary international airport, serving Raleigh, Durham, and the neighboring Research Triangle region.
Raleigh Private Jet Rental Cost
Raleigh's private jet rental ranges from $2,000 to $17,000 per billable flight hour or more. Turboprop jets cost from $1,800 to $2,400 per hour, light jets cost from $2,400 to $3,900, mid-size or super-midsize jets cost from $4,200 to $8,100 per flight hour, while heavy and ultra-long range jets per flight hour cost from $7,200 to $17,800.
Airports for Private Jets near Raleigh
KTTA, Raleigh Exec Jetport-lee, Sanford, NC
K5W5, Triple W, Raleigh, NC
KW17, Raleigh East, Knightdale, NC
00NC, North Raleigh, Louisburg, NC
RDU, KRDU, Raleigh-Durham International Airport, Raleigh, NC
LFN, KLHZ, LHZ, Triangle North Executive Airport, Louisburg, NC
KHRJ, HRJ, Harnett Regional Jetport, Erwin, NC
IGX, KIGX, Horace Williams Airport, Chapel Hill, NC
KTDF, TDF, Person County Airport, Roxboro, NC
RWI, KRWI, Rocky Mount-Wilson Regional Airport, Rocky Mount, NC
KHNZ, HNZ, Henderson-Oxford Airport, Oxford, NC
Hotels in Raleigh
Sheraton Raleigh Hotel, 421 South Salisbury Street, Raleigh.
Sheraton Raleigh Hotel, 421 South Salisbury Street, Raleigh.
Clarion Hotel State Capital, 320 Hillsborough St, Raleigh.
Holiday Inn Brownstone Hotel, 1707 Hillsborough Street, Raleigh.
Sheraton Raleigh Hotel, 421 South Salisbury Street, Raleigh.
Clarion Hotel State Capital, 320 Hillsborough St, Raleigh.
Holiday Inn Brownstone Hotel, 1707 Hillsborough Street, Raleigh.
FAQ: Private Jet Flights to Raleigh
Why Choose a Charter Jet to Raleigh with Monarch Air Group?
When you choose Monarch Air Group to handle your trip to Raleigh, your safety and comfort will always be the top priorities. Our private aircraft are outfitted with cutting-edge technology to improve your flight experience. Your journey should be memorable, pleasurable, and unique.
What Types of the Private Jets Can Use for Raleigh?
Monarch Air Group considers several important factors when choosing a private aircraft for a trip to Raleigh. The route, required range, cost, and passengers are included. While providing charter services, we prioritize your safety, comfort, and enjoyment of the journey.
What are the Benefits of Flying Raleigh Private Jet?
Private aircraft travel has many benefits. When you book a private jet to Raleigh, you can select the people and locations you will visit. We can provide you with a private aircraft, depending on the number of passengers and available departure seats. Our travel agent is available 24 hours a day, seven days a week to assist you with your travel requirements.
Can I Bring My Pet on a Private Jet to Raleigh?
Monarch Air Group is delighted to provide pet-friendly flights to Raleigh because we respect and admire all animals. Nevertheless, it is crucial to consider the specific requirements and restrictions of each flight. The safety of your traveling companions is our highest priority.
Popular Destinations near Raleigh by Private Jet
Situated just a short drive from Raleigh, Durham is known for its vibrant arts scene, world-class universities, and historic American Tobacco Campus. Explore the renowned Duke University campus, visit the Nasher Museum of Art, or catch a performance at the Durham Performing Arts Center. Remember to indulge in the city's diverse culinary offerings and explore the picturesque Sarah P. Duke Gardens.
Home to the University of North Carolina at Chapel Hill, this charming college town exudes a laid-back atmosphere and boasts a rich cultural heritage. Explore the picturesque campus, stroll through Franklin Street, lined with shops and restaurants, and visit the Ackland Art Museum. Chapel Hill is also known for its lively music scene and hosts numerous festivals and events yearly.
Adjacent to Raleigh, Cary offers a mix of urban amenities and natural beauty. Discover the vibrant downtown area with its shops, eateries, and entertainment options. Stroll through the Fred G. Bond Metro Park, enjoy Lake Crabtree County Park outdoor activities, or catch a performance at the Koka Booth Amphitheatre. Cary is known for its green spaces and family-friendly attractions.
Our private aircraft are outfitted with cutting-edge technology to enhance flight safety and efficiency. We endeavor to provide superior customer service and all the necessary details for an unforgettable experience. Please visit our "Frequently Asked Questions" section or contact us for additional information.