Monarch Air Group provides private air charter in Punta Gorda, Florida. Our clients benefit from top-notch service, unrelenting dedication to safety, wide selection of aircraft, and years of experience in chartering private jets. To obtain a free quote, please use our online quoting tool provided below, or call toll-free 1-877-281-3051
Charter a private jet in Punta Gorda, FL:
Book a Private Jet Charter to and from Punta Gorda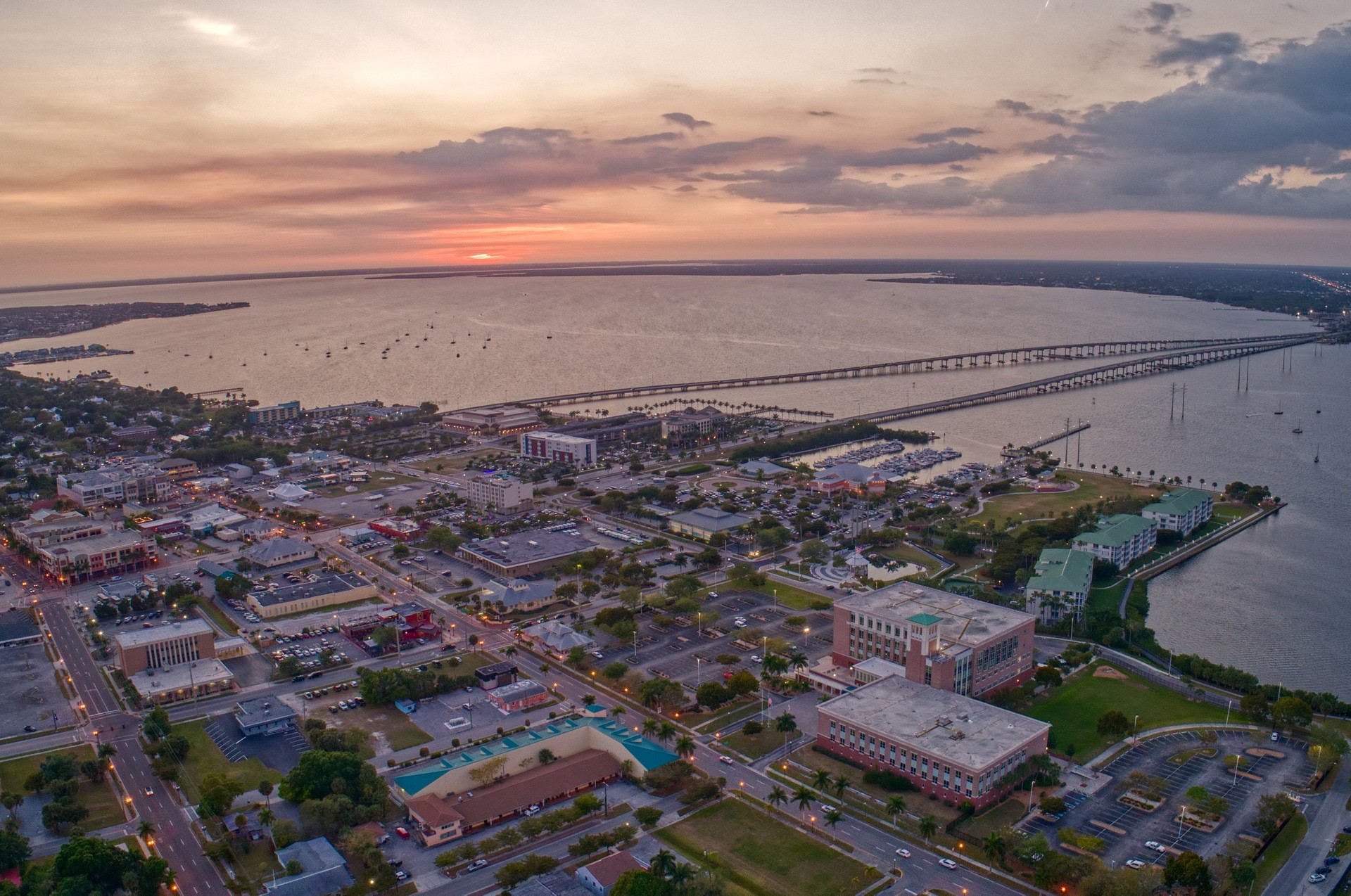 Monarch Air Group offers plenty of private jet charter options to and from Punta Gorda, Florida, United States.
Known for its abundant historical sites, Punta Gorda is the county seat of and a city rich in history in Charlotte County. With a growing population of over 18,796 people, it is the principal city of the Punta Gorda Metropolitan Area. Nestled on the eastern shore of Charlotte Harbor, Punta Gorda is a popular tourist destination with something to offer every visitor. With world-class facilities and opportunities, the city is perfect for private jet charter Punta Gorda, as well.
There are lots of attractions to enjoy and things to try when charter a private jet Punta Gorda, including the Alligator Creek Preserve, Harbor Heights Park, Blanchard House Museum, Punta Gorda History Park, Babcock Ranch Preserve, Ponce de Leon Park, Laishley Park, and Muscle Car City Museum, among the others.
Apart from the beautiful historic district, Punta Gorda private flight offers shopping by the water and strolls along the harbor promenade. A short distance away is the Fisherman's Village. This unique waterfront location includes souvenir stores, several restaurants, a military heritage museum, a marina, and luxury villas. The streets of Punta Gorda are lined with giant royal palm trees, brick walkways, street lamps, and benches, creating an almost palpable atmosphere of old Florida.
The nearest major airports to Punta Gorda are Punta Gorda Airport, located 4 miles from the city center, and Southwest Florida International Airport, situated 39 miles from the city, are serve charter jet Punta Gorda.
Punta Gorda, FL Private Jet Airports within 70 miles
APF, Naples, Naples, United States
AVO, Municipal, Avon Park, United States
FMY, Page Field, Fort Myers, United States
IMM, Immokalee, Immokalee, United States
MCF, Mac Dill AFB, Tampa, United States
MRK, Marco Island, Marco Island, United States
PGD, Punta Gorda Airport
RSW, Southwest Florida Reg, Fort Myers, United States
RTD, Rotunda, Rotunda, United States
Hotels in Punta Gorda, FL
Four Points by Sheraton Punta Gorda Harborside, 33 Tamiami Trail
The Wyvern Hotel Punta Gorda, 101 East Retta Esplanade
Fishermens Village Resort, 1200 W Retta Esplanade #57A
Microtel Inn & Suites by Wyndham Port Charlotte, 4056 Tamiami Trail
Tropical Bay Inn Motel, 22968 Bayshore Road
Masonic Lodge 115, 25349 Airport Road
The Curve Sports Tavern at the Wyvern Hotel, 101 East Retta Esplanade
Perch360, 101 East Retta Esplanade
Banana Bay Waterfront Motel, 23285 Bayshore Road
Dockside Grill, 33 Tamiami Trail
Laishley Crab House, 150 Laishley Court
FAQ for Private Jet Flights to Punta Gorda
Why choose a private jet to Punta Gorda with Monarch Air Group?
Monarch Air Group provides private flights to and from Punta Gorda, an efficient way to reduce travel time to and from business meetings, absolute comfort, and total freedom during the entire flight. We will take you anywhere in the world from the nearest airport, according to your itinerary and schedule. Our 24/7 team of professionals is ready to fulfill any Punta Gorda private jet charter request. Call one of our agents for charter jet Punta Gorda rentals.
How much does it cost to book a Punta Gorda private jet charter?
Several factors determine the cost of a Punta Gorda private jet hire. It depends on the type of aircraft and the range of the flight. You can contact our specialists if you have not found the necessary information on air charter Punta Gorda. Moreover, you can get a rough flight cost estimate by using a private jet charter cost estimator.
Here are some approximate prices for private flights to Punta Gorda:
Charter a Private Jet to Punta Gorda from NYC: from $18,690;
Charter Flights to Punta Gorda from DC: from $12,880;
Private Flights to Punta Gorda from LA: from $34,730.
*Estimated price before taxes & fees.
What types of private jets can use for Punta Gorda charter flights?
We can provide VIP jets, airliners, and heavy, light, or turboprop jets at competitive prices. Moreover, our Punta Gorda charter flights team will follow every step of your journey to ensure the smoothest flight possible.
| Aircraft type | Passengers | Non-stop range | Cruising speed | Intended use |
| --- | --- | --- | --- | --- |
| Light Jet | up to 6 passengers | about 700 – 2000 miles | 476 to 518 mph | for comfortable short- to mid-range distances |
| Midsize Jet | up to 10 passengers | about 1300 – 1500 miles | 422 to 541 mph | to fly nonstop from coast to coast |
| Super midsize Jet | up to 10 passengers | about 3.500 – 4.000 miles | 490 to 590 mph | for longer flights |
| Heavy Jet | up to 18 passengers | about 6.000 miles | 480 to 551 mph | traveling overseas in luxury for an intercontinental flight |
| Turboprops | up to 10 passengers | about 600 – 1.900 miles | 220 to 360 mph | for short- to mid-range flights |
| Ultra-Long Range Jet | up to 19 passengers | about 2,800 – 7,685 miles | 460 to 594 mph | for long-haul travels |
| Helicopters | up to 28 passengers | about 250 – 600 miles | 150 to 175 mph | for passenger and cargo transportation |
What are the advantages of flying on a Punta Gorda private jet?
Renting a private jet has some undeniable advantages over commercial flights. First, it is a unique way to travel on your terms. Also, private plane charter Punta Gorda guarantees faster check-in, security checks, passport control, customs control, and baggage claim. Furthermore, we will provide the necessary level of privacy, can arrange transfers to the desired destination, arrange special meals during the flight, and more.
Popular destinations near Punta Gorda by private jet
Tampa – is a modern business center with an exciting history and various cultural offerings.
Destin – in northwest Florida, is famous for its beautiful beaches and excellent golf courses.
Pensacola – is Florida's coastal city, creating quiet, safe, sandy beaches perfect for kids.
Fort Lauderdale – is a popular tourist destination with scenic boat canals, chic restaurants, and luxury hotels.
Our clients travel on efficient and comfortable private jets. If you haven't found the answers to all your questions, you can contact our experienced and reliable team at any time or visit our air charter FAQ page.