Monarch Air Group provides private air charter in Puebla, Mexico. Our clients benefit from top-notch service, unrelenting dedication to safety, wide selection of aircraft, and years of experience in chartering private jets. To obtain a free quote, please use our online quoting tool provided below, or call toll-free 1-877-281-3051.
Charter a private jet in Puebla
About Puebla, Mexico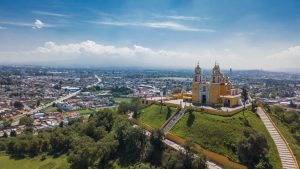 Monarch Air Group provides private jet charter flights in and out of Puebla, Mexico.
Puebla is the capital city of the state of Puebla. It was founded in an area called Cuetlaxcoapan in 1531. Being both the fourth largest Metropolitan area in Mexico and the fourth largest city in Mexico, Puebla serves as one of the main centers for eastern Central Mexico. The cultural and historical value of city's architecture is a main reason why Puebla was chosen as a World Heritage Site. There are many monasteries, churches, mansions, museums, galleries, and great restaurants.
The most popular places of interest include El Parian, Museo Amparo, Centro Cultural Santa Rosa, Biblioteca Palafoxiana, Casa del Deán, Galería de Arte Contemporáneo y Diseño, Museo de José Mariano Bello y Acedo, Teatro Principal de Puebla, and many others.
The nearest airport is Hermanos Serdán International Airport (PBC / MMPB), which is located 32 km from the center of Puebla.
Puebla Airports within 70 miles
1. AZP, Atizapan, Mexico City, Mexico.
2. MEX, Benito Juarez International, Mexico City, Mexico.
3. NLU, Santa Lucia, Santa Lucia, Mexico.
4. PBC, Hermanos Serdan International, Puebla Atlixco, Mexico.
5. TCN, Tehuacan, Tehuacan, Mexico.
Hotels in Pueblo
1. El Sueño Hotel & Spa, 9 Oriente 12, Centro Histórico, Heroica Puebla de Zaragoza.
2. Hotel Posada San Pedro, 2 Oriente 202, Centro Histórico, Puebla.
3. InterContinental Hotel Presidente Puebla, Avenida Hermanos Sedan No 141, Colonia Amor, Puebla.
4. Best Western Real de Puebla, 2522, La Paz, Puebla.