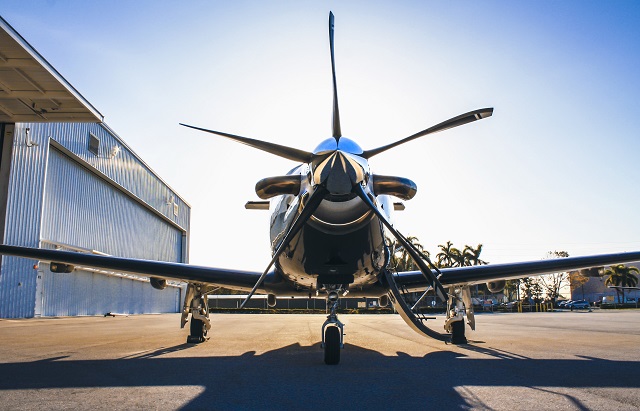 Miami International and Fort Lauderdale International airports were closed for days. More than 12,000 commercial flights were canceled (more than 8,000 of them in Florida alone), with grounded flights due to the storm as far as London and Doha.
Nevertheless, one market received an expected peak in booking just hours before the storm hit South Florida. The business aviation market, affected by the storm as any commercial carrier, made the most of Hurricane Irma's path through Florida by flying private passengers out of state.
Monarch Air Group, a private jet operator based in Fort Lauderdale International Airport, received 50% more bookings the day before Hurricane Irma arrived in South Florida. "It was a hectic few hours. But we were prepared. It has happened in the past, it happened now and will happen in the future. We received last-minute bookings out of town especially to New York, where most of our clients have second homes in that state," stated David Gitman, Executive Director of Monarch Air Group.
In fact, almost two-thirds of the flights registered due to Irma by Monarch Air Group were headed toward New York City and its surroundings; with White Plains executive airport and Newark airport as the main destinations. The main choice of aircraft?
"Depending on the destination, passengers opted to choose between turboprops and jets, especially light jets if the flight was up to three hours long. Although a hectic moment prior to a hurricane, clients' behavior didn't suffer any alterations when compared to normal traveling conditions; renting a heavy jet for a two-hour flight just doesn't make any sense when a turboprop will get you there with the same comfort and just minutes after," said Gitman.
And although a promising boost in bookings was registered, it's not enough to consider this pre-disaster scenario as a new business line nor to project future sales around it. "It's like the bookings registered thanks to occasional travelers in summer; honeymooners and wedding guests flying private as a once-in-a-lifetime experience, to sporadic to account for the year in and year out. But when the need presents itself, us private jet operators must have the operational capacity to deliver a sound service," shares David Gitman.
The market has various ways of filling seats, from shared charters; passengers who rent a jet and sell the extra seats, to purchasing a seat to a predefined destination and the standard option of renting an aircraft of choice. And to get out of Irma's path, there were one-way tickets that went as high as $20,000. Almost 30% more than usual for a seat or plane.
"Private jet operators, us included, diverted a great number of planes spread across the country to South Florida. If you add that operational challenge and associated costs to our commitment to take care of our frequent clients, thus accepting the added costs of the shifting demand, then the added cost is completely justified," concluded Monarch Air Group's Executive Director.
Although there's room for debate when discussing prices, what happened during Hurricane Irma proved the real value of private jet aviation; flexibility when it most matters.
For information on chartering a private jet, contact Monarch Air Group at +1-954-359-0059 or price out your flight here for an instant quote.