Monarch Air Group provides private air charter in Hawaii. Our clients benefit from top-notch service, unrelenting dedication to safety, wide selection of aircraft, and years of experience in chartering private jets. To obtain a free quote, please use our online quoting tool provided below, or call toll-free 1-877-281-3051.
Charter a private jet to&from Hawaii
About Hawaii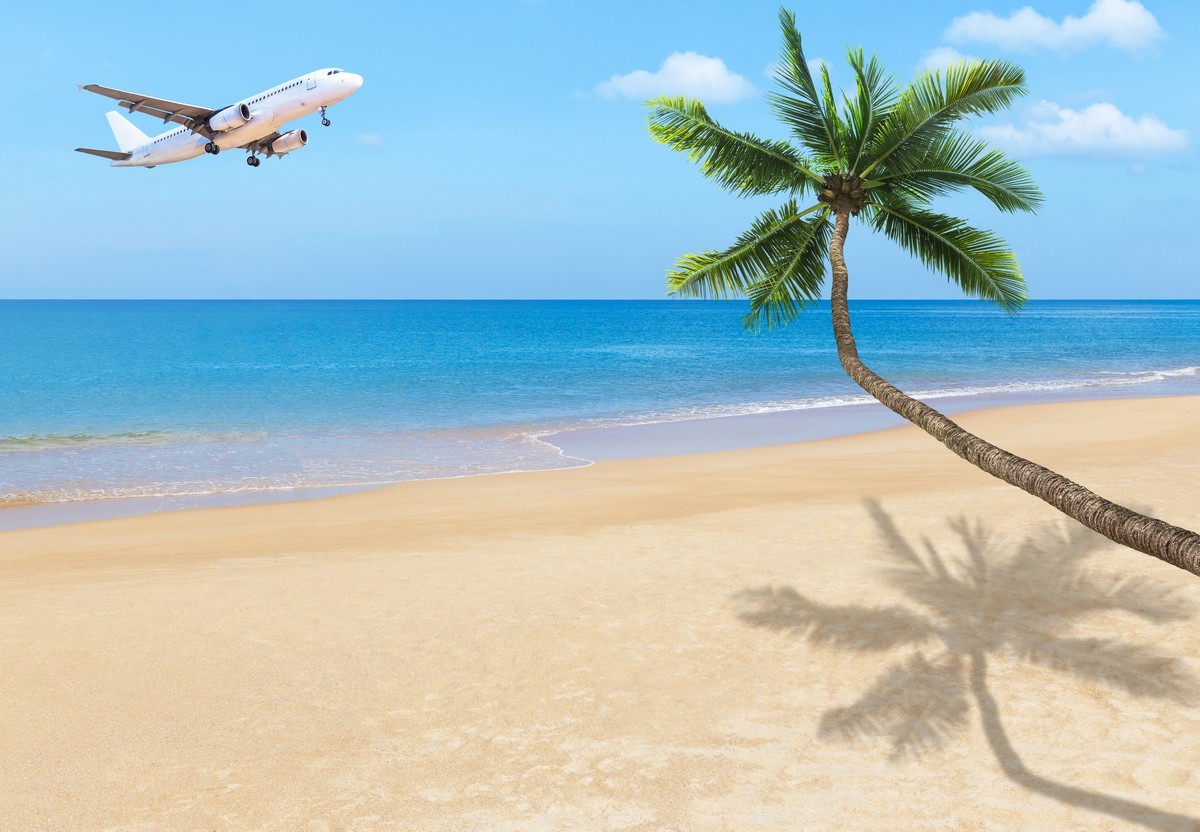 Say "Aloha" to Paradise in Style with an on-demand private jet charter to Hawaii
If you are planning to treat your family to a Hawaiian vacation, Monarch Air Group provides convenient non-stop private charters to Hawaii's top destinations from airports on the mainland. From the moment your privately chartered jet touches down on your preferred island, Hawaii's tropical beauty, unspoiled beaches and hospitality will reveal the true meaning of the "Aloha State."
Hawaii is comprised of eight islands in the Hawaiian archipelago in the North Pacific, six of which are open to tourism. We break down the essential information about each Hawaiian island as well as top attractions and top airports for the Big Island, Kauai, Lanai, Maui, Molokai and Oahu.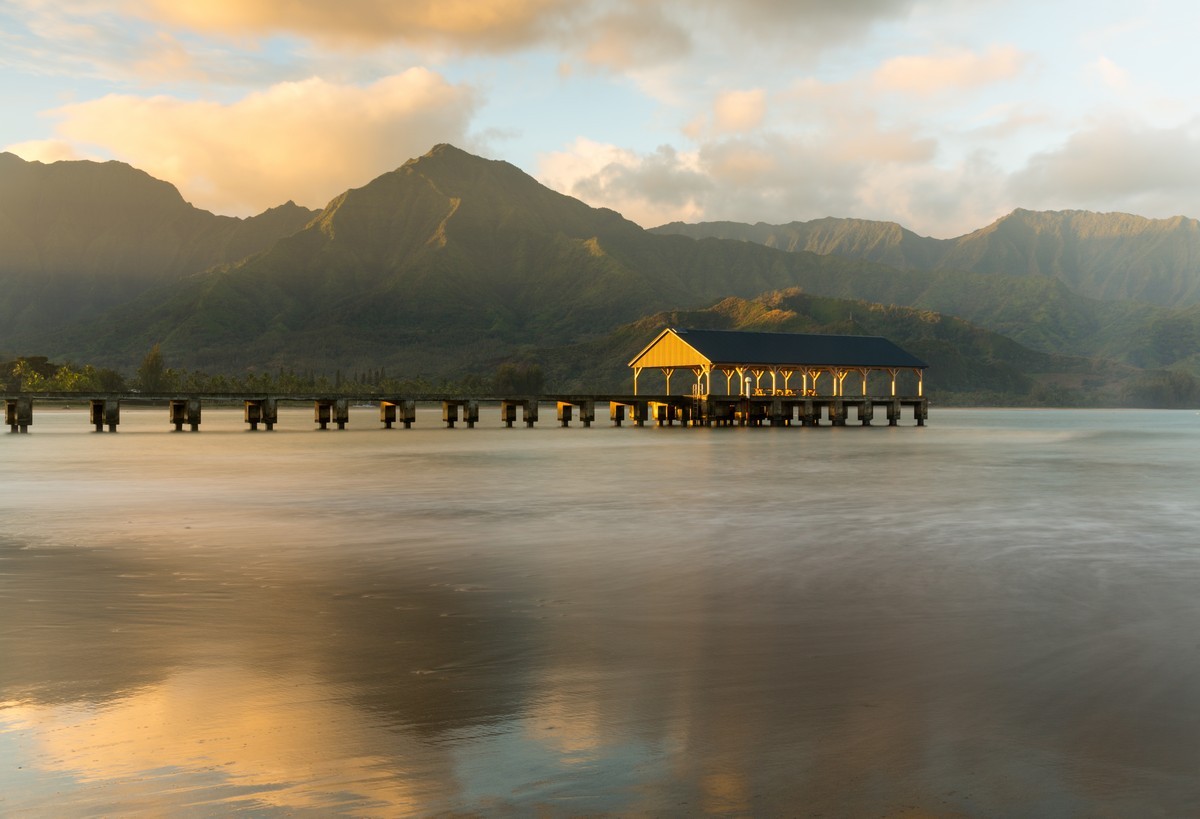 Hawaii, also known as The Big Island, is the biggest island in the Hawaiian archipelago with diverse terrain that spans unspoiled tropical beaches and dense rainforest. The most popular attractions on the island include:
Hawaii Volcanoes National Park
Mauna Kea Observatories
Kona Coffee Living History Farm
Pacific Tsunami Museum
Attending a Hawaiian Luau
Private jet travelers choose to visit the Big Island because of its diverse terrain, coastal splendor and the diversity of activities to enjoy. Some of the island's most visited places include Volcanoes National Park and Kahaluu Beach Park.
Volcanoes National Park is a great place to see Hawaii's geology in action. The island has two volcanoes, Kilauea and Mauna Loa. Kilauea is a shield volcano that last erupted between 1983 and 2018. Historically, Kilauea is the most active of the five volcanoes that together form the island of Hawaii. Mauna Loa, at the island's center, is more than 13,678 feet high and has been considered the largest volcano on the planet.
Kahaluu Beach Park is a small cove on the Big Island's west side in the town of Kailua Kona. Although it's not a marine preserve, locals report that the beach is inhabited by large schools of tame fish that seem to enjoy interacting with snorkelers.
Airports Serving the Big Island
Ellison Onizuka Kona International Airport (KOA) serves the Big Island's western side, including the town of Kailua-Kona and the resorts of the North Kona and South Kohala districts.
Hilo International Airport (ITO), formerly General Lyman Field, is owned and operated by the Hawaii State Department of Transportation. Located in Hilo, the airport includes 1,391 acres and is one of two major airports in Hawaii.
Waimea-Kohala Airport (MUE) is a state-owned, public-use airport located one nautical mile southwest of Kamuela.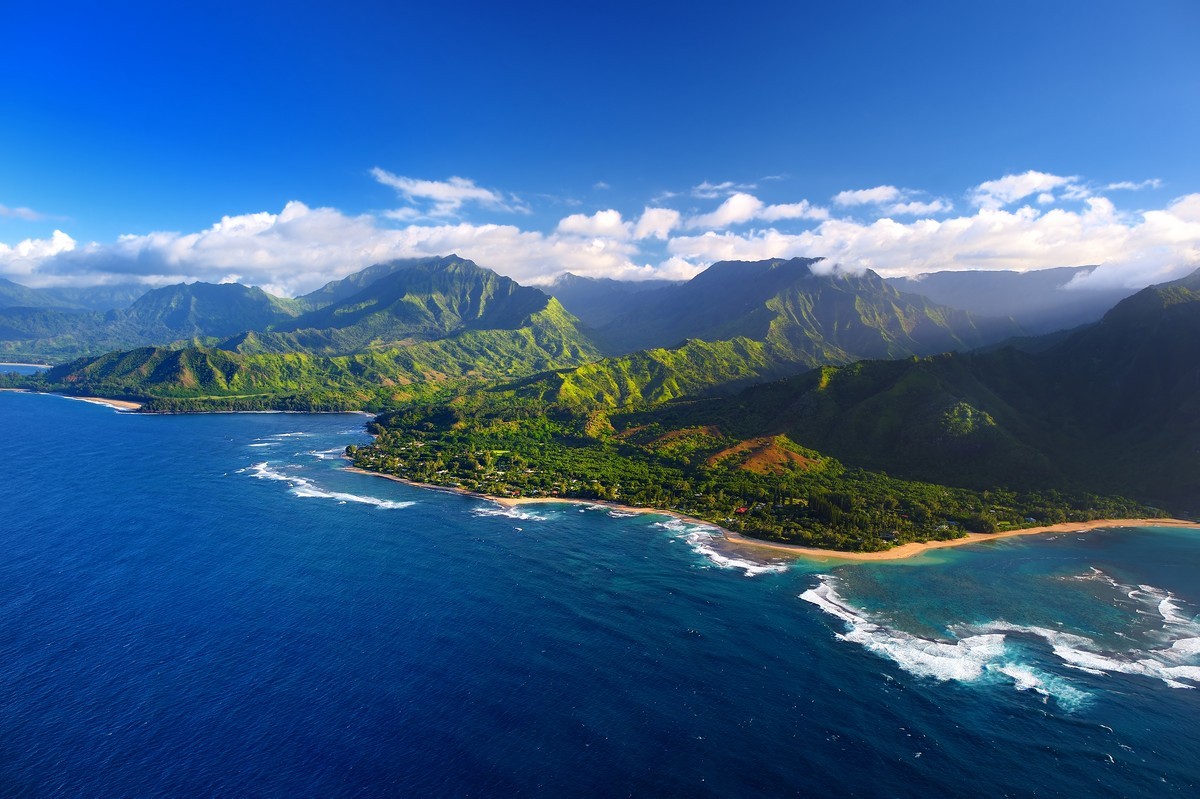 At 5.1 million years old, Kauai is the oldest of the main Hawaiian Islands. An island for visitors seeking tropical flora and fauna, "the Garden Isle" of Kauai is blanketed with tropical rainforest. Considered one of Hawaii's most scenic islands and favorite to tour by helicopter, Kauai's dramatic sea cliffs have been featured in Hollywood films. An excellent hiking adventure awaits on Kauai with scenic trails that include a 10-mile-long hike through picturesque Waimea Canyon.
Waimea Canyon, also known as the Grand Canyon of the Pacific, is a large canyon that runs ten miles long and 3,000 feet deep through the western side of Kauai. The summit of Kauai's central mountain peak, Mount Waiʻaleʻale, is one of the rainiest places on earth with more than 400 inches of annual rainfall. The rain flows into the Waimea River, which continues to carve the deep canyon.
Airports Serving Kauai
Lihue Airport (LIH) is located on the southeast coast of the island of Kauai. This unique airport has gardens for passengers to enjoy and offers flights to mainland U.S. cities and between Hawaii's islands.
Port Allen Airport (PAK) is located on the south shore of the Kauai. Most flights to Port Allen Airport originate from commuter airports on neighboring islands.
Princeville Airport (HPV) is a private airport located three nautical miles east of the central business district of Hanalei, a village on the island of Kauai.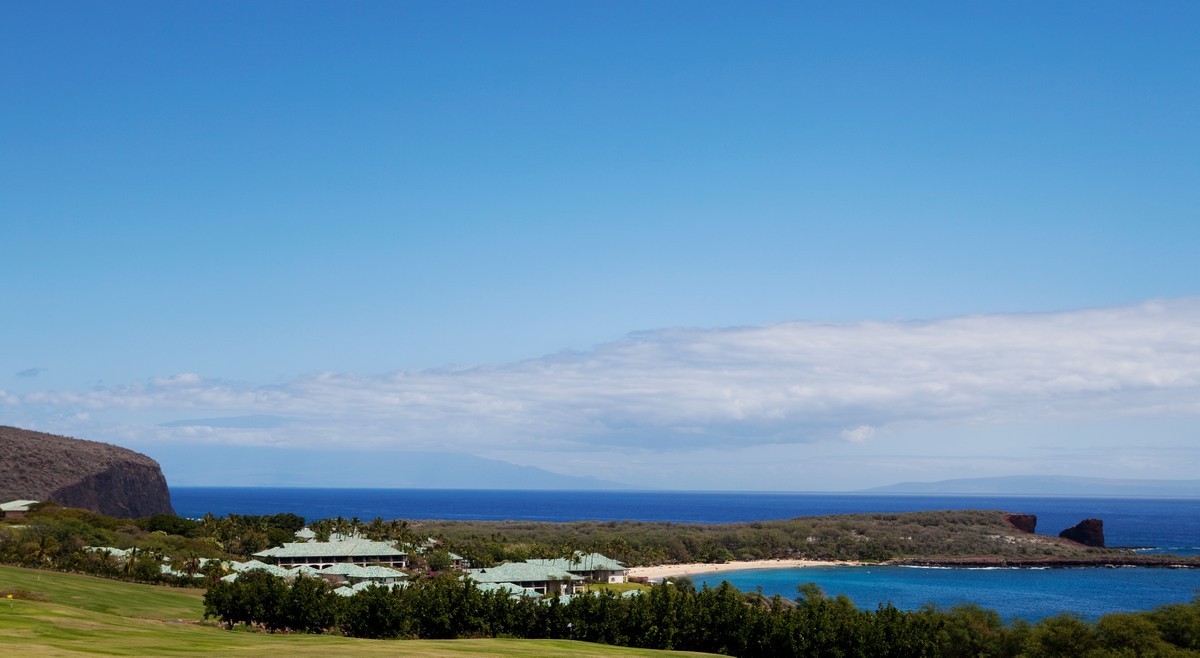 Originally an island-wide pineapple plantation, Lanai has 141 square miles of rocky coasts and barren inland scrub.
The north shore of Lanai is a hazardous area for navigation, evidenced by the dozen or more ships that have wrecked along its six-mile coastline known as Shipwreck Beach. With more than a dozen shipwrecks on the coast, it has become a favorite spot for beachcombers, hikers and photographers.
Sunset at Keahiakawelo, the Garden of the Gods, is a must for visitors to Lanai. The natural terrain on the inland area of the island resembles a Martian-like landscape with red earth, rocks and boulders. You'll find this adventure at the end of Polihua Road, approximately 45 minutes from Lanai. Visiting at sunset creates spectacular photographs with contrasting hues of fiery orange, pink, purple and blue.
Hulopoe Beach is known for its serenity and shallow offshore reefs for snorkelers to enjoy an abundance of ocean life, including large schools of colorful tropical fish, dolphins and sea turtles.
Airports serving Lanai
Lanai Airport (LNY) is three nautical miles or about 3.4 miles southwest of the central business district of Lanai City.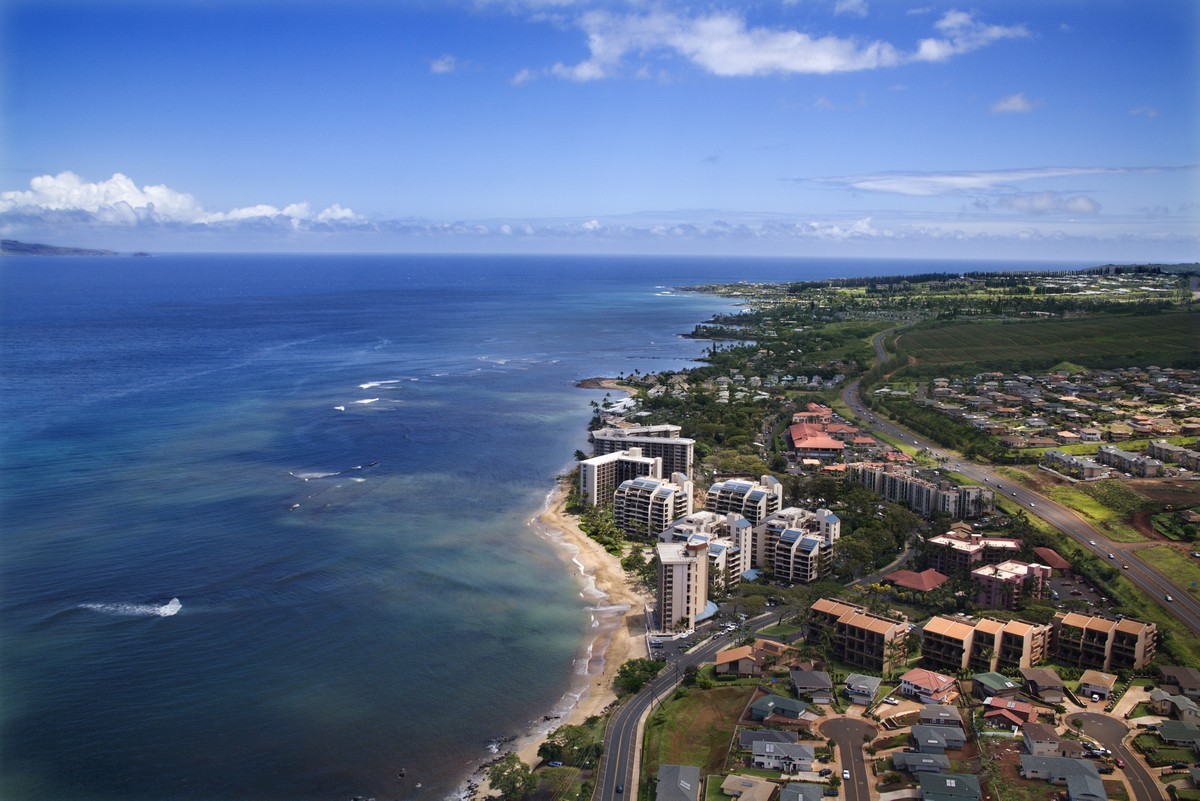 Maui, known as "The Valley Isle," encompasses 727 square miles. The island is known for sacred Lao Valley State Park, the second wettest place in Hawaii. Haleakala, Haleakala National Park, is a 10,000-ft. Shield volcano that has the island's highest peak.
Another attraction on Maui is the scenic, winding Hana Highway with places to stop and view waterfalls along the way.
Maui has over 30 miles of tranquil beaches to explore. During winter months, you can spot migrating humpback whales and spectacular Hawaiian sunsets that silhouette the magnificent peak of Haleakala.
Also found Haleakala National Park, Pipiwai Trail is one of the best places on Maui for picture taking. Here you'll embark on a 4-mile hike through a towering bamboo forest. After a half-mile, hikers are treated with a view of the 185-ft. Makahiku Falls. The trail ends with Waimoku Falls, an amazing 400 ft.-waterfall at the end of the trail that is definitely worth the hike.
Airports serving Maui
Kahului Airport (OGG) is the primary airport on the island of Maui and receives both overseas and interisland flights.
Kapalua Airport (JHM), also known as Kapalua–West Maui Airport, is a regional private use airport on the west side of the island of Maui in Hawaii. It is located five nautical miles north of Lahaina in Maui County.
Hana Airport (HNM) is located on the northeast side of the Island of Maui. It is served by commuter airlines and is used by residents and visitors to Hana.
5. Private jet charter to/from Molokai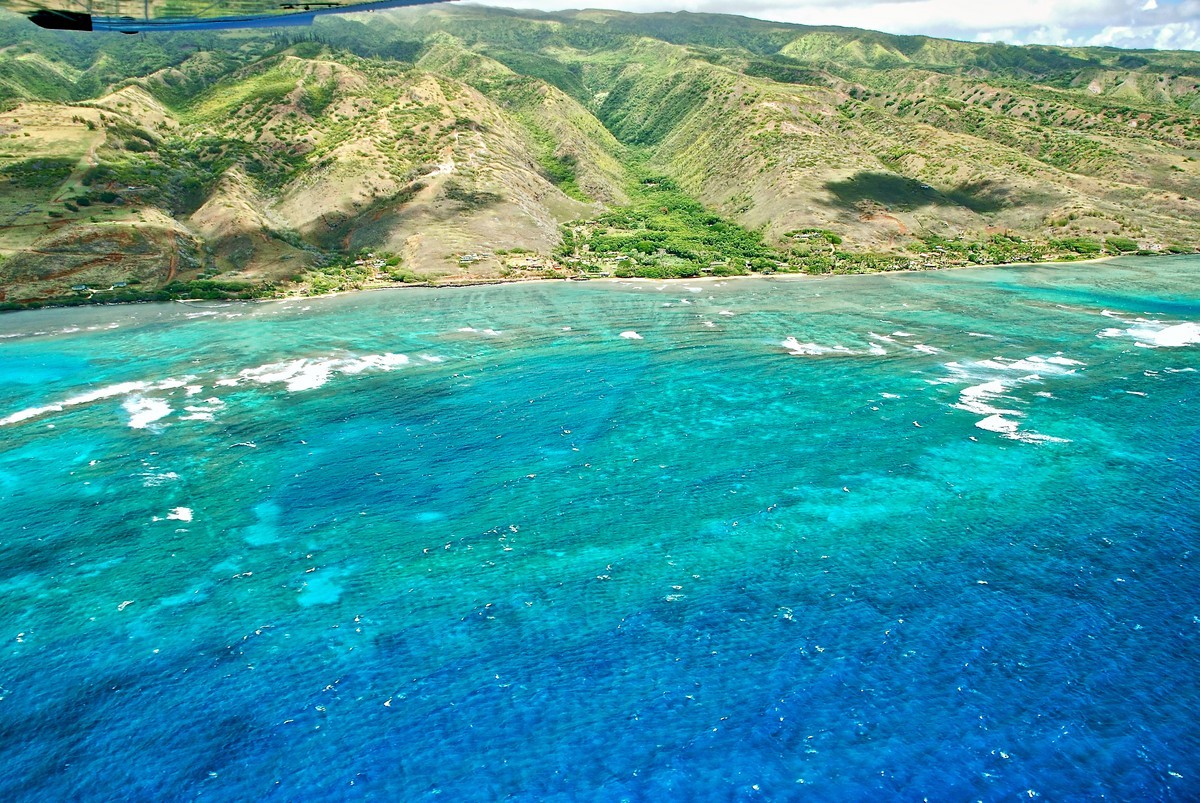 Molokai is known as a nature lover's paradise, an ideal island for exploring on foot or muleback. If you prefer to snorkel, Molokai is known as one of the best places to snorkel in Hawaii. At Kalaupapa National Historical Park, you can learn about the island's natural resources and history as a place of isolation for a leper colony. Other popular places include a clifftop view from Kalaupapa Lookout in Palau State Park. Nearby, the park's Phallic Rock is said to have fertility powers.
Airports serving Molokai
Molokai Airport (MKK), also known as Hoolehua Airport, is located six nautical miles northwest of Kaunakakai, on the island of Molokai.
Kalaupapa Airport (LUP) is located on the northern peninsula of the island of Molokai, two nautical miles north of Kalaupapa Settlement, in Kalawao County.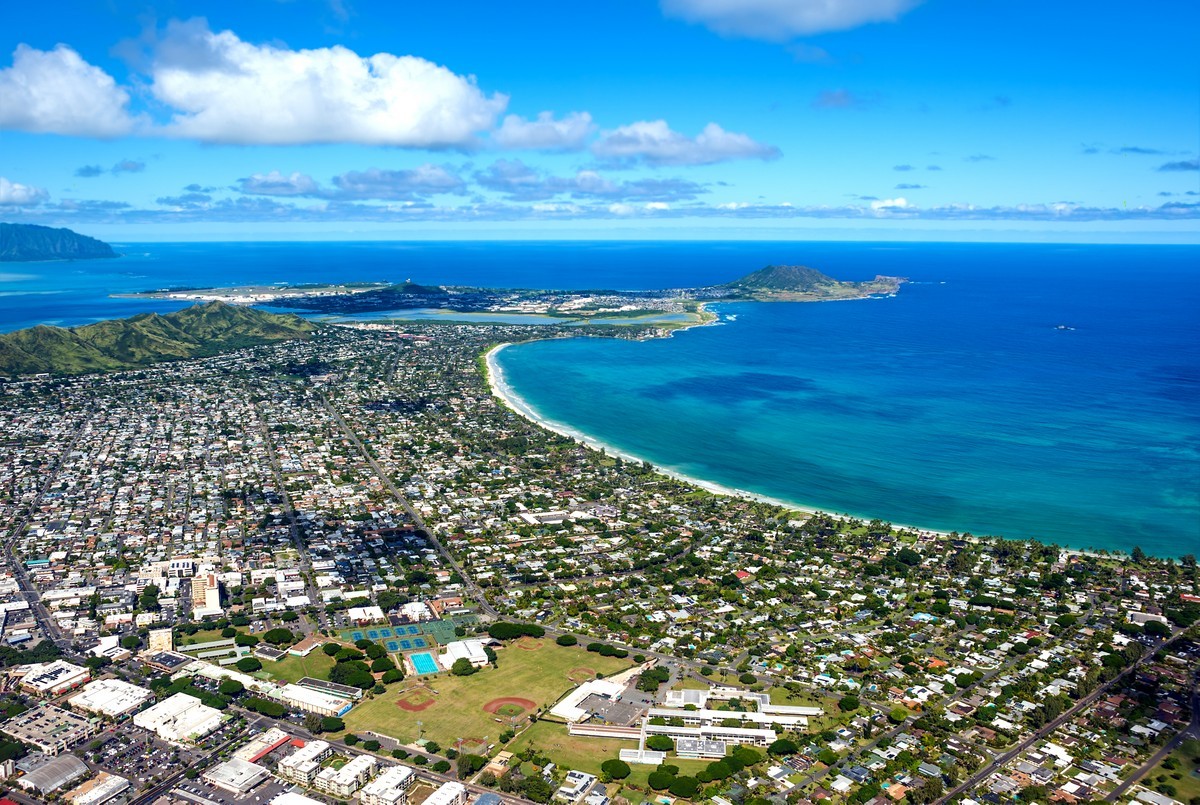 Oahu's iconic Waikiki Beach is one of the most popular leisure destinations in Hawaii for sunning and surfing. On the south shore of Oahu, Honolulu is the home of Pearl Harbor, site of the WWII's 1941 bombing attack and home to the USS Arizona Memorial.
Airports serving Oahu
Kalaeloa Airport (JRF), also called John Rodgers Field and formerly Naval Air Station Barbers Point, is a joint civil-military regional airport.
Dillingham Airfield (HDH) is a public and military use airport located two nautical miles west on the North Shore of Oahu.
Daniel K. Inouye International Airport (HNL), also known as Honolulu International Airport, is the principal aviation gateway of the City and County of Honolulu on Oahu in the State of Hawaii.