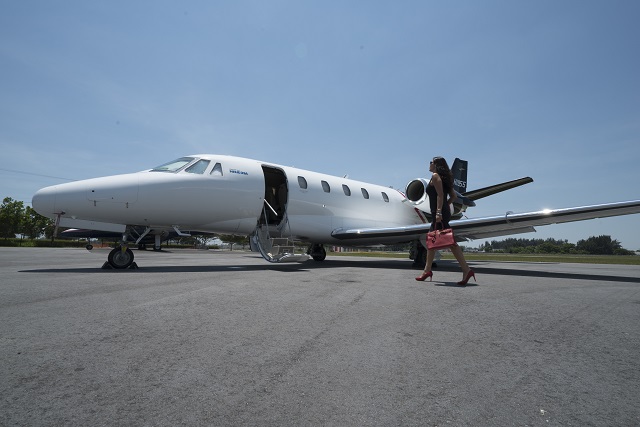 There's a lot out there about the private jet market… From image damaging for top executives to unjustifiably expensive we, at Monarch Air Group, have read it all. Today, we want to demystify some pieces of popular knowledge and provide some facts about this shifting and constantly growing industry.
Price, for starters, is a topic with wide-ranging reviews and little consistency, mainly because when compared to other means of transportation, private jet is, of course, more expensive.
Price
Flying on a private jet is more expensive than commercial first class. But is it too expensive? When you can arrive 10 minutes before the booked departure time, evade massively concurred airports by taking off from domestic terminals, take your pets along, enjoy extreme privacy and a fully tailored menu, and reduce to zero the probability of delays in your return flight, then we think it's not too expensive.
In fact, depending on how you look at it, flying private can be even cheaper. If you charter a whole aircraft, you can fly along 7 friends or family (at least) and pay less than if the whole bunch would fly on first class. The concept of business aviation being overpriced is fiction.
Budget constraints
A handful of companies nowadays are opting to eliminate from budgets corporate jet travel. So, will they Skype instead of actually meeting with the different branches across the country? Not really. They will probably fly commercially and have to stay at least one more night at a hotel, dine, and overpay for ground transportation to get to the closest commercial airport the day after.
What sounds like a potential short-term budget reduction may well turn into extra costs in the long run. Although a fact in some major corporations, we at Monarch Air Group think that companies making this shift will take six months to recognize that flying their top executives on a private jet is more efficient, flexible, and immensely pro-family and pro-rest, due to the increased time spent on the ground.
Image concerns
What will employees and the media say? We have found out that image is a concern for some companies ready to make the shift to fly their top executives privately. There are solid arguments that will help them incline towards business aviation.
Firstly, leadership members will actually be more in the firm's headquarters, spending quality time with other decision makers, and not having to solve problems on the go. And this is possible because top executives can manage time better and leave once a meeting is over and fly immediately to the next one, without waiting for the fixed commercial departure times.
As PrivateJetComparissons.com reported, Pro Golfers travel time is reduced by 60% thanks to private aviation. This is why the image concern is pure fiction, it's just not supported by facts and built solely on lack of information and inaccurate perceptions.
Business aviation traffic on decline
It sometimes gets informed that private jet aviation is on decline. Debatable… It depends on who, when and where you ask. Every year, an increasing number of businesses rely on the services of business aviation.
Small to mid-sized companies are choosing to fly their products with private charters, not just seeking a faster and more reliable service, but because commercial airlines have reduced or eliminated their reach to certain towns and cities, thus granting private aviation with the opportunity to cover the routes.
Furthermore, the decline topic loses ground when not considering the rise in occasional travelers, honeymooners or once-in-a-lifetime experience seekers. Between June and September, these clients account for 8% of total sales at Monarch Air Group; definitely a figure to have in mind for the future. And due to the lack of solid variables to justify a drop in traffic, this shaky topic should be considered as fiction until demonstrating the opposite.
For information on chartering a private jet, contact Monarch Air Group at +1-954-359-0059 or price out your flight here for an instant quote.