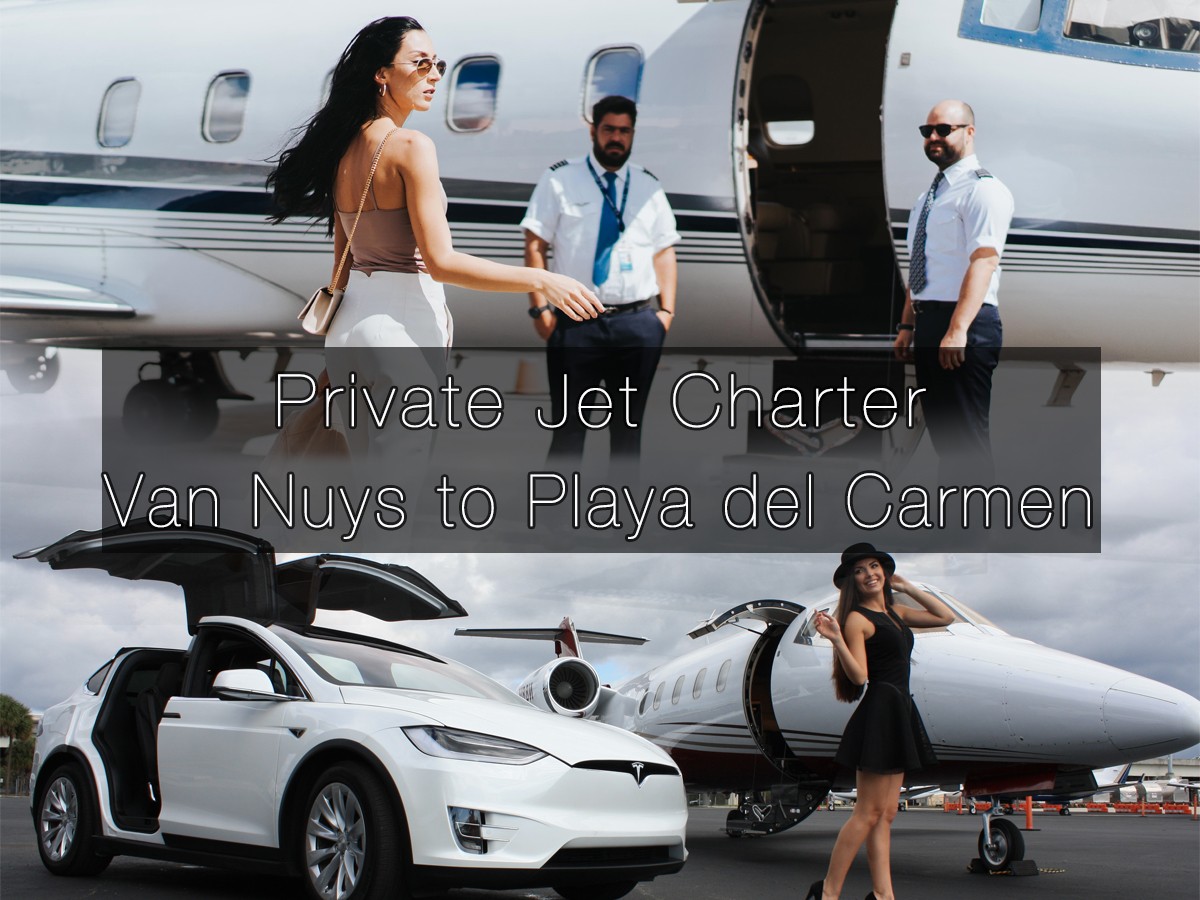 Playa del Carmen is a popular resort city in Mexico. Leisure travelers enjoy access to Playa del Carmen's year-round warm weather and sun-soaked white sand beaches. Snorkelers and divers enjoy observing the underwater world of tropical fish and colorful coral reefs. Other attractions that draw leisure travelers to Playa del Carmen include Ancient Mayan ruins, underground caves and Quinta Avenida, a picturesque promenade with a variety of activities to choose from, whether visitors want to shop, dine or dance the night away.
Charter a private jet Van Nuys to/from Playa del Carmen
Popular Attractions in Playa del Carmen

Cenote Caves;
Chichen Itza;
Coba;
Crystal Cave;
Dolphin Discovery Playa del Carmen Maroma;
Galeria Lamanai;
Guelaguetza Gallery;
Mamitas Beach;
Parque Fundadores;
Paseo del Carmen Shopping Mall;
Playa Punta Esmeralda;
Playacar Beach;
Playa del Carmen;
Punta Esmeralda;
Quinta Alegria Shopping Mall;
Yulunga Arte en Tus Manos;
El Faro de Bucerías;
Maya Riviera;
Rio Secreto;
Tulum;
Xcaret Park. 
What Airport Should I Use for My Private Charter Flight from Van Nuys to Playa del Carmen?
Airports Serving Playa del Carmen
Cozumel Airport (MMCZ) is 18.6 km (11.5 miles) from Playa del Carmen.
What type of aircraft should I use for my private charter flight?
A private jet from Van Nuys to Playa del Carmen can be matched to suit almost any travel plan, including overnight trips or extended stays. Flights typically operate using heavy, super midsize or midsize aircraft types:
Heavy jet options for private charters from Van Nuys to Playa del Carmen include the Falcon 900LX, Dassault 7x and the Gulfstream G650.
The Falcon 900LX's ultra-wide cabin provides three spacious areas and plenty of space for passengers to move about comfortably during flight, work productively or relax.
The Dassault 7x is one of the fastest jets in its class. The Dassault 7x consumes up to 30% less fuel than other jets in its class, dramatically lowering operating costs.
The Gulfstream G650 is one of the fastest in Gulfstream's fleet. The jet can travel at 92% of the speed of sound and has a maximum range of more than 7,000 miles. The G650 has a baggage capacity of 195 cubic feet.
Super Midsize jet optionsinclude the Bombardier Challenger 350, Dassault 50EX and Gulfstream G280.
The Bombardier Challenger 350 is configured for performance and passenger comfort with a wide cabin and flat floor. The aircraft's sound suppressing design ensures a quiet cabin for maximum productivity in flight. The Challenger 350 has a baggage capacity of 106 cubic feet.
Dassault's Falcon 50EX has a top speed of 481 knots and plenty of space for collaborative meetings or relaxation with a club seating arrangement and a separate area with a three-seat divan. The 50EX has a baggage capacity of 115 cubic feet.
The Gulfstream G280 cabin is pressurized at a lower altitude to ensure passengers arrive rested and focused and ready to explore Playa del Carmen. The G280 has a baggage capacity of 154 cubic feet.
Super midsize jets feature comfortable seating for up to 12 passengers, a full galley, catering and flight attendant service.
Midsize jet options include the Learjet 60XR, Gulfstream G150 and Hawker 850XP.
Bombardier's Learjet 60XR delivers efficient performance with a fast climb rate of 6,000 feet per minute and a maximum speed of 461 knots. The 60XR seats up to eight passengers. Cabin amenities include window placements that maximize the use of natural lighting in the cabin. The 60XR has a baggage capacity of 48 cubic feet.
The Gulfstream G150 cabin has seating for up to seven passengers with more headroom than other jets in its class. The G150 has 50 cubic feet of baggage capacity.
The Hawker 850XP defines the experience of flying private with an elegant cabin design, a fast climb rate that reduces commute time and access to digital entertainment with an intuitive cabin management system.
Midsize jet amenities include digital entertainment, a galley and Wi-Fi for in-flight entertainment.
Airport Distances and Flight Times
Private Jet from Van Nuys (VNY) to Playa del Carmen
Destination Airport
Airport Code
Distance (Nautical Miles)
Km
Miles
Estimated Flight Time
Heavy
Super Midsize
Midsize
Light
Cozumel Airport
MMCZ
1,861
3,449
2,143
4 hrs

21 min

4 hrs

44 min

4 hrs

27 min

4 hrs

24 min
Distances and flight times shown in the charts above should be considered as estimates only. One (1) nautical mile is equal to 1.1508 statute miles.
In conclusion, your trip to Playa del Carmen promises to be filled with discoveries of the Yucatán Peninsula's rich culture, past and present. Playa del Carmen's nearby Mayan ruins, geologic wonders and coastal waters teeming with marine life promise to be an unforgettable exploration in the heart of Mexico's vibrant culture.
A professional on-demand private charter coordinator will help you select the best jet options to suit your travel requirements from Van Nuys to Playa del Carmen, including seamless transportation to and from the airport.