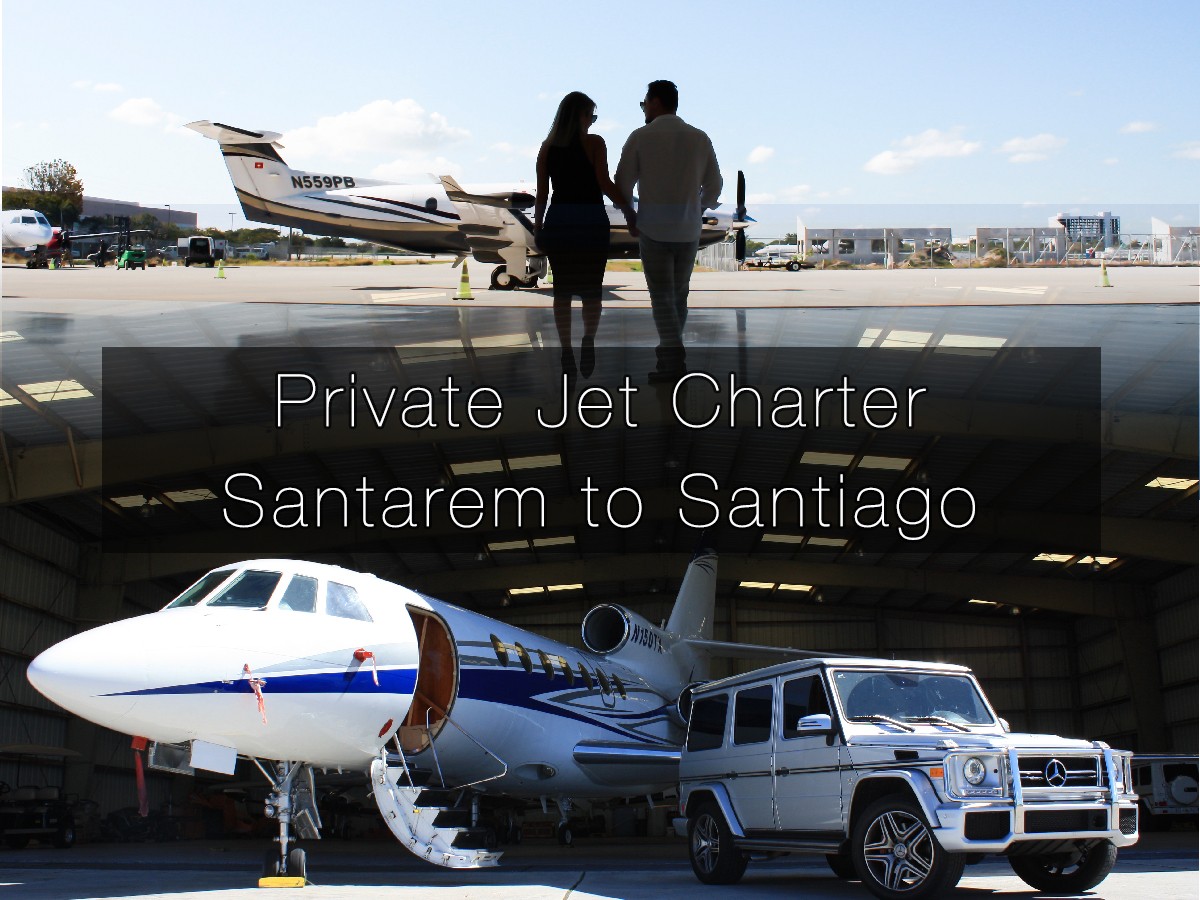 Santiago is the capital of Chile, situated on the western coast of South America. The city is a popular destination for leisure travelers who want to connect with the energy of a thriving cosmopolitan city.
From Santiago, adventure seekers have access to Chile's snow-capped mountains, emerald forests, shimmering rivers and glaciers that have carved the country's unique landscapes. Nearby coastal waters attract divers from around the world to explore its deep blue depths and abundant marine life nourished by the lifegiving Humboldt current that runs along Chile's coast.
Popular Attractions Near Santiago
Bellavista neighborhood;

Bicentenario Park;

Centro Market;

Costanera Center;

La Chascona Museum House;

La Moneda Place;

Metropolitan Cathedral;

Plaza de Armas;

San Cristóbal Hill;

Santa Lucía Hill;

Santiago Wineries;

Sky Costanera.

What Airport Should I Use for My Private Charter Flight from Santarém to Santiago?
Airports Serving Santiago
Arturo Merino Benítez International Airport (SCEL) is 15 km (9.3 miles) north-west of downtown Santiago.
What type of aircraft should I use for my private charter flight?
Heavy jet options include the Bombardier Global 6000, Dassault Falcon 7x and the Embraer Lineage 1000E.
Bombardier's Global 6000 provides three zones for a comfortable private charter flight to Santiago. The Global 600 has a range of 6,000 nautical miles and a baggage capacity of 410 cubic feet, including 110 cubic feet of internal baggage storage.
The Dassault Falcon 7x is a long-range business with one of the most comfortable cabins available. Each zone is configured for versatility and equipped with digital controls for temperature, lighting and entertainment. The Falcon 7x has a range of 6,586 miles and a baggage capacity of 131 cubic feet.
The Lineage 1000E features the Honeywell Ovation Select entertainment and cabin management system. Embraer's Lineage 1000E offers exceptional range of 4,200 miles and a baggage capacity of 443 cubic feet.
Heavy jets include amenities such as Wi-Fi, digital entertainment, catering, a full galley and flight attendant service.
Super Midsize jet optionsinclude the Bombardier Challenger 350, the Hawker 1000 and the Gulfstream G280.
The Bombardier Challenger 350 is configured for performance and passenger comfort with a wide cabin, flat floor and convenient baggage cargo areas. The Challenger 350 has a baggage capacity of 106 cubic feet.
The Hawker 1000 is frequently selected for its spacious cabin and extended range capability. The Hawker 1000 has 100 cubic feet of baggage capacity for short trips or an extended stay in Santiago.
The Gulfstream G280 cabin is pressurized at a lower altitude to ensure passengers arrive in Santiago rested. The G280's cabin aesthetics include 19 large oval windows that maximize natural lighting in the cabin. The G280 has a baggage capacity of 154 cubic feet.
Super midsize jets feature comfortable seating for up to 12 passengers, a full galley, catering and flight attendant service.
Midsize jet options include the Hawker 850XP, Learjet 60XR and Gulfstream G150.
The Hawker 850XP is a popular jet that features a fast climb rate, an exceptional range of 2,700 miles and digital entertainment options with an intuitive cabin management system.
The Learjet 60XR is an efficient performer in the Midsize class with a fast climb rate of 6,000 feet per minute and a maximum speed of 461 knots. The 60XR has a baggage capacity of 48 cubic feet.
The Gulfstream G150 cabin has seating for up to seven passengers with more headroom than other jets in its class. The G150 has 50 cubic feet of baggage capacity.
Midsize jets typically include digital entertainment, a galley and Wi-Fi for in-flight entertainment.
Airport Distances and Flight Times
Private Jet from Santarém (SBSN) to Santiago, Brazil
Destination Airport
Airport Code
Distance (Nautical Miles)
Km
Miles
Estimated Flight Time
Heavy
Super Midsize
Midsize
Santiago Airport
SCEL
2,064
3,825
2,377
5 hrs

18 min

5 hrs

53 min

5 hrs

26 min
Distances and flight times shown in the charts above should be considered as estimates only. One (1) nautical mile is equal to 1.1508 statute miles.
In conclusion, adventure awaits you in Santiago, whether you prefer an urban exploration of the city's historical neighborhoods, hiking in the forest, boating on crystal-clear rivers or diving in the ocean. Santiago's culture is infused in its cuisine, rich with the flavors of Chile from centuries-old wineries at the foot of the Andes Mountains to the diversity of its natural elements.
A professional on-demand private charter coordinator will help you select the best jet options to suit your travel requirements from Santarém to Santiago, including seamless transportation to and from the airport.