Monarch Air Group provides private air charter in Prague, Czech Republic. Our clients benefit from top-notch service, unrelenting dedication to safety, wide selection of aircraft, and years of experience in chartering private jets. To obtain a free quote, please use our online quoting tool provided below, or call toll-free 1-877-281-3051.
Charter a private jet to&from Prague, Czech Republic
Private Jet Charter to and from Prague, Czech Republic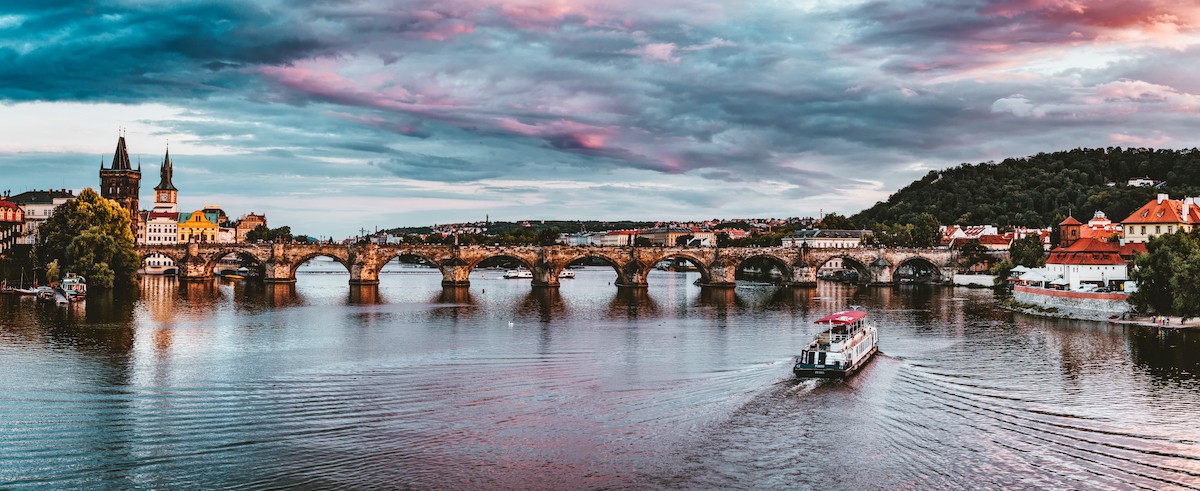 Monarch Air Group provides private jet charter flights in and out of Prague, Czech Republic.
The Czech Republic's capital city, Prague, is a place that has captivated visitors for decades. This thriving city is recognized for its magnificent architecture, rich cultural legacy, and lively nightlife. With so many attractions and activities, renting a private jet to Prague will surely impress you.
Once you've chartered a private jet to Prague, view the most famous landmarks in the city, including the active Charles Bridge, the Old Town Square and Town Hall, and St. Vitus Church. You may also explore the beautiful palaces and castles of medieval monarchs and nobles. The former royal palace, the summer home of Queen Anne, Prague Castle, Vyehrad Fortress, Troja Castle, Czernin Palace, and Valtejn Palace are must-sees.
Be sure to visit diverse museums when booking a private jet to Prague. The most well-known is the National Museum of Prague, the National Technical Museum, the Military Museum, and the Franz Kafka Museum. The Historical Night Pots, the Czech Pomegranate Museum, the Thimbles Museum, the Museum of Torture, and the Museum of Vice are some of the most unusual museums. We recommend visiting the Lego Museum, the Chocolate Museum, the Toy Museum, and the Museum of Ghosts and Legends if you are traveling with children. Modern attractions include the Apple Museum, the Museum of Cinematic Legends, and the National Film Museum.
With a private jet to Prague, you can sail along the Vltava River to explore the city from a new perspective. Views of the city's major attractions, including Prague Castle, Charles Bridge, and the National Theatre, are breathtaking. In addition, be sure to taste the foamy beer Prague is renowned for. Enjoy a beer tour around the Czech Republic's capital city. Be sure to visit the Prague Beer Museum, the brewery with a history, "U Fleku" (operating since the 15th century!) and the beer house "Fan Depot," where beer is served on a miniature train.
Prague has one main international airport, called Václav Havel Airport Prague, which is located about 6 miles west of the city center. It is the largest airport in the Czech Republic and serves as a hub for Czech Airlines.
Prague Private Jet Rental Cost
The cost of renting a private jet to go to Prague may vary greatly based on aircraft size and type, trip duration, and other variables.
For example, the cost of renting a light jet, such as a Phenom 100, from London to Prague for a one-way trip can start from around $11,210. For a midsize jet, such as a Citation VI cost can range from $18,350 for a one-way trip.
Prague Private Jet Airports
PRG, LKPR, Prague Václav Havel Airport
VOD, LKVO, Vodochody Airport
FAQs: Private Jet Flight to Prague
Why Choose a Private Jet to Prague with Monarch Air Group?
Monarch Air Group's customized private jet rentals to Prague prioritize your comfort, security, and safety. Our exquisite flights are tailored to your specific needs, including privacy and time-saving features.
How Much Does It Cost to Charter a Private Jet to Prague?
A variety of factors determine the cost of renting a private jet to Prague, including the kind of aircraft, flight path, and location. Each billable flying hour can cost anything from $2,000 to $17,000 or more.
What Types of the Private Jets Can Use for Prague?
Monarch Air Group selects the best private aircraft depending on the number of passengers, flight length, and on-board amenities desired. As a result, please provide us with as much information as possible regarding your charter trip to Prague so that we can provide you with the best aircraft and service possible.
What are the Benefits of Flying a Prague Private Jet?
Private jet charters to Prague have various advantages over regular flights. With our dependable private jet rental company, you can benefit from quick, flexible, and cost-effective travel solutions that are tailored to your specific needs, budget, and schedule.
Is It Possible to Travel with Pets to Prague on a Private Jet?
You may go to Prague with your pet on a private plane, but only after contacting us and conducting research on the city's rules for importing animals. However, depending on the size of your pet, you may need to book a larger aircraft to assure their safety and comfort during the flight.
Popular Destinations near Prague by Private Jet
Vienna, Austria – Vienna is a magnificent city famed for its rich history, architecture, and culture, and is just approximately 300 kilometers from Prague.
Munich, Germany – Munich is around 350 kilometers away from Prague and is renowned for its gardens, museums, and beer halls.
Krakow, Poland – Krakow is a fascinating city with a beautiful old town and many ancient landmarks.
Budapest, Hungary – Budapest is a gorgeous city with many hot baths, historic attractions, and exquisite architecture located approximately 550 kilometers from Prague.
Zurich, Switzerland – Zurich is roughly 700 kilometers (km) from Prague and is a thriving city with numerous museums, galleries, and restaurants.
Our clients fly in opulent, contemporary private planes. If you need assistance finding the answers to your questions on our air charter FAQ page, please contact our helpful and knowledgeable staff at any time.