Monarch Air Group provides private air charter in Plymouth, Minnesota. Our clients benefit from top-notch service, unrelenting dedication to safety, wide selection of aircraft, and years of experience in chartering private jets. To obtain a free quote, please use our online quoting tool provided below, or call toll-free 1-877-281-3051
Charter a private jet in Plymouth, MN:
About Plymouth, Minnesota, United States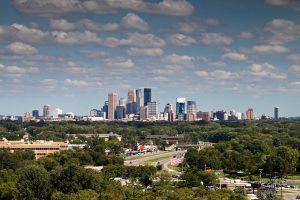 Monarch Air Group offers a wide variety of private jet charter options to and from Plymouth, Minnesota.
The seventh-largest city in Minnesota, Plymouth has been nationally recognized for its outstanding quality of life. The city is located in Hennepin County, northwest of downtown Minneapolis, and has a population of over 70,000 people. Plymouth is renowned for its well-maintained neighborhoods, fascinating open spaces, extensive parks and trails, as well as great business, shopping, and entertainment opportunities.
Thanks to its proximity to Minneapolis, Plymouth provides easy access to an array of big city amenities, and sports and cultural venues. Some of the city's most popular tourist attractions include the Parkers Lake Park, Millennium Garden, Plymouth Playhouse, Sky Zone Trampoline Park, French Regional Park, and Hollydale Golf Course.
The closest major airports are Minneapolis-Saint Paul International Airport located 23 miles from the city center and St. Cloud Regional Airport situated 53 miles from Plymouth.
Plymouth, MN Airports within 70 miles
1. AHH, Municipal, Amery, United States
2. FBL, Municipal, Faribault, United States
3. FCM, Flying Cloud, Minneapolis, United States
4. GTG, Municipal, Grantsburg, United States
5. JDT, Downtown Heliport, Minneapolis, United States
6. JMN, Municipal Heliport, Mankato, United States
7. JSK, Municipal Heliport, Saint Cloud, United States
8. MIC, Crystal, Minneapolis, United States
9. MKT, Municipal, Mankato, United States
10. MSP, Minneapolis – St. Paul Intl, Minneapolis, United States
11. OEO, Municipal, Osceola, United States
12. OWA, Owatonna, Owatonna, United States
13. RNH, Municipal, New Richmond, United States
14. STC, Municipal, Saint Cloud, United States
15. STP, Downtown, St Paul, United States
16. SYN, Carleton, Stanton, United States
Hotels in Plymouth, MN
1. Hampton Inn & Suites Minneapolis/West-Minnetonka, 10600 Wayzata Boulevard, Minnetonka
2. Sheraton Minneapolis West Hotel, 12201 Ridgedale Drive, Minnetonka
3. Crowne Plaza Minneapolis, 3131 Campus Drive, Plymouth
4. Minneapolis Marriott West, 9960 Wayzata Boulevard, Minneapolis
5. Residence Inn Minneapolis Plymouth, 2750 Annapolis Circle North, Plymouth
6. Country Inn & Suites By Carlson, Minneapolis West, 210 Carlson Parkway North, Plymouth
7. La Quinta Inn & Suites Minneapolis-Minnetonka, 10420 Wayzata Boulevard, Minnetonka
8. Creekside Cafe, 3131 Campus Drive, Minneapolis
9. Hampton Inn & Suites Minneapolis/West-Minnetonka, 10600 Wayzata Boulevard, Minnetonka
10. Sheraton Minneapolis West Hotel, 12201 Ridgedale Drive, Minnetonka
11. Crowne Plaza Minneapolis, 3131 Campus Drive, Plymouth
12. Comfort Inn, 3000 Harbor Lane North, Plymouth
13. Minneapolis Marriott West, 9960 Wayzata Boulevard, Minneapolis
14. Residence Inn Minneapolis Plymouth, 2750 Annapolis Circle North, Plymouth
15. Country Inn & Suites By Carlson, Minneapolis West, 210 Carlson Parkway North, Plymouth
16. La Quinta Inn & Suites Minneapolis-Minnetonka, 10420 Wayzata Boulevard, Minnetonka
17. Creekside Cafe, 3131 Campus Drive, Minneapolis
18. Green Mill Restaurant & Bar, 2705 Annapolis Lane North, Plymouth