Monarch Air Group provides private air charter in Pittsburgh, PA. Our clients benefit from top-notch service, unrelenting dedication to safety, wide selection of aircraft, and years of experience in chartering private jets. To obtain a free quote, please use our online quoting tool provided below, or call toll-free 1-877-281-3051.
Charter a private jet to&from Pittsburgh
Book a Private Jet Charter to and from Pittsburgh, PA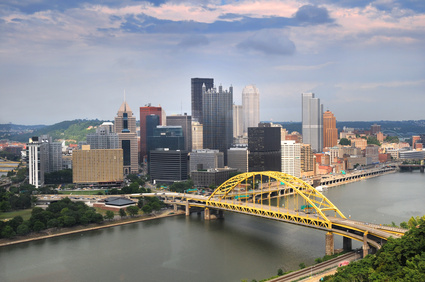 Monarch Air Group offers private jet charter services to and from Pittsburgh, PA, USA.
Pittsburgh is the second-largest city in the U.S. state of Pennsylvania and is one of the cleanest in the nation. Known for its steel industry, nowadays, its economy is largely based on healthcare, education, technology, robotics, and financial services.
Meeting at the Allegheny, the Monongahela, and the Ohio rivers, Pittsburgh is home to some great places including Pittsburgh Opera, the Pittsburgh Youth Symphony, The Benedum Center for Performing Arts, the Pittsburgh Symphony Orchestra, and Heinz Hall houses.
Airports for Private Jet near Pittsburgh
AGC, Allegheny County, Pittsburgh, United States.
BFP, Beaver Falls, Beaver Falls, United States.
BSI, Blairsville, Blairsville, United States.
BTP, Butler County – Kenny Scholter Field, Butler, United States.
FKL, Chess-Lambertin, Franklin, United States.
GWV, Glendale, Glendale, United States.
HLG, Ohio County, Wheeling, United States.
IDI, ndiana County Airport (Jimmy Stewart Field), Indiana, PA, United States.
JST, Cambria County, Johnstown, United States.
LBE, Westmoreland County, Latrobe, United States.
MGW, Morgantown, Morgantown, United States.
OBT, Oakland/Coliseum Stat, Oakland, United States.
OIL, Splane Memorial, Oil City, PA, United States.
WAY, Greene County, Waynesburg, United States.
WSG, County, Washington, United States.
YNG, Youngstown, Youngstown, United States.
Hotels in Pittsburgh
DoubleTree by Hilton Hotel & Suites Pittsburgh Downtown, 1 Bigelow Square, Pittsburgh.
Renaissance Pittsburgh Hotel, 107 6th Street, Pittsburgh.
Omni William Penn Hotel, 530 William Penn Place, Pittsburgh.
Brewers Hotel Inc, 3315 Liberty Avenue, Pittsburgh.
Nied's Hotel, 5438 Butler Street, Pittsburgh.
DoubleTree by Hilton Hotel & Suites Pittsburgh Downtown, 1 Bigelow Square, Pittsburgh.
Renaissance Pittsburgh Hotel, 107 6th Street, Pittsburgh.
Hampton Inn Pittsburgh – University Center, 3315 Hamlet Street, Pittsburgh.
Holiday Inn Express, 20 South 10th Street, Pittsburgh.
DoubleTree by Hilton Hotel & Suites Pittsburgh Downtown, 1 Bigelow Square, Pittsburgh.
FAQ for a Private Jet and Air Charter Flights to Pittsburgh
Why choose a charter jet to Pittsburgh with Monarch Air Group?
Private aviation is becoming very popular with people in business, executives, and those who value their time. We operate under modern Pittsburgh private jet charter principles and guarantee quality service on board. Call one of our agents regarding charter jet Pittsburgh rentals.
How much does it cost to book a Pittsburgh private jet charter?
Several factors determine the cost of renting a Pittsburgh private jet. Among them are the number of passengers, the urgency of the order, and the peculiarities of the route. You can get a more exact calculation of the price for the Pittsburgh air charter by contacting our experts. Make sure you indicate the flight details as altogether as possible. This will help you find the most suitable options for the best price. Moreover, you can estimate the flight cost by using our charter flight cost calculator.
Here are some approximate prices for private flights to Pittsburgh:
Charter a Private Jet from TEB to Pittsburgh: piston – starting at $5,180;
Charter Flights from VNY to Pittsburgh: light jet – starting at $25,820;
Private Charter Flights from OPF to Pittsburgh: turboprop – starting at $13,400.
What types of private jets can use for Pittsburgh charter flights?
The private jet market includes dozens of business jets for different types of travel. Indeed, our consultant is always on hand to listen to your needs and help you find a Pittsburgh charter flight aircraft. There are internet connections, telephony on board, seating areas, and comfortable seats. In this case, you need to tell the consultant in detail what luggage you plan to take with you, the particular requirements for the aircraft speed, and the place of arrival. This will allow you to choose a charter flight that meets your flight requirements fully.
| Aircraft type | Passengers | Non-stop range | Cruising speed | Intended use |
| --- | --- | --- | --- | --- |
| Light Jet | up to 6 passengers | about 700 – 2000 miles | 476 to 518 mph | for comfortable short- to mid-range distances |
| Midsize Jet | up to 10 passengers | about 1300 – 1500 miles | 422 to 541 mph | to fly nonstop from coast to coast |
| Super midsize Jet | up to 10 passengers | about 3.500 – 4.000 miles | 490 to 590 mph | for longer flights |
| Heavy Jet | up to 18 passengers | about 6.000 miles | 480 to 551 mph | traveling overseas in luxury for an intercontinental flight |
| Turboprops | up to 10 passengers | about 600 – 1.900 miles | 220 to 360 mph | for short- to mid-range flights |
| Ultra-Long Range Jet | up to 19 passengers | about 2,800 – 7,685 miles | 460 to 594 mph | for long-haul travels |
| Helicopters | up to 28 passengers | about 250 – 600 miles | 150 to 175 mph | for passenger and cargo transportation |
What are the advantages of flying on a Pittsburgh private jet?
Renting a private jet has several undeniable advantages over commercial flights. The main advantage of a private plane charter Pittsburgh is that the customer determines the parameters of his trip on his own. Our company provides the possibility of fast and comfortable delivery of our clients to any part of the world. In addition, we will coordinate the route's cost, guarantee absolute confidentiality, and help organize a transfer flight or a group charter flight.
Popular Destinations near Pittsburgh by Private Jet
Cleveland—renowned for the unique character of its many neighborhoods, it is the cultural heart of Ohio, along the shores of Lake Erie.
Columbus—is a city rich in history and diverse culture, offering all the benefits of a large metropolis.
Harrisburg—just west-northwest of Philadelphia, is Pennsylvania's financial, cultural, and entertainment center.
Buffalo—as America's second-largest and most welcoming city, Buffalo offers spectacular natural scenery and many historical sites.
Our clients travel on efficient and comfortable private jets. If you haven't found the answers to all your questions here, you can contact our experienced and reliable team at any time or visit our air charter FAQ page.