Monarch Air Group provides private air charter in Philadelphia, PA. Our clients benefit from top-notch service, unrelenting dedication to safety, wide selection of aircraft, and years of experience in chartering private jets. To obtain a free quote, please use our online quoting tool provided below, or call toll-free 1-877-281-3051.
Charter a private jet to&from Philadelphia
Book a Private Jet Charter to and from Philadelphia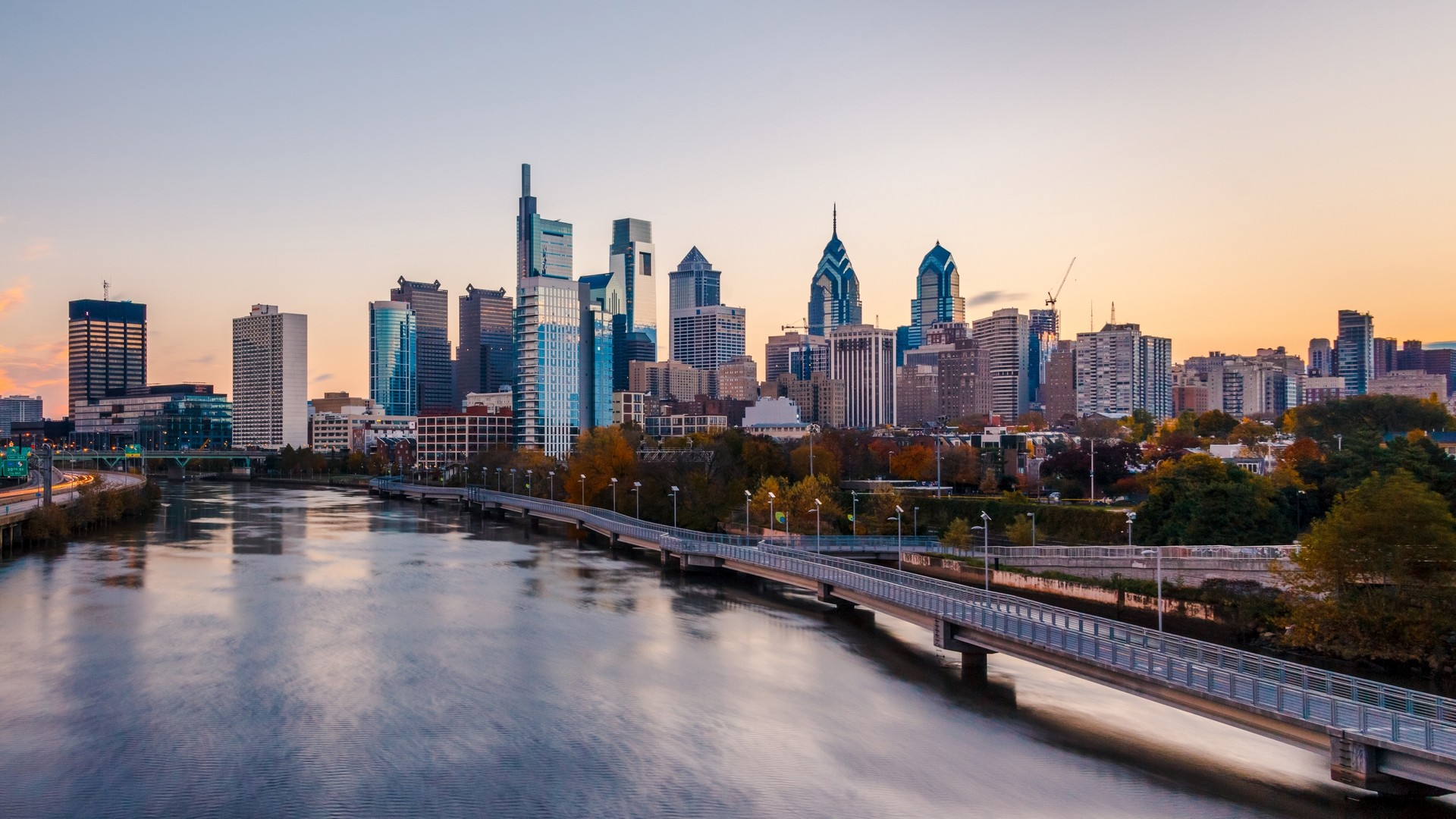 Monarch Air Group provides private jet charter flights to and from Philadelphia.
The biggest city in Pennsylvania, Philadelphia, is between New York City and Washington D.C. It is the homeland of the Declaration of Independence and the Liberty Bell. Take the opportunity to visit the ancient city in the eastern United States with private charter flights to Philadelphia. The financial and business sectors are the best characteristics of the town.
The fantastic city of Philadelphia has become an incredible mix of history and art of different nationalities. Tourists will find many beautiful parks, bars, restaurants, and colonial-style buildings. With a private flight to Philadelphia, visit the University of Pennsylvania, the historic Philadelphia City Hall, Magic Gardens, and the Barnes Foundation Museum of Art. It's an excellent place to launch a business because of the most vital link to the national and world community.
Philadelphia International Airport (PHL, KPHL) is 7 miles from downtown Philadelphia. The airport handles 9.8 million passengers annually and is the largest airport in Pennsylvania. Moreover, it is excellent for private jets to and from Philadelphia.
Airports for Private Jet near Philadelphia
PHL, KPHL, Philadelphia International Airport, Philadelphia, PA
TTN, KTTN, Trenton-Mercer Airport, Trenton, NJ
ILG, KILG, New Castle Air National Guard Base, Wilmington, DE
ACY, KACY, Atlantic City International Airport, Atlantic City, NJ
WKV, Penns Landing Seaplane Base Airport, Penns Landing Seaplane Base, PA
PNE, KPNE, Northeast Philadelphia Airport, Philadelphia, PA
LLY, KVAY, VAY, South Jersey Regional Airport, Mount Holly, NJ
C01, Southern Cross Airport, Williamstown, NJ
KOQN, OQN, Brandywine Airport, West Goshen Township, PA
Hotels in Philadelphia
Four Seasons Hotel Philadelphia, 1 Logan Square, Philadelphia.
Rittenhouse Hotel, 210 West Rittenhouse Square, Philadelphia.
Le Meridien Philadelphia, 1421 Arch Street, Philadelphia.
Penn's View Hotel, 14 North Front Street, Philadelphia.
Hotel Palomar Philadelphia, a Kimpton Hotel, 117 South 17th Street, Philadelphia.
Morris House, 225 South 8th Street, Philadelphia.
Courtyard Philadelphia Downtown, 21 N Juniper St, Philadelphia.
Loews Philadelphia Hotel, 1200 Market Street, Philadelphia.
DoubleTree by Hilton Hotel Philadelphia Center City, 237 South Broad Street, Philadelphia.
Loews Philadelphia Hotel, 1200 Market Street, Philadelphia.
FAQ for a Private Jet Charter Flights to Philadelphia
Why choose a charter jet to Philadelphia with Monarch Air Group?
Monarch Air Group provides private flights to and from Philadelphia, an exclusive service for those interested in chartering a private jet, and a personalized approach. You can create your own schedule for the Philadelphia private jet charter, set your departure time, and choose your destination. In addition, a private jet charter can land at any airport, including remote airfields or smaller regional airports. Call one of our agents for charter jet Philadelphia rentals.
How much does it cost to book a Philadelphia private jet charter?
The cost of renting a Philadelphia private jet can vary depending on the size of the plane and the distance you are flying. The private jet is charged for the entire plane, not per seat as on a commercial flight. You can contact our experts if you can't find the information you need on air charter Philadelphia. We provide luxury, comfort, safety, and security on every flight. Furthermore, get a rough estimate of your flight cost by using a private jet charter cost estimator.
Here are some approximate prices for private flights to Philadelphia:
Charter a Private Jet to Philadelphia from TEB: from $5,180;
Charter Flights to Philadelphia from VNY: from $35,130;
Private Charter Flights to Philadelphia from MIA: from $13,400.
*Estimated price before taxes & fees.
What types of private jets can use for Philadelphia charter flights?
Monarch Air Group offers exceptional and unparalleled service standards, custom-tailored flight solutions, and a wide range of private jets. Philadelphia charter flights have a particular cabin layout and are available for various travel needs. The choice depends on the range of the flight and the number of passengers on board.
| Aircraft type | Passengers | Non-stop range | Cruising speed | Intended use |
| --- | --- | --- | --- | --- |
| Light Jet | up to 6 passengers | about 700 – 2000 miles | 476 to 518 mph | for comfortable short- to mid-range distances |
| Midsize Jet | up to 10 passengers | about 1300 – 1500 miles | 422 to 541 mph | to fly nonstop from coast to coast |
| Super midsize Jet | up to 10 passengers | about 3.500 – 4.000 miles | 490 to 590 mph | for longer flights |
| Heavy Jet | up to 18 passengers | about 6.000 miles | 480 to 551 mph | traveling overseas in luxury for an intercontinental flight |
| Turboprops | up to 10 passengers | about 600 – 1.900 miles | 220 to 360 mph | for short- to mid-range flights |
| Ultra-Long Range Jet | up to 19 passengers | about 2,800 – 7,685 miles | 460 to 594 mph | for long-haul travels |
| Helicopters | up to 28 passengers | about 250 – 600 miles | 150 to 175 mph | for passenger and cargo transportation |
What are the advantages of flying on a Philadelphia private jet?
Renting a private jet has several undeniable advantages over commercial flights. Whether flying for business or pleasure, private jet charter Philadelphia with Monarch Air Group will make your trip more comfortable and enjoyable. Our specialist is available to you 24/7 for all your needs. We can fly you from anywhere in the world to your desired destination, provide the level of privacy you need, and flexibly adjust your flight to fit your schedule.
Popular destinations near Philadelphia by private jet
Wilmington – is a national financial center and home to many headquarters.
Atlantic City – is America's casino and entertainment city and is the most popular destination in New Jersey.
Newark – offers a rich culture, historical sites, festivals, parks, and recreation centers.
Baltimore – is a lively city on the water, home to the world-famous Baltimore Seafood and many festivals.
Hamptons – gets rave reviews from private aviation clients and offers swimming, boating, and fishing activities.
Our clients travel on efficient and comfortable private jets. If you haven't found the answers to all your questions, you can contact our experienced and reliable team at any time or visit our air charter FAQ page.