Monarch Air Group provides private air charter in Panama City, FL. Our clients benefit from top-notch service, unrelenting dedication to safety, wide selection of aircraft, and years of experience in chartering private jets. To obtain a free quote, please use our online quoting tool provided below, or call toll-free 1-877-281-3051.
Charter a private jet to&from Panama City, FL
Private Jet Charter to and from Panama City, FL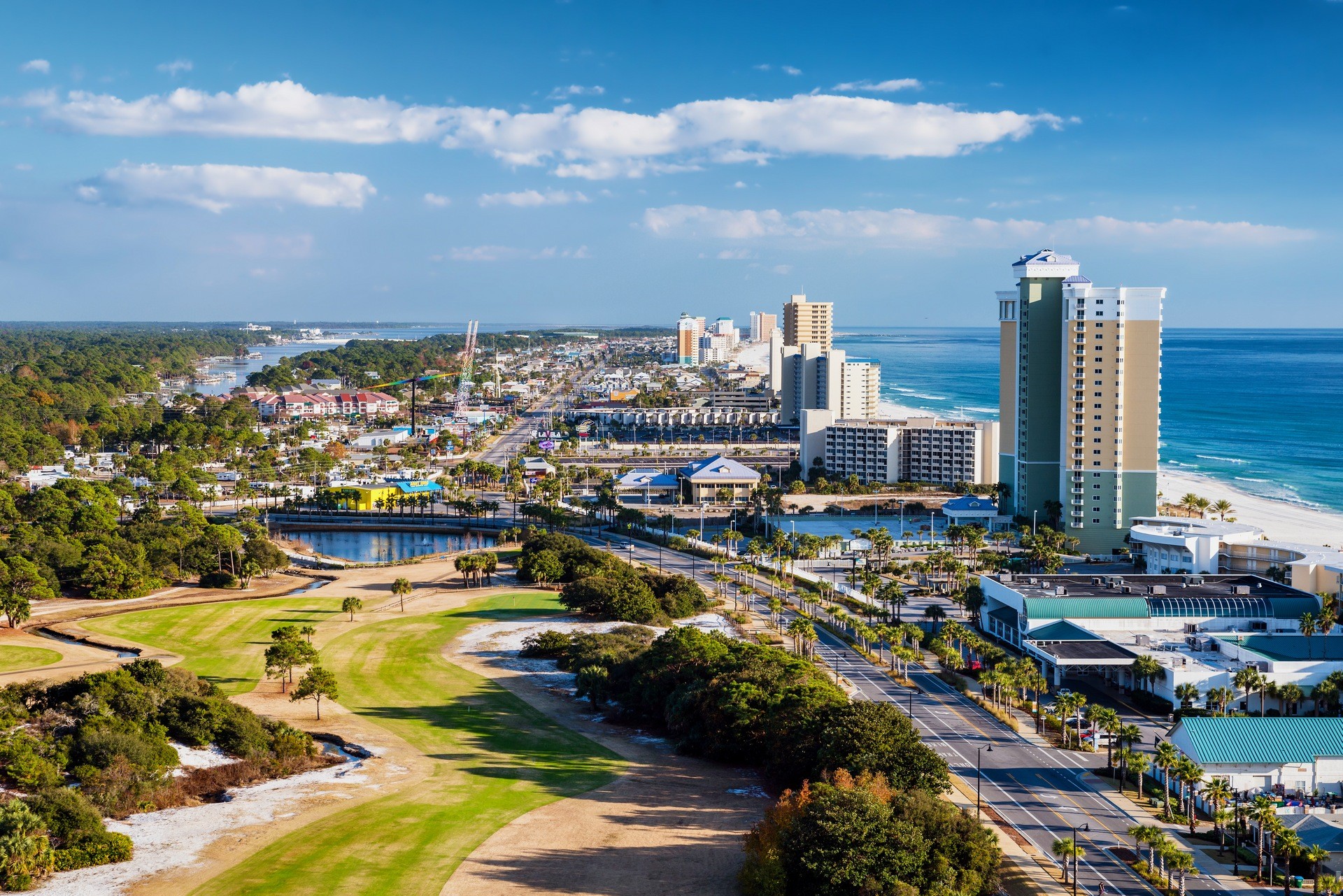 Monarch Air Group provides private jet charter flights in and out of Panama City, Florida, USA.
Panama City, located in northwest Florida, is a bustling port city. It has gained popularity as the Emerald Coast and the Redneck Riviera, drawing in a significant amount of visitors from the surrounding region. With over 27 miles of new hotels and sandy beaches, Panama City private jet charter provides a vibrant nightlife scene and a wide range of thrilling outdoor activities.
With a private jet to Panama City, art enthusiasts will find their haven at the Visual Arts Center in historic downtown Panama City. Housed in a former historic building, the center showcases diverse artworks, including paintings, sculptures, and photography, created by talented local and regional artists.
Panama City is a haven for thrill-seekers and water sports enthusiasts. Book a private jet to Panama City and experience the adrenaline rush by parasailing over the Gulf of Mexico or hop on a jet ski for an exhilarating ride along the coast. For a unique adventure, try stand-up paddleboarding or embark on a thrilling eco-tour to spot dolphins, sea turtles, and other marine life in their natural habitat. In addition, be sure to relax on Panama City Beach, which offers 27 miles of sugary white sand and emerald-green waters. Or, for an unforgettable family-friendly experience, head to Gulf World Marine Park.
When chartering a private jet to Panama City, venture into St. Andrews, a historic district brimming with quaint shops, art galleries, and charming restaurants. Stroll along Beck Avenue, explore the marina, and enjoy fresh seafood at one of the waterfront eateries. Take the chance to visit the Panama City Marina Civic Center, which hosts various concerts, performances, and cultural events throughout the year.
A public airport Northwest Florida Beaches International Airport is located in Bay County, Florida, 18 miles northwest of Panama City.
Get your Panama City charter flight with Monarch Air Group!
Panama City Private Jet Rental Cost
Panama City private jet rental range from $2,000 – $17,000 per billable flight hour or more. Turboprop jets cost from $1,800 to $2,400 per hour, light jets cost from $2,400 to $3,900, mid-size or super-midsize jets cost from $4,200 to $8,100 per flight hour, while heavy and ultra-long range jets per flight hour cost from $7,200 to $17,800.
Airports for Private Jet near Panama City
ECP, KECP, Northwest Florida Beaches International Airport
FAQ: Private Jet Flights to Panama City
Why choose a charter jet to Panama City with Monarch Air Group?
When you select Monarch Air Group to organize every aspect of your trip to Panama City, your comfort and safety are among our top priorities. Our private aircraft are equipped with cutting-edge technology to improve your experience, and we guarantee a wonderful trip.
What Types of the Private Jets Can Use for Panama City?
Monarch Air Group takes into account a number of factors before choosing a private aircraft for a flight to Panama City. The necessary number of passengers, price, range, and route are all mentioned. When offering charter services, your comfort, safety, and pleasure are our top objectives. There are many different types of aircraft in our air fleet.
What are the Benefits of Flying Panama City Private Jet?
There are several advantages of private aviation. You have full control over the itinerary when you reserve a private aircraft to travel to Panama City. Depending on your requirements and the number of people, we can offer you a suitable private plane. Our travel agent is on call 24 hours a day, seven days a week, to help you with your travel plans.
Can I Bring My Pet on a Private Jet to Panama City?
We cherish and respect all animals and are happy to provide pet-friendly flights to Panama City. However, it is crucial to consider each flight's unique needs and restrictions. Your fellow travelers' safety is our top priority.
Popular Destinations near Panama City by Private Jet
Located west of Panama City, Destin is known for its stunning white-sand beaches, emerald waters, and vibrant harbor. It offers a range of water activities, including fishing, boating, and snorkeling.
Also situated west of Panama City, Pensacola has beautiful beaches and a rich history. The city boasts attractions such as the National Naval Aviation Museum, Pensacola Beach, Historic Pensacola Village, and the Pensacola Lighthouse.
Apalachicola is positioned east of Panama City, a charming coastal town renowned for its historic downtown district and fresh seafood. Visitors can explore the quaint streets, visit local shops and galleries, and enjoy delicious oysters from Apalachicola Bay.
Modern technology aboard our private aircraft increases flight effectiveness and safety. We work hard to personalize your experience and offer first-rate customer service. For more information, please check our "Frequently Asked Questions" section or contact us.