Monarch Air Group provides private air charter in Oceanside, CA. Our clients benefit from top-notch service, unrelenting dedication to safety, wide selection of aircraft, and years of experience in chartering private jets. To obtain a free quote, please use our online quoting tool provided below, or call toll-free 1-877-281-3051.
Charter a private jet in Oceanside
Book a Private Jet Charter to Oceanside, California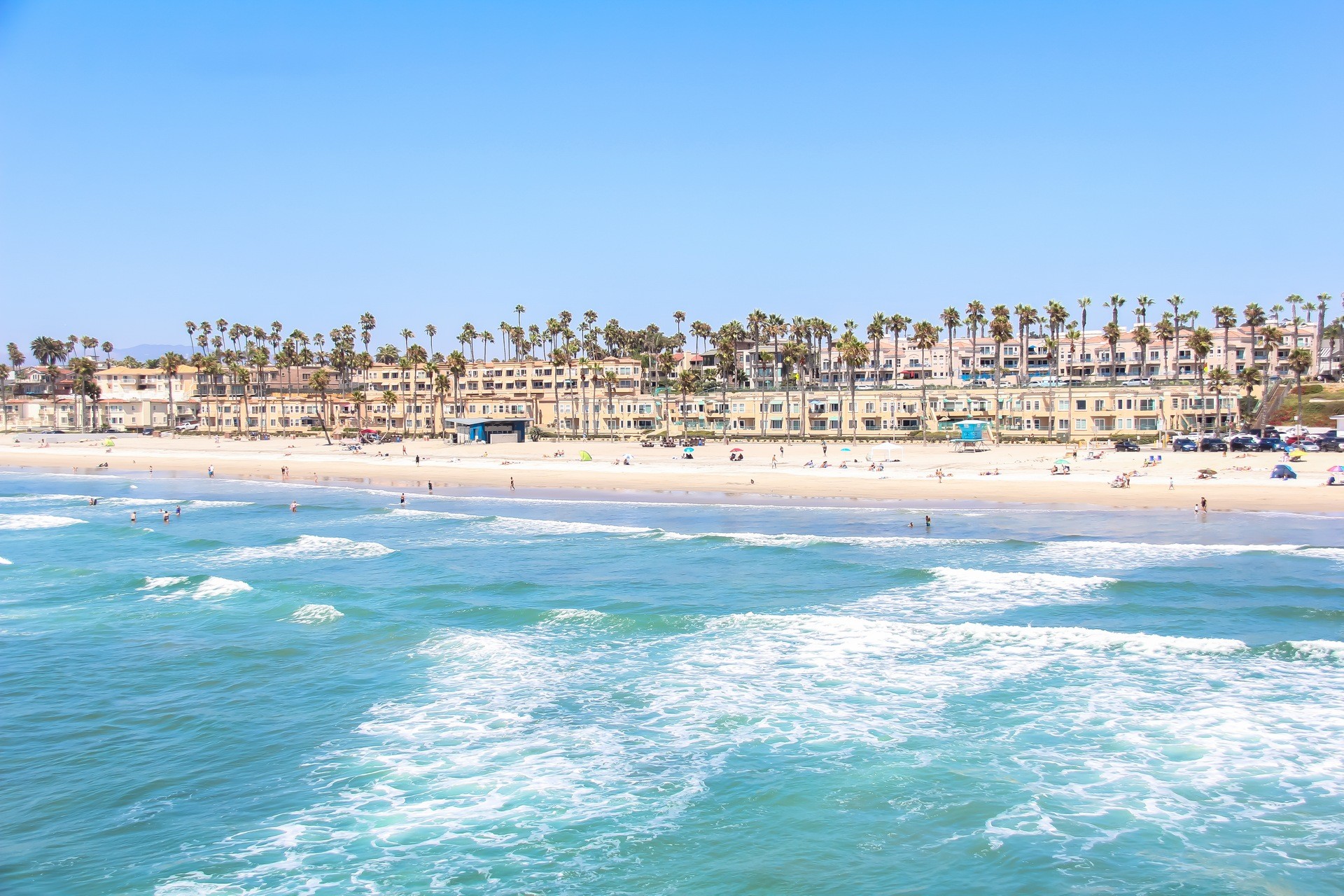 Monarch Air Group provides private jet charter flights in and out of Oceanside, California, USA.
Oceanside is a residential and commercial city in southwestern California, north of San Diego. It is also the 3rd-largest city in San Diego County. The city's population is approximately 183,095 people, and the total area is 42.2 square miles. The attraction for the charter flight to Oceanside travelers is the beautiful year-round weather, the gorgeous beaches, and the historic sites.
Oceanside is a charming vacation spot with a quaint New England-style harbor and magnetic blocks of bungalows. Here you can learn about surf culture, sea life, and more. Oceanside private flights can go quietly and smoothly, as the city is ideally located between San Diego and Los Angeles, making it easy to visit family favorites.
Book a private jet to Oceanside to observe tourist attractions, including California Surf Museum, Arcadian Ascents, The Pier at Oceanside, Oceanside Farmer's Market, Oceanside Sunset Market, Guajome County Park, San Onofre State Beach, Buena Vista Audubon Society & Nature Center, and much more.
The nearest airport is Oceanside Municipal Airport (OCN), 2 miles from the city, or McClellan-Palomar Airport (CLD), which is located 10 miles from Oceanside. Each is capable of meeting the needs of private travelers and serving Oceanside charter jets.
Cost to charter a private jet to or from Oceanside
The cost of a private jet to Oceanside will vary depending on the size of the private jet, duration, flight time, and other factors. Here are some price options for private jets to or from Oceanside.
To/From Location
Aspen
New York
Dallas
Aircraft
Turboprops
Light Jet
Midsize Jet
Estimated Price
(One-Way)
$14,800 – $20,500
$38,600 – $48,000
$21,500 – $29,500
Flight Duration
2hr 50min
6hr 00min
2hr 52min
Oceanside Private Jet Airports within 70 miles
OCN, Oceanside Municipal Airport
QEM, Emerald Bay Airport
JOC, Centerport Heliport
JNP, Newport Beach Airport
HMT, KHMT, Hemet-Ryan Airport
CLD, KCRQ, CRQ, McClellan-Palomar Airport
SAN, KSAN, San Diego International Airport
SNA, KSNA, John Wayne Airport
TIJ, MMTJ, Tijuana International Airport
LGB, KLGB, Long Beach Airport
FAQs: Private Jet Flights to Oceanside
Why choose a private jet to Oceanside with Monarch Air Group?
Monarch Air Group provides private plane charter to Oceanside, CA, that allows flexibility, discretion, and cost-effectiveness for a comfortable and fast Oceanside aircraft rental. You can travel worldwide with virtually no restrictions and worries about flight schedules by renting a private jet to Oceanside. Our team will individually advise you on Oceanside private jet charters.
How much does it cost to book an Oceanside private jet charter?
The cost of an Oceanside private jet charter is dependent on your travel requirements. The price is determined by your choice of Oceanside jet type and flight distance. Private jet rates range from $1,300 per hour for a turboprop to $13,000 per hour for a luxury jet. You can get a rough flight cost estimate by using a private jet charter cost estimator.
What types of private jets can use for Oceanside charter flights?
Monarch Air Group will advise you and provide you with the right choice of Oceanside jets according to your requirements. These private jets offer you plenty of space and individual attention and provide safe and efficient travel. You can easily hold meetings and make your time more productive with Oceanside charter flights.
What are the benefits of flying an Oceanside private jet?
Oceanside jet charter has several undeniable advantages over commercial flights. You can choose the suitable model based on your budget and send us a private jet charter Oceanside, CA, request directly. Also, with private plane charter Oceanside, there is an option of individual onboard meals, hotel transfers, or group charter flights. We will also advise you on this and provide you with a full private aircraft rental service.
Popular destinations near Oceanside by private jet
Santa Cruz – is a lovely place, with a beautiful beachfront and a counterculture scene.
Santa Monica – a peaceful beach town, is a popular tourist destination because of the sun, sea, and sand.
Laguna Beach – is along the Pacific coast of Southern California, with a Mediterranean look and feel.
San Diego – is with golden sands, laid-back surf culture, and many attractions.
Our clients travel on efficient and comfortable private jets. If you haven't found the answers to all your questions, you can contact our experienced and reliable team at any time or visit our air charter FAQ page.