Monarch Air Group provides private air charter in Oahu, HI. Our clients benefit from top-notch service, unrelenting dedication to safety, wide selection of aircraft, and years of experience in chartering private jets. To obtain a free quote, please use our online quoting tool provided below, or call toll-free 1-877-281-3051.
Charter a private jet in Oahu
About Oahu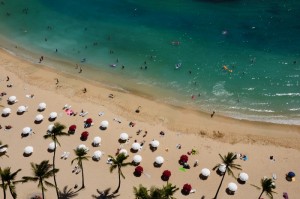 Monarch Air Group provides private jet charter flights to and from Oahu, HI, USA. Separated by the Kauai Channel from the island of Kauai and by Kaiwi Channel from the island of Molokai, Oahu is the third largest of the Hawaiian Islands with an area of 1545 sq. km. With a population of over 950,000, Oahu is most populous island of Hawaii. The capital of the Hawaii and main town of the island is Honolulu. Oahu is the vital commercial hub of the state of Hawaii and the main transportation centre of the Hawaiian Islands. It serves as the gate to the Pacific Rim, with its beautiful cruise port, busy state capital city, and busy international airport. Oahu is the place of Pearl Harbor, the US Naval Base.
Nicknamed "The Gathering Place", Oahu boasts white sandy beaches, emerald and turquoise waters, low-lying coastal plains, green mountain ranges, and stunning valleys. Oahu offers a great variety of historical, cultural, and natural places including the Pearl Harbor, North Shore, Lolani Palace, Waikiki, and Bishop Museum. Tropical climate, amicable atmosphere, unique charm, and dynamic lifestyle make Oahu a perfect destination for both business and leisure travelers worldwide. Oahu is home to Honolulu International Airport (HNL), the largest airport of the state, that provides charter services to Canada, US, and worldwide places and handles more than nine million passengers a year. The island is also served as Ford Island Nalf Airport (NPS) and Kalaeloa Airport (JRF).