Monarch Air Group provides private air charter in Nuremberg. Our clients benefit from top-notch service, unrelenting dedication to safety, wide selection of aircraft, and years of experience in chartering private jets. To obtain a free quote, please use our online quoting tool provided below, or call toll-free 1-877-281-3051.
Charter a private jet in Nuremberg:
About Nuremberg, Germany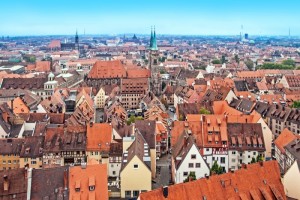 Monarch Air Group offers a wide variety of private jet charter options to and from Nuremberg, Germany.
Located 170 kilometers north of Munich, Nuremberg is the largest city in Franconia and the second largest in Bavaria. With the population of 517,498 people, it is the fourteenth largest city in Germany. Nuremberg is renowned for its rich history and unique culture, with its spectacular old fortifications and the Imperial Castle.
Nuremberg is a crucial industrial center with a powerful standing in the markets of Eastern and Central Europe. Electrical equipment, motor vehicles, optical and mechanical products, drawing and writing paraphernalia, printed materials, and stationery products are the items manufactured in the area.
The main tourist attractions are the Nuremberg Castle, Heilig-Geist-Spital, Johannisfriedhof, Nuremberg Ring, German National Railways Museum, Gothic Lorenzkirche, House of Albrecht Durer, among the others.
Nuremberg is served by Nuremberg Airport, which provides flights to major German cities and a great number of European destinations.
Nuremberg Airports within 70 miles
1. BYU, Bindlacher-Berg, Bayreuth, Germany
2. HOQ, Hof, Hof, Germany
3. IGS, Ingolstadt-manching, Ingolstadt-manching, Germany
4. ILH, Illis Airbase, Illisheim, Germany
5. KZG, Kitzingen, Kitzingen, Germany
6. QGV, Neu Isenburg, Frankfurt, Germany
Hotels in Nuremberg
1. Hampton by Hilton Nuremberg City Centre, Bahnhofstraße 16, Nürnberg
2. Park Inn by Radisson Nuremberg, Sandstraße 2-8, Nürnberg
3. Best Western Hotel Nürnberg am Hauptbahnhof, Allersberger Straße 34, Nürnberg
4. Holiday Inn Nürnberg City Centre, Engelhardsgasse 12, Nuernberg
5. Ramada Nuernberg Parkhotel, Muenchener Str 25, Nuernberg
6. Hotel Elch Boutique, Irrerstraße 9, Nürnberg
7. Holiday Inn Express Nürnberg City Hauptbahnhof, Bahnhofstraße 14, Nürnberg
8. Le Méridien Grand Hotel Nürnberg, Bahnhofstraße 1, Nürnberg
9. Hotel Victoria, Königstraße 80, Nürnberg
10. Sheraton Carlton Hotel Nuernberg, Eilgutstraße 15, Nürnberg
11. Hotel Drei Raben Nürnberg, Königstraße 63, Nürnberg
12. SORAT Hotel Saxx Nürnberg, Hauptmarkt 17, Nürnberg
13. Hotel Novotel Nuernberg Centre Ville, Bahnhofstrasse 12, Nuernberg
14. Congress Hotel Mercure Nuernberg an der Messe, Münchener Straße 283, Nürnberg
15. HOTEL DEUTSCHER KAISER, Königstraße 55, Nürnberg
16. Mövenpick Hotel Nürnberg-Airport, Flughafenstraße 100, Nürnberg
17. Hotel Agneshof Nürnberg · Partner of SORAT Hotels, Agnesgasse 10, Nürnberg
18. Burgschmiet, Burgschmietstraße 8, Nürnberg