Monarch Air Group provides private air charter in Nottingham, UK. Our clients benefit from top-notch service, unrelenting dedication to safety, wide selection of aircraft, and years of experience in chartering private jets. To obtain a free quote, please use our online quoting tool provided below, or call toll-free 1-877-281-3051.
Charter a private jet to&from Nottingham, UK
Private Jet Charter to and from Nottingham, UK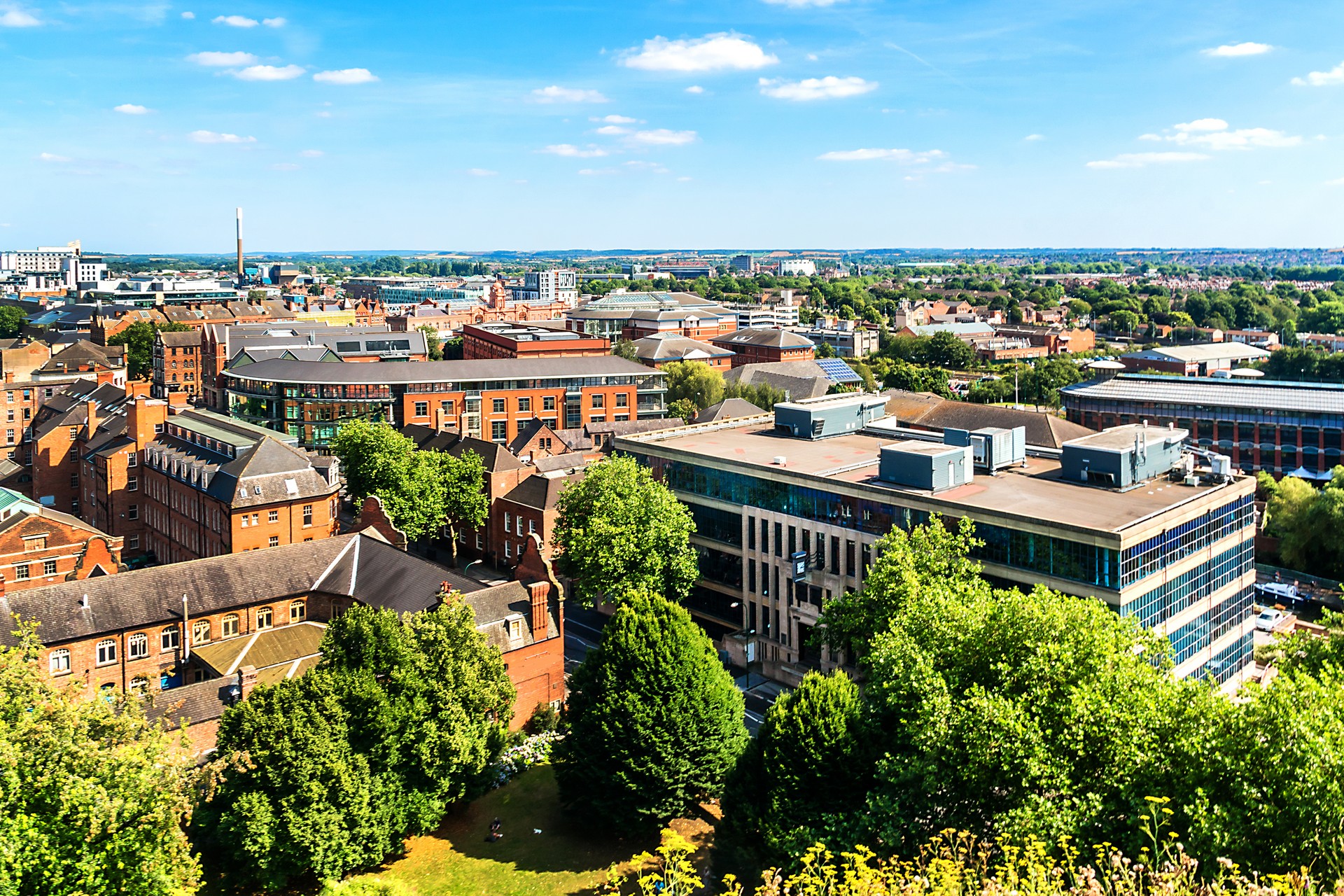 Monarch Air Group offers private jet charter services to and from Nottingham, UK.
Located in east central England and serving as the county town of Nottinghamshire, Nottingham is a captivating city with a rich heritage. Its origins trace back to the sixth century when it emerged as a modest Saxon settlement known as "Snotengaham." Over the centuries, Nottingham flourished into a bustling hub, particularly during the 19th and 20th centuries when it became renowned for its coal-mining and lace-making industries. Nottingham private jet charter is a remarkable destination today, offering a tapestry of fascinating history, delectable cuisine, vibrant cultural attractions, world-class accommodation, exceptional theater productions, and esteemed universities.
Book a private jet to Nottingham and immerse yourself in Nature at Wollaton Hall and Park. Escape the hustle and bustle of the city and enjoy the tranquility of Wollaton Hall and Park. This magnificent Elizabethan mansion set in a vast parkland offers a picturesque backdrop for leisurely walks, picnics, and wildlife spotting. Explore the grand hall, home to the Nottingham Natural History Museum, or simply unwind in the serene surroundings of the park.
Art enthusiasts will be captivated by Nottingham Contemporary when renting a private jet to Nottingham, one of the largest contemporary art centers in the UK. This amazing venue showcases cutting-edge exhibitions, thought-provoking installations, and engaging events that celebrate the diversity of modern art. Take a moment to appreciate the vibrant art scene in Nottingham and explore the ever-changing exhibits.
Renting a private jet to Nottingham would be complete with exploring the iconic Nottingham Castle. Standing proudly on a sandstone outcrop, this medieval fortress offers breathtaking panoramic city views. Immerse yourself in the castle's history and its association with Robin Hood as you explore the ancient caves, lush gardens, and the fascinating galleries of Nottingham Castle Museum and Art Gallery.
Situated in Tollerton, Nottinghamshire, England, lies Nottingham Airport, alternatively referred to as Nottingham City Airport.
Nottingham Private Jet Rental Cost
Nottingham private jet rental ranges from $2,000 – $17,000 per billable flight hour or more. Turboprop jets cost from $1,800 to $2,400 per hour, light jets cost from $2,400 to $3,900, mid-size or super-midsize jets cost from $4,200 to $8,100 per flight hour, while heavy and ultra-long range jets per flight hour cost from $7,200 to $17,800.
Airports for Private Jet near Nottingham
EMA, EGNX, East Midlands Airport
DSA, EGCN, Robin Hood Airport Doncaster Sheffield
BHX, EGBB, Birmingham Airport
EVS, East Midland Airport
SZD, EGSY, Sheffield City Airport
WTN, Waddington Airport
DCS, Finningley
FAQ: Private Jet Flights to Nottingham
Why choose a charter jet to Nottingham with Monarch Air Group?
We prioritize your safety and comfort when you choose Monarch Air Group to plan your private flight to Nottingham. Our private planes are tailored to your specific requirements, and we provide additional facilities to enhance your flying experience. We are committed to offering the finest possible experiences for our consumers.
What Types of the Private Jets Can Use for Nottingham?
Monarch Air Group examines numerous criteria when renting a private flight to Nottingham, including pricing, passenger capacity, necessary range, and route. Furthermore, we provide excellent private aircraft charter services for private, convenient, and fun travel.
What are the Benefits of Flying a Nottingham Private Jet?
Private aircraft provide numerous advantages over other types of transportation when flying to Nottingham. We offer many travel alternatives that suit your tastes, budget, and schedule as a reputable source of private jet rentals.
Can I Bring My Pet on a Private Jet to Nottingham?
Monarch Air Group allows animals on flights to Nottingham, putting the comfort and safety of pets first. However, if you intend to travel with your pet, please be aware of the city's animal transit policies.
Popular Destinations near Nottingham by Private Jet
Located in the East Midlands region of England, Leicester is a vibrant city with a rich history and diverse cultural heritage. Known for its multicultural atmosphere, Leicester offers a variety of attractions, including the striking Leicester Cathedral, the fascinating King Richard III Visitor Centre, and the National Space Centre. The city is also renowned for its thriving arts and music scene and its excellent shopping and dining options.
Situated on the banks of the River Derwent in Derbyshire, Derby is a city steeped in industrial heritage. It is famously known as the birthplace of the Industrial Revolution and the home of the world's first factory. Visitors to Derby can explore the Derby Museum and Art Gallery, which houses an impressive collection of artwork and exhibits on the city's history. The city also boasts beautiful parks, such as the serene Darley Park and the picturesque Markeaton Park.
Nestled in the county of Derbyshire, Chesterfield is a historic market town with a distinct medieval charm. The town is renowned for its iconic landmark, the crooked spire of the Church of St. Mary and All Saints, which is a sight to behold. Chesterfield's traditional open-air market in the town center offers a delightful shopping experience. The nearby Peak District National Park provides opportunities for outdoor activities, including hiking, cycling, and exploring scenic landscapes.
Located in the West Midlands region, Birmingham is England's second-largest city and a bustling metropolis. Known as the "City of a Thousand Trades," Birmingham has a rich industrial heritage. Today, it is a vibrant hub of culture, commerce, and entertainment. The city is home to world-class attractions, including the Cadbury World chocolate factory, the Birmingham Museum and Art Gallery, and the Birmingham Botanical Gardens. With its diverse culinary scene, thriving shopping districts, and renowned music venues, Birmingham offers a dynamic urban experience.
Our private aircraft is designed to satisfy your travel demands with cutting-edge technology, great reliability, and efficiency. Please visit our website's "FAQ" section for more information, or feel free to contact us personally. We are committed to assisting you and welcome any questions you may have.