Monarch Air Group provides private air charter in New Orleans, LA. Our clients benefit from top-notch service, unrelenting dedication to safety, wide selection of aircraft, and years of experience in chartering private jets. To obtain a free quote, please use our online quoting tool provided below, or call toll-free 1-877-281-3051.
Charter a private jet in New Orleans:
Book a Private Jet Charter to New Orleans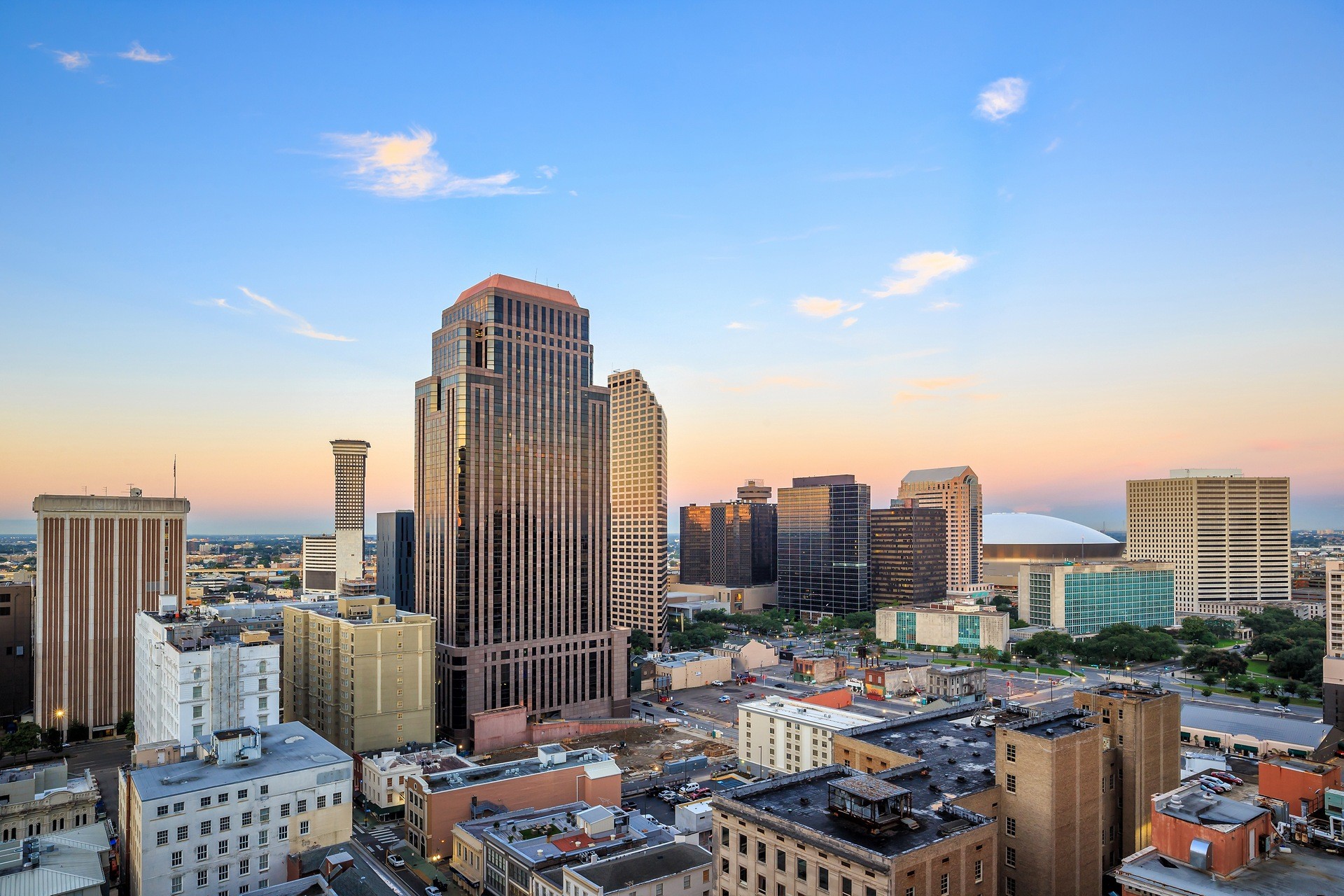 Monarch Air Group offers private jet charter services to and from New Orleans, LA USA.
In the southeastern region of the U.S. state of Louisiana lies the city of New Orleans, a major port and economic and commercial center. It stretches along the Mississippi River at its confluence with the Gulf of Mexico. The city is a major tourist center of the country, known for its French architecture, multiculturalism, Creole cuisine, and lively nightlife, and is considered the birthplace of jazz. The diversity and unique intertwining of cultures make a private jet charter New Orleans appealing.
With a charter flight to New Orleans, visit the French Quarter, home to Creole cottages with pastel facades, Jackson Square, or City Park, with a unique greenhouse featuring tropical and desert prehistoric plants. Two of the city's most famous streets, Royal Street and Bourbon Street, and the city's main Catholic Church, St. Louis Cathedral, are not far away. Finally, get in touch with the colorful city's cocktail culture by visiting the Sazerac Museum, dedicated to the original Sazerac cocktail.
New Orleans' highest tourist season is in February, during Mardi Gras, a massive carnival. This festive, costumed procession passes through the entire city, attracting about a million tourists to New Orleans each year. In addition, with a private flight to New Orleans, visit other exciting events like the French Quarter Festival and the New Orleans Jazz Festival.
Charter jets to New Orleans are served by Lakefront Airport (NEW, KNEW), 5 miles from downtown, and Louis Armstrong New Orleans International Airport (MSY, KMSY), 11 miles west of downtown New Orleans.
Cost to charter a private jet to or from New Orleans
The cost of a private jet to New Orleans will vary depending on the size of the private jet, duration, flight time, and other factors. Here are some price options for private jets to or from New Orleans.
To/From Location
LA
New York
Miami
Aircraft
Light Jet
Very Light Jet
Midsize Jet
Estimated Price
(One-Way)
$31,300 – $38,700
$23,400 – $31,700
$17,200 – $23,500
Flight Duration
4hr 55min
3hr 30min
2hr 10min
New Orleans Private Jet Airports within 70 miles
BCS, Southern Seaplane, Belle Chasse, United States.
BXA, George R Carr, Bogalusa, United States.
GPT, Gulfport-Biloxi International, Gulfport, United States.
HUM, Terrebonne, Houma, United States.
NBG, NAS/Alvin Callendar, New Orleans, United States.
NEW, Lakefront, New Orleans, United States.
PCU, Pearl River County, Picayune, United States.
FAQs: Private Jet Flights to New Orleans
Why choose a private jet to New Orleans with Monarch Air Group?
Monarch Air Group offers on-demand private jet charter New Orleans, LA, at any time of day or night. Our team is committed to the highest safety and quality service standards for New Orleans private charter flights. Personalized attention to passenger needs and years of experience in private jet rental New Orleans provides our customers with a superior private travel experience.
How much does it cost to book a New Orleans private jet charter?
New Orleans jet rentals cost from 1,300 to 14,000 per billable flight hour. Other factors, such as the complexity of the itinerary or the type of jet chosen, also affect the total cost of a New Orleans charter flight.
What types of private jets can use for New Orleans charter flights?
Monarch Air Group has access to a network of private jets and offers customers a wide selection of New Orleans jets. When choosing the model of aircraft for the New Orleans air charter service, you need to consider the flight range, the number of passengers, the budget, and desired level of amenities. Contact our charter experts, and we will do our best to provide an aircraft that meets all your requirements.
What are the benefits of flying on a New Orleans private jet?
With New Orleans private jet charters, you can enjoy all the benefits of private aviation. On a case-by-case basis, we create a customized New Orleans private flight profile according to your schedule and budget. You can choose exactly when you want to fly and with whom you want to fly, select the aircraft model, the in-flight meal menu, and more on private plane charter New Orleans.
Popular destinations near New Orleans by private jet
Grand Isle – about 100 miles south of New Orleans, is a beach village with canoeing and fishing opportunities.
Natchitoches – boasts much French and Spanish colonial architecture.
Baton Rouge – the historic state capital, with a Greek theater and several lakes open for recreation.
Lafayette – in the heart of the Cajun country, is suitable for active and leisurely stays.
Our clients travel on efficient and comfortable private jets. If you haven't found the answers to all your questions here, you can contact our experienced and reliable team at any time or visit our air charter FAQ page.