Monarch Air Group provides private air charter in Navarre, FL. Our clients benefit from top-notch service, unrelenting dedication to safety, a wide selection of aircraft, and years of experience in chartering private jets. To obtain a free quote, please use our online quoting tool provided below, or call toll-free at 1-877-281-3051.
Charter a private jet to&from Navarre
Book a Private Jet Charter to and from Navarre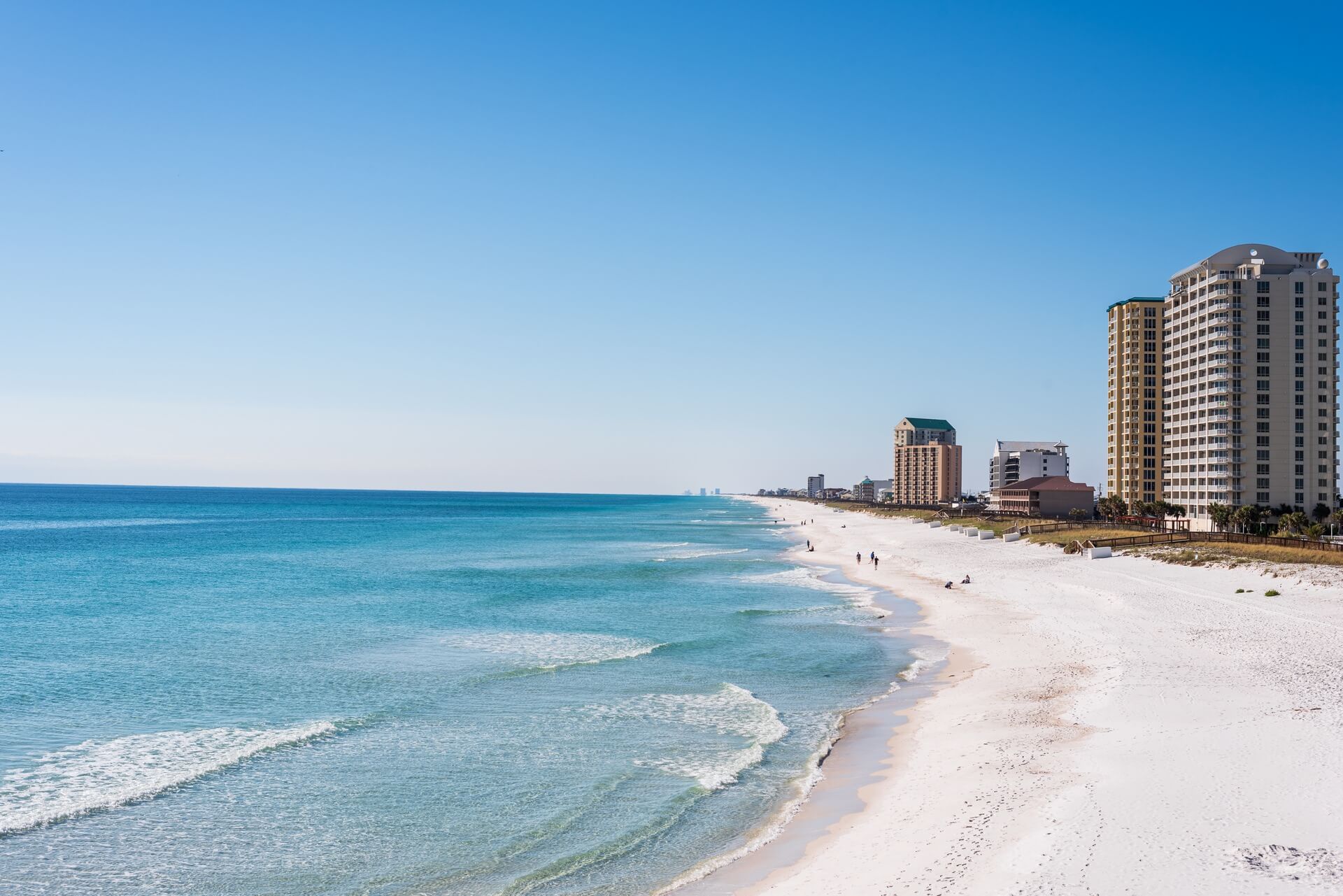 Monarch Air Group provides private jet charter flights to and from Navarre.
In northwest Florida, the Panhandle is located in Navarre, part of Santa Rosa County, with a population of 41,000. Thanks to several miles of beaches in Navarre Beach Marine Park, it has a rapidly growing community of nature lovers and tourists. Moreover, it is a popular destination for private jet charters to and from Navarre.
Navarre is a compact beach village between the Gulf Islands National Marine Sanctuary and Navarre Beach Marine Park. It beckons private flights to and from Navarre travelers with 12 miles of pristine white coastline. Navarre's pristine beaches have been called some of the best in the country yearly. The region's main attraction is the unspoiled nature of Navarre and the beautiful places for beach vacations. The city offers entertainment for all tastes, as well as great lodging options and great restaurants. Furthermore, you can also take a scenic bike ride or swim in the emerald waters.
Destin Executive Airport (DSI, KDTS), near Destin, in Okaloosa County, Florida. The airport serves charter jet flights to and from Navarre.
Navarre Private Jet Airports
K1J9, Fort Walton Beach
DSI, Destin Ft Walton Beach
FAQ for a Private Jet Charter Flights to Navarre
Why choose a private jet to Navarre with Monarch Air Group?
Monarch Air Group provides private flights to and from Navarre, the individual freedom of private flying, and access to various hard-to-reach airports. This allows you the complete freedom of private aviation, allowing you to choose the aircraft and services that meet your needs at any time. Our team will meet your requirements to ensure that our services meet your expectations with a Navarre private jet charter. So call one of our agents and enjoy a Navarre charter jet.
How much does it cost to book a Navarre private jet charter?
The cost of renting a Navarre private jet depends on the route, the number of passengers, and your chosen aircraft. Therefore, the service is based on your travel plans and preferences. You can contact our specialists to get the necessary information about the air charter Navarre. Moreover, using our private jet charter cost estimator, you can get a flight cost estimate.
Here are some approximate prices for private flights to Navarre:
Charter a Private Jet to Navarre from NYC: from $16,730;
Charter Flights to Navarre from DC: from $16,730;
Private Flights to Navarre from Miami: from $6,040.
*Estimated price before taxes & fees.
What types of private jets can use for Navarre charter flights?
We can provide VIP jets, airliners, heavy, light, or turboprop aircraft and are focused on providing the most luxurious experience using the best aircraft available. The main difference between the aircraft categories is the size of the cabin, the range, and the number of passenger seats. Consider this when considering which aircraft to choose for Navarre charter flights.
| Aircraft type | Passengers | Non-stop range | Cruising speed | Intended use |
| --- | --- | --- | --- | --- |
| Light Jet | up to 6 passengers | about 700 – 2000 miles | 476 to 518 mph | for comfortable short- to mid-range distances |
| Midsize Jet | up to 10 passengers | about 1300 – 1500 miles | 422 to 541 mph | to fly nonstop from coast to coast |
| Super midsize Jet | up to 10 passengers | about 3.500 – 4.000 miles | 490 to 590 mph | for longer flights |
| Heavy Jet | up to 18 passengers | about 6.000 miles | 480 to 551 mph | traveling overseas in luxury for an intercontinental flight |
| Turboprops | up to 10 passengers | about 600 – 1.900 miles | 220 to 360 mph | for short- to mid-range flights |
| Ultra-Long Range Jet | up to 19 passengers | about 2,800 – 7,685 miles | 460 to 594 mph | for long-haul travels |
| Helicopters | up to 28 passengers | about 250 – 600 miles | 150 to 175 mph | for passenger and cargo transportation |
What are the advantages of flying on a Navarre private jet?
Enjoy charter services from Monarch Air Group that include flexible travel arrangements, customized itineraries, private airport departures, and more. We pay attention to every detail to plan the perfect trip. Our specialist is available to you 24/7 for all your travel needs.
Popular destinations near Navarre by private jet
Sarasota – is a charming city home to one of Florida's oldest and largest state parks.
Orlando – there are endless attractions and activities.
St. Petersburg – is attractive to all types of travelers.
Naples – is known for its gorgeous white sand beaches, incredible golf courses, and fine restaurants.
Our clients travel on efficient and comfortable private jets. If you haven't found the answers to all your questions, you can contact our experienced and reliable team at any time or visit our air charter FAQ page.