Monarch Air Group provides private air charter in Nantucket, MA. Our clients benefit from top-notch service, unrelenting dedication to safety, wide selection of aircraft, and years of experience in chartering private jets. To obtain a free quote, please use our online quoting tool provided below, or call toll-free 1-877-281-3051..
Charter a private jet to/from Nantucket
Book a Private Jet Charter to and from Nantucket Island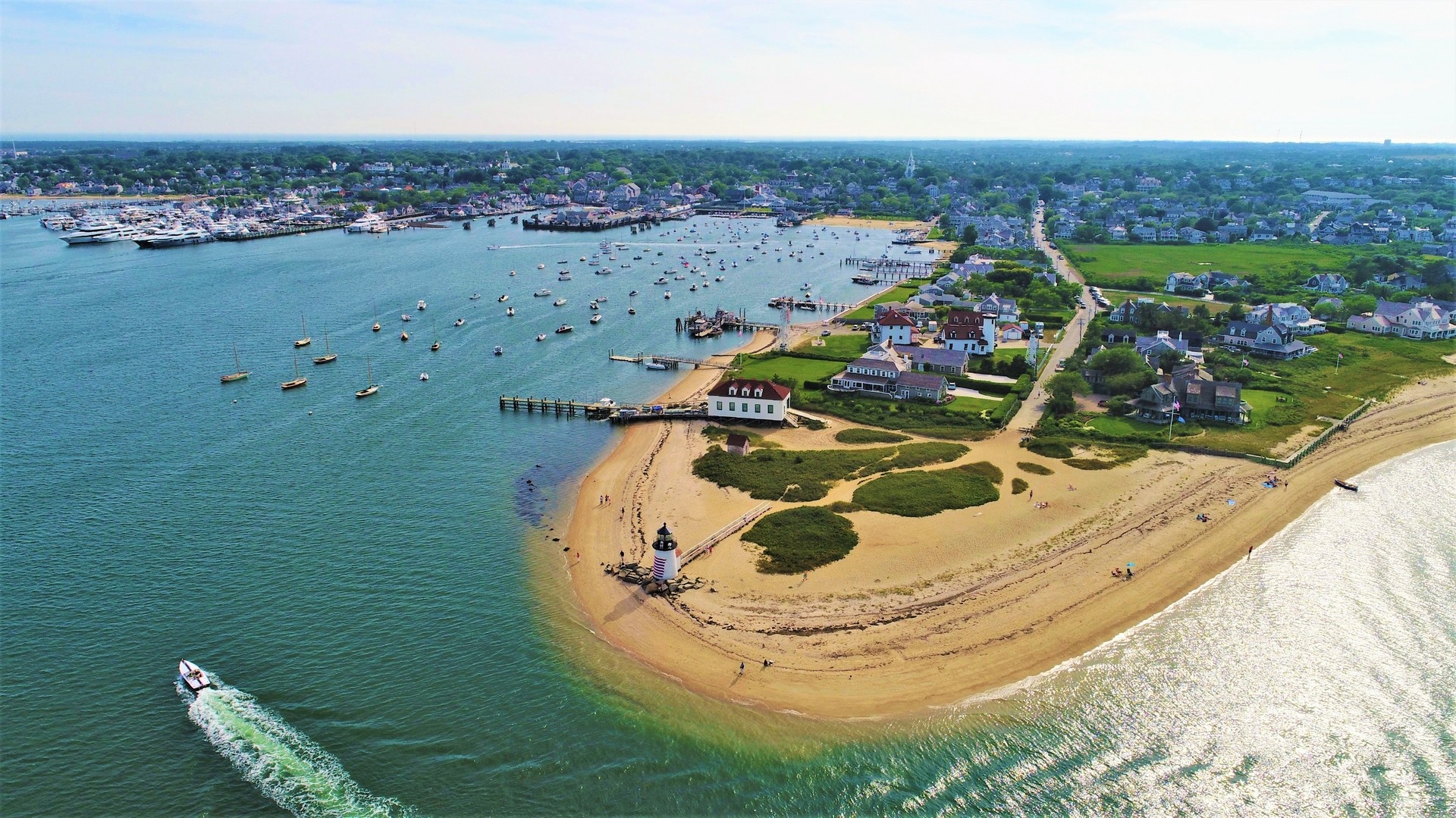 Monarch Air Group provides private jet charter flights in and out of Nantucket, Massachusetts, USA.
During the warm weather, Nantucket private jet charter is a popular destination spot for many people. Situated about 30 miles off the coast of Cape Cod, Nantucket is an island belonging to the state of Massachusetts. Nantucket Island is surrounded with astonishing beaches offering its visitors to join the rest community at the local beach areas or numerous private retreats to hide away by the ocean.
Nantucket, a 15-mile-long island 30 miles south of Cape Cod, was founded by colonists in 1659. The city was the heart of the world's whaling industry from 1740 until 1830, with more than 125 whaling ships, and Quaker missionaries colonized it in the 18th century. To this day, the island's summer population is well-established, and tourists flock here and rent private jets to Nantucket to enjoy the island's bike routes, the houses of sea captains and other historical landmarks.
The entire island of Nantucket has been designated as a National Historic Landmark District. The historic downtown core and the village of Siasconset were the only locations included in the initial listing on the National Register of Historic Places on December 13, 1966.
Once you've rented a private jet to Nantucket, you'll be pleased with its attractions and activities. The Maria Mitchell Association and the Nantucket Whaling Museum are just two of the many notable museums and galleries found on the island of Nantucket. In addition, numerous events, such as a book festival, a wine and food festival, artistic and performing arts, a comedy festival, a daffodil festival, and a cranberry festival, are held on the island throughout the year.
Wine Festival is one of the largest events of Nantucket, which has been running each May for the last ten years. Wine Festival pays its attention to cheeses and wines and takes place at restaurants and stores around the island. Charter flight to Nantucket is filled with culture, shopping, scenery, dining, events, and friendly locals, making it a charming island to visit. Here you can also go on bike tours, sailing excursions or just stroll around the lovely street and beaches. You can also experience water adventures by whale/seal watching, surfing and fishing.
Since Nantucket is a small island, it only has one airport: Nantucket Memorial Airport (ACK/KACK).
Nantucket Private Jet Airports
ACK, KACK, Nantucket Memorial Airport, Nantucket, MA
FAQ for a Private Jet to Nantucket
Why choose a charter flight to Nantucket with Monarch Air Group?
Monarch Air Group provides private flights to and from Nantucket, offering luxury private jets suitable for you depending on the number of passengers and departure seats. We can provide VIP jets, airliners, heavy, light, or turboprop aircraft, at competitive prices for private charter flights to Nantucket. We ensure that your requirements will be met when you choose our company to book a private jet charter to Nantucket. When you fly on a private jet, you are free to choose when and where you want to go, as well as who you want to bring with you and what you want to do while you are there.
How much does it cost to book a Nantucket private jet charter?
You won't have any trouble booking a Nantucket private jet charter with the help of our experts, who will be there to assist you. The cost of renting a private jet to Nantucket is determined by various factors, including the distance traveled, the time of the trip, the total number of passengers, and the kind of aircraft.
Here are some approximate prices for charter flights to Nantucket:
Charter a Private Jet to Nantucket from NYC: from $5,180;
Charter Flights to Nantucket from Boston: from  5,180;
Private Flights to Nantucket from Seattle: from $50,890.
*Estimated price before taxes & fees.
What types of private jets can use for Nantucket charter flights?
Your private jet charter to Nantucket can be arranged with Monarch Air Group, which gives you access to various private jets of different types and models located worldwide. Learn about the many kinds of business jets available, and then pick the one most suitable for your requirements.
| Aircraft type | Passengers | Non-stop range | Cruising speed | Intended use |
| --- | --- | --- | --- | --- |
| Light Jet | up to 6 passengers | about 700 – 2000 miles | 476 to 518 mph | for comfortable short- to mid-range distances |
| Midsize Jet | up to 10 passengers | about 1300 – 1500 miles | 422 to 541 mph | to fly nonstop from coast to coast |
| Super midsize Jet | up to 10 passengers | about 3.500 – 4.000 miles | 490 to 590 mph | for longer flights |
| Heavy Jet | up to 18 passengers | about 6.000 miles | 480 to 551 mph | traveling overseas in luxury for an intercontinental flight |
| Turboprops | up to 10 passengers | about 600 – 1.900 miles | 220 to 360 mph | for short- to mid-range flights |
| Ultra-Long Range Jet | up to 19 passengers | about 2,800 – 7,685 miles | 460 to 594 mph | for long-haul travels |
| Helicopters | up to 28 passengers | about 250 – 600 miles | 150 to 175 mph | for passenger and cargo transportation |
What are the advantages of flying on a Nantucket private jet?
Renting a charter flight on Nantucket is advantageous for quickly arranging flights and reducing travel time and guaranteeing confidentiality while speeding up check-in processes at both the sending and receiving airports. Moreover, a manager will accompany you if you need to make itinerary changes on Nantucket. Booking a business charter on Nantucket is a convenient way to plan a luxury vacation around your schedule. Renting a plane on Nantucket with a crew will allow a large company, family, or small team to travel in luxury.
Popular destinations near Nantucket by private jet
Harwich. Because of its closeness to the national seashore of Cape Cod, the city is a popular vacation spot for people from all over the world.
Chatham – is one of Cape Cod's most attractive beach towns, with picturesque white sand beaches, a famous lighthouse, summer band concerts, and even its baseball team.
Falmouth, a popular beach and water sports destination, also boasts a vibrant music, art, and theatrical culture, including its own opera company.
Martha's Vineyard consists of six little villages, each of which has its own distinct style, as well as miles of beaches, some of which are hidden behind cliffs.
Our clients travel on efficient and comfortable private jets. If you haven't found the answers to all your questions, you can contact our experienced and reliable team at any time or visit our air charter FAQ page.