Monarch Air Group provides private air charter in Munich, Germany. Our clients benefit from top-notch service, unrelenting dedication to safety, wide selection of aircraft, and years of experience in chartering private jets. To obtain a free quote, please use our online quoting tool provided below, or call toll-free 1-877-281-3051.
Charter a private jet to&from Munich, Germany
Private Jet Charter to Munich, Germany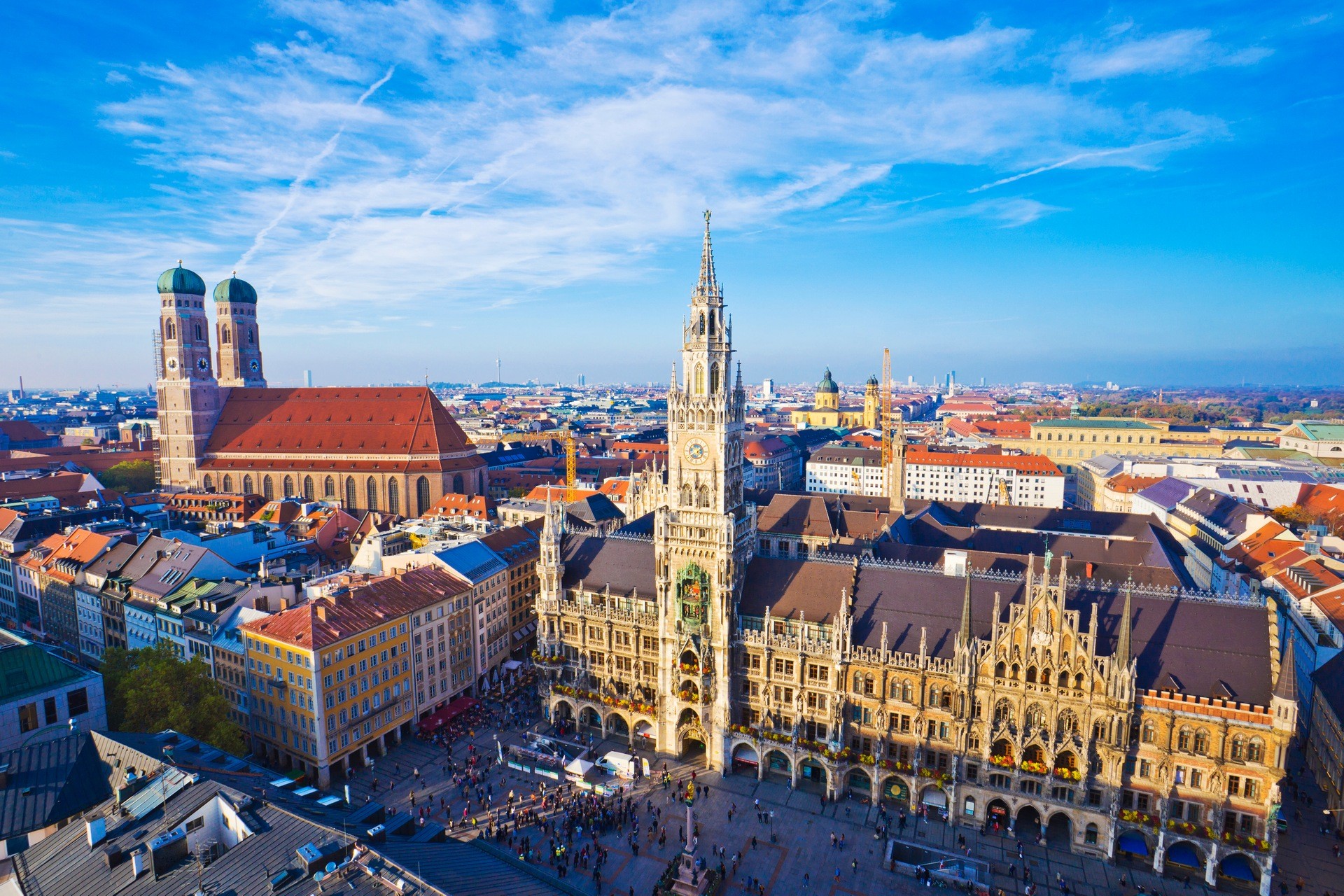 Monarch Air Group offers private jet charter services to and from Munich, Germany.
Munich is situated in southern Germany, close to the Alps, and serves as the capital of Bavaria. The city is known for its palaces, public parks, and affluent residents. Munich private jet charter is a popular tourist destination, attracting visitors from around the globe who come to experience its vibrant cultural scene. Munich is renowned for its arts, heraldry, world-famous Oktoberfest, and live musical performances.
Once you've chartered a private jet to Munich, make a stop at Marienplatz – Situated in the center of Munich's historic district, Marienplatz is an ideal starting point for sightseeing. This lively square is home to the famous Glockenspiel, a clock tower that puts on a show twice a day, at 11 am and 12 pm. Additionally, visitors can admire the stunning architecture of the old and new town halls, which are located on Marienplatz.
When renting a private jet to Munich, discover the Residenz. Once the royal palace of the Bavarian monarchs, the Residenz is now among Munich's top tourist attractions. Visitors can marvel at its extensive art collection and artifacts, such as exquisite tapestries, intricate carvings, and striking paintings. In addition, make a trip to the Nymphenburg Palace, another former royal residence now accessible to the public. Its magnificent gardens and impressive architecture make it a must-visit site. In addition, the palace showcases a diverse range of art pieces.
Book a private jet to Munich and enjoy a beer in a beer garden. Munich is renowned for its beer gardens, and what better way to soak up the vibrant culture than sipping on a cold beer in one of these outdoor venues? Among the popular spots are the Hofbräuhaus, Augustiner-Keller, and the Chinesischer Turm in the Englischer Garten. You can also visit gardens, serene ponds, and a wave pool where surfers ride the waves, adding to its charm.
Munich Airport is an international airport that serves the cities of Munich and Upper Bavaria.
Munich Private Jet Rental Cost
The starting prices for private jet flights to Munich (one way) vary based on the type of aircraft used. A turboprop typically costs around $1,800 – $2,600 USD per hour, while a light jet costs $2,400 – $3,900 USD per hour. A midsize and super-midsize jet comes in at $4,200 – $8,100 USD per hour, and a long-range jet or group charter flight on a VIP airliner can cost $7,200– $17,800 USD per hour or more.
Private Jet Airports Near Munich
MUC, EDDM, Munich Airport
OBF, Oberpfaffenhofen Airport
QOB, Oberpfaffenhofen Airport
FAQ: Private Jet Flight to Munich
Why Choose a Private Jet to Munich with Monarch Air Group?
Monarch Air Group prioritizes your comfort, safety, and pleasure when organizing your private jet to Munich. Our personalized private flights feature additional facilities to make your vacation more enjoyable and suited to your needs.
What Types of the Private Jets Can Use for Munich?
The primary factors influencing Munich's private aircraft choices are the price, passenger count, needed range, and route. Furthermore, our organization provides personalized, one-of-a-kind private aircraft charters to assure maximum privacy and time savings for a stress-free and joyful flight.
What are the Benefits of Flying a Munich Private Jet?
Private flights to Munich have a number of advantages over other types of transportation. Based on your preferences, available time, and financial limits, our trustworthy private jet rental company offers flexible, cost-effective travel solutions.
Can I Bring My Pet on a Private Jet to Munich?
Pets are permitted on Monarch Air Group flights to Munich. However, to guarantee that you meet the city's companion travel requirements, we recommend notifying us ahead of time. Choose a plane with a pet-friendly cabin to assure your pets' safety and comfort.
Popular Destinations Near Munich by Private Jet
Located in southwestern Germany, Stuttgart is the capital of the state of Baden-Württemberg. It's a bustling metropolis that's home to world-renowned automobile companies such as Porsche and Mercedes-Benz. The city is also known for its stunning architecture, including the 10th-century Old Castle and the modernist Porsche Museum.
Situated in northern Bavaria, Nuremberg is a historic city with a rich past dating back to the Middle Ages. The city played a significant role in the Holy Roman Empire, and its impressive imperial castle and medieval city walls are among its most famous landmarks. Today, Nuremberg is a vibrant city with a thriving cultural scene and a popular destination for visitors from all over the world.
The largest city in Switzerland, Zurich is known for its stunning natural beauty and high standard of living. The city is situated on the shores of Lake Zurich and is surrounded by the Swiss Alps. Zurich is also famous for its financial industry, luxury shopping, and world-class museums.
Located in southeastern Austria, Graz is a charming city that blends historic architecture with modern design. The city's Old Town is a UNESCO World Heritage Site, featuring narrow cobblestone streets and stunning Renaissance-era buildings. Graz is also known for its culinary scene, with many local specialties such as pumpkin seed oil and Styrian wine.
We offer beautiful, sophisticated, and comfortable private planes to meet your travel needs. For further information, visit our website's "Frequently Asked Questions" area. Furthermore, our crew is always available to answer your questions.