Monarch Air Group provides private air charter in Monterey, California. Our clients benefit from top-notch service, unrelenting dedication to safety, wide selection of aircraft, and years of experience in chartering private jets. To obtain a free quote, please use our online quoting tool provided below, or call toll-free 1-877-281-3051.
Charter a private jet in Monterey, CA:
Book a Private Jet Charter to and from Monterey, California, United States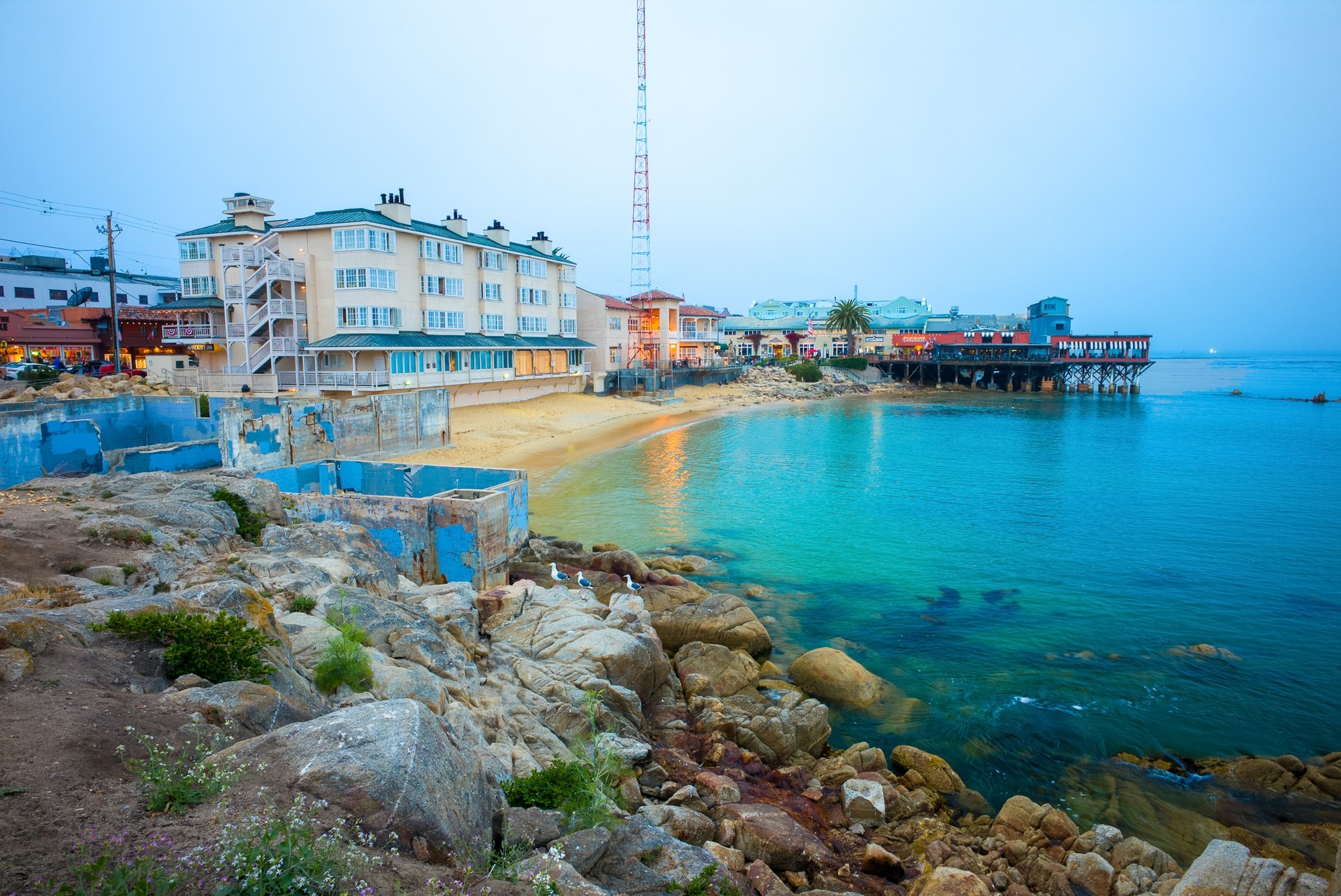 Monarch Air Group offers plenty of private jet charter options to and from Monterey, California, United States.
Nestled on California's Central Coast, Monterey is a vibrant and dynamic city in Monterey County, with a growing population of about 28,454 people. It lies in the southern area of Monterey Bay and is renowned for its spectacular views and a variety f entertainment options and outdoor activities. Charter a private jet to Monterey, considered one of the most popular travel destinations in the United States.
Monterey will appeal to anyone who prefers to vacation in quieter, smaller resorts. The city also retains Spanish Colonial-style buildings and many neat and beautiful Victorian houses. The most notable places of interest in Monterey include the Colton Hall Museum, Path of History, San Carlos Cathedral, Monterey State Historical Park, Cannery Row Monument, Jacks Peak County Park, and Dennis the Menace Park, and Monterey Peninsula Recreational Trail, among the others. Another big reason for a private flight to Monterey is the annual jazz festival in the fall. It lasts three days and includes just about every genre branch, like fusion, funk, and more.
Monterey Regional Airport is the nearest major airport to the city center, which is perfect for charter jets to/from Monterey and situated 4 miles from the city center and serves domestic flights.
Monterey Private Jet Airports within 70 miles
MRY, KMRY, Monterey Regional Airport, Monterey, CA
OAR, KOAR, Marina Municipal Airport, Marina, CA
ZXR, Carmel Valley Airport, Carmel Valley, CA
SNS, KSNS, Salinas Municipal Airport, Salinas, CA
WVI, KWVI, Watsonville Municipal Airport, Watsonville, CA
HLI, Hollister Municipal Airport, Hollister, CA
KIC, KKIC, Mesa Del Rey Airport, King City, CA
Hotels in Monterey, CA
Asilomar Hotel and Conference Grounds, 800 Asilomar Avenue, Pacific Grove
InterContinental The Clement Monterey, 750 Cannery Row, Monterey
The Monterey Hotel, 407 Calle Principal, Monterey
Monterey Plaza Hotel & Spa, 400 Cannery Row, Monterey
Hotel Carmel, 4th & San Carlos Street, Carmel-by-the-Sea
Deer Haven Inn – Hotel Pacific Grove, 750 Crocker Avenue, Pacific Grove
Hyatt Regency Hotel, 1 Old Golf Course Road, Monterey
Ramada Limited Monterey, 2058 Fremont Street, Monterey
Arbor Inn Monterey, 1058 Munras Avenue, Monterey
Colton Inn, 707 Pacific Street, Monterey
Seaside Inn Monterey, 1986 Del Monte Boulevard, Seaside
Pebble Beach Resorts, 1700 17 Mile Drive, Pebble Beach
Hyatt Regency Monterey Hotel & Spa On Del Monte Golf Course, 1 Old Golf Course Road, Monterey
FAQ for a Private Jet to Monterey
Why choose a private jet to Monterey with Monarch Air Group?
Monarch Air Group provides luxurious, comfortable private flights to and from Monterey, offering planes that are perfect for your vacation or business and exclusive service. You decide when to take off, where to land, who to take with you, and what you want to see aboard your private jet. We provide private jets for passengers to make the most of their time with Monterey private jet charters. Call one of our agents with questions about charter jet Monterey.
How much does it cost to book a Monterey private jet charter?
The cost of renting a Monterey private jet is determined by several factors, such as the aircraft model chosen and the itinerary's specifics. Whether you're traveling for business or pleasure, our affordable rates match your budget and travel needs. Get an estimate of your flight costs using our private jet charter cost estimator. Or contact us directly to discuss your requirements for an accurate and personalized quote on air charter Monterey.
Here are some approximate prices for a private jet to Monterey:
Charter a Private Jet to Monterey from LA: from $5,180;
Charter Flights to Monterey from Dallas: from $24,610;
Private Flights to Monterey from Seattle: from $9,890.
*Estimated price before taxes & fees.
What types of private jets can use for Monterey charter flights?
Monarch Air Group can provide VIP jets, airliners, heavy jets, light jets, or turboprops for individual or group charters. We work 24 hours a day, seven days a week, to provide you with a quote for Monterey charter flights as soon as possible. Contact us for more information or a recommendation on which aircraft best suits your specific requirements.
| Aircraft type | Passengers | Non-stop range | Cruising speed | Intended use |
| --- | --- | --- | --- | --- |
| Light Jet | up to 6 passengers | about 700 – 2000 miles | 476 to 518 mph | for comfortable short- to mid-range distances |
| Midsize Jet | up to 10 passengers | about 1300 – 1500 miles | 422 to 541 mph | to fly nonstop from coast to coast |
| Super midsize Jet | up to 10 passengers | about 3.500 – 4.000 miles | 490 to 590 mph | for longer flights |
| Heavy Jet | up to 18 passengers | about 6.000 miles | 480 to 551 mph | traveling overseas in luxury for an intercontinental flight |
| Turboprops | up to 10 passengers | about 600 – 1.900 miles | 220 to 360 mph | for short- to mid-range flights |
| Ultra-Long Range Jet | up to 19 passengers | about 2,800 – 7,685 miles | 460 to 594 mph | for long-haul travels |
| Helicopters | up to 28 passengers | about 250 – 600 miles | 150 to 175 mph | for passenger and cargo transportation |
What are the advantages of flying on a Monterey private jet?
Renting a private jet has several undeniable advantages over commercial flights. No matter where you want to fly, we guarantee your privacy and make your charter experience as luxurious and comfortable as possible. Take a private plane charter Monterey to outlying areas or fly closer to your final destination. Our charter expert is available 24 hours a day, seven days a week, to help you with any questions.
Popular destinations near Monterey by private jet
Santa Cruz – on the Central Coast of California, its welcoming atmosphere, abundant natural resources, cultural life, and unique attractions make it an attractive destination for business and leisure travelers.
Los Altos – gets wildly rave reviews from private aviation clients.
Palo Alto – on the west shore of San Francisco Bay, the center of the aerospace, communications, and electronics industries.
Hillsborough – Silicon Valley's San Mateo County is a fantastic city with many business opportunities.
Hayward – 27 miles southeast of San Francisco, boasts a thriving, diverse economy.
Our clients travel on efficient and comfortable private jets. If you haven't found the answers to all your questions, you can contact our experienced and reliable team at any time or visit our air charter FAQ page.