Monarch Air Group provides private air charter in Milwaukee, WI. Our clients benefit from top-notch service, unrelenting dedication to safety, wide selection of aircraft, and years of experience in chartering private jets. To obtain a free quote, please use our online quoting tool provided below, or call toll-free 1-877-281-3051.
Charter a private jet to&from Milwaukee, WI
Private Jet Charter to and from Milwaukee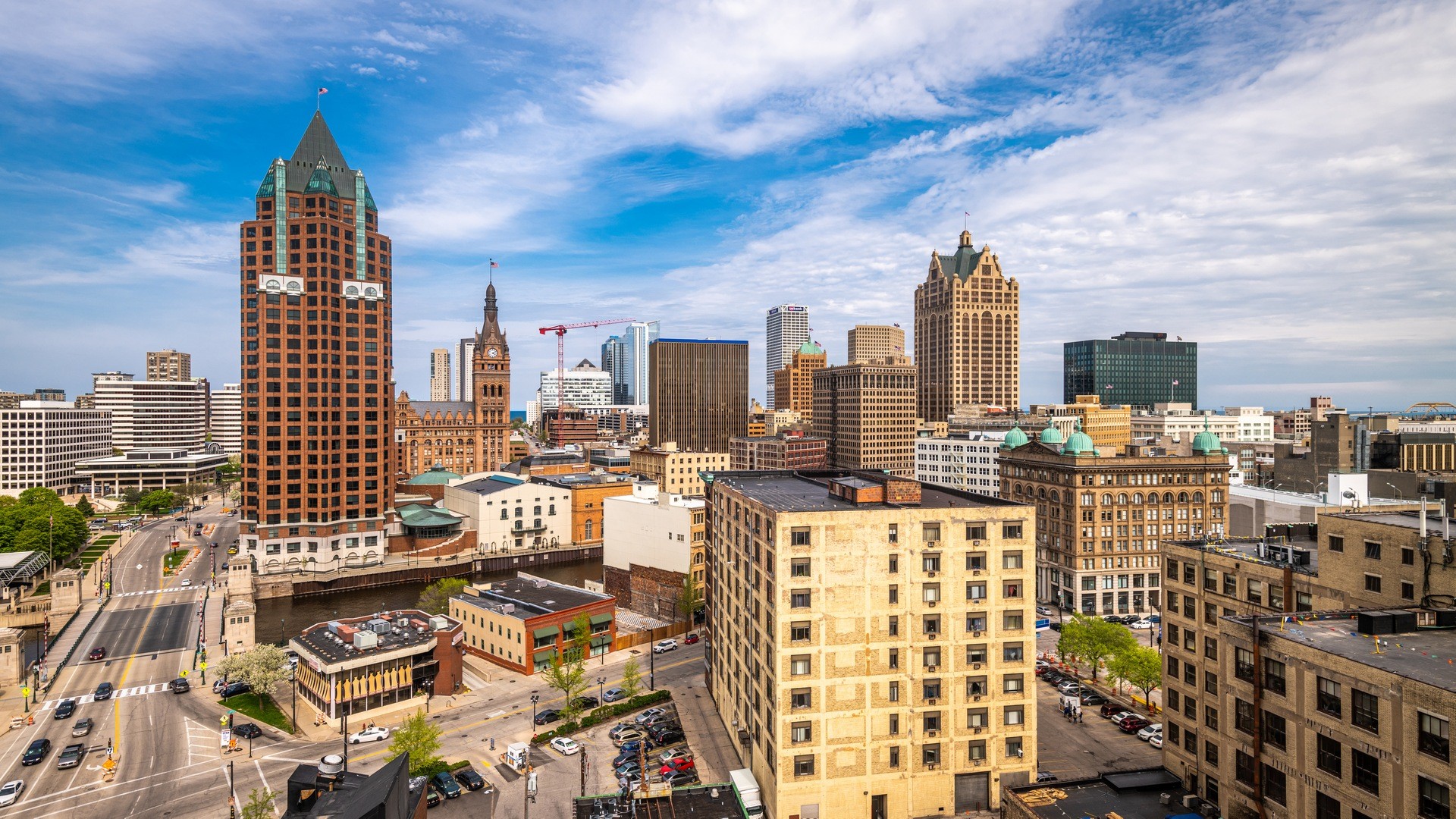 Monarch Air Group offers private jet charter services to and from Milwaukee, WI, USA.
Milwaukee, Wisconsin, often referred to as the "Cream City" due to its distinctive cream-colored brick buildings, is a hidden gem in the heart of the Midwest. With its rich history, vibrant culture, and picturesque lakefront, Milwaukee private jet charter offers many attractions for visitors to explore.
Book a private jet to Milwaukee and visit a true architectural marvel, the Milwaukee Art Museum, which is renowned for its stunning "wings" designed by Santiago Calatrava. Inside, you'll find a diverse collection of over 30,000 artworks spanning centuries and cultures. From classic European paintings to contemporary American art, this museum offers a captivating journey through artistic expression.
The Historic Third Ward is a trendy neighborhood that seamlessly blends the city's industrial past with its modern present. This area is perfect for a stroll and full of art galleries, boutiques, and eclectic shops. In addition, Milwaukee is the birthplace of the iconic Harley-Davidson motorcycles, and the museum dedicated to these two-wheeled legends is a must-visit for motorcycle enthusiasts and history buffs alike with a private jet to Milwaukee. Explore the evolution of these machines and learn about their cultural significance.
When booking a private jet to Milwaukee, escape into a world of lush vegetation at the Mitchell Park Domes. These three beehive-shaped domes house diverse plant collections, from tropical rainforests to desert landscapes, providing an oasis of serenity. For those interested in science and technology, Discovery World is a hands-on museum that offers interactive exhibits, an aquarium, and even a replica of a Great Lakes schooner. It's a fantastic place for families and curious minds of all ages.
Milwaukee Mitchell International Airport is five nautical miles south of downtown Milwaukee, Wisconsin, United States. It is part of the Federal Aviation Administration (FAA) National Plan of Integrated Airport Systems for 2023–2027 and is classified as a medium-hub primary commercial service facility.
Milwaukee Private Jet Rental Cost
Milwaukee's private jet rental ranges from $2,000 to $17,000 per billable flight hour or more. Turboprop jets cost from $1,800 to $2,400 per hour, light jets cost from $2,400 to $3,900, mid-size or super-midsize jets cost from $4,200 to $8,100 per flight hour, while heavy and ultra-long range jets per flight hour cost from $7,200 to $17,800.
Airports for Private Jets near Milwaukee
MKE, KMKE, General Mitchell International Airport
MWC, KMWC, Lawrence J. Timmerman Airport
UES, KUES, Waukesha County Airport
RAC, KRAC, John H. Batten Airport
ENW, KENW, Kenosha Regional Airport
KBUU, BUU, Burlington Municipal Airport
FAQ: Private Jet Flights to Milwaukee
Why Choose a Charter Jet to Milwaukee with Monarch Air Group?
Monarch Air Group offers first-rate private jet charter services to Milwaukee, personalizing our offerings to meet your unique travel needs. To provide a secure, cozy, and effective private jet charter experience, we prioritize flexibility and luxury.
What Types of the Private Jets Can Use for Milwaukee?
Taking into account variables like distance, passenger capacity, and comfort requirements, Monarch Air Group provides a range of flight options for getting to Milwaukee. Our fleet includes premium airplanes that welcome pets and in-flight entertainment systems. After receiving your travel information, our charter specialists will help you select the best aircraft and level of service for your charter flights to Milwaukee.
What are the Benefits of Flying Milwaukee Private Jet?
Milwaukee aircraft charters accommodate people with busy schedules by offering direct flights to your desired place on your preferred date and time. Whether traveling with family, friends, or coworkers, our private jet tours let you customize your trip with hotel transfers, in-flight meals and refreshments, and even business meetings. Our crew is exceptional at customizing private jet rentals to meet your specific needs.
Can I Bring My Pet on a Private Jet to Milwaukee?
Please be advised that there are unique guidelines and limitations about bringing pets on board each aircraft to Milwaukee. Our top priority is ensuring that every traveler, including their beloved dogs, is safe and secure.
Popular Destinations near Milwaukee by Private Jet
Situated west of Milwaukee, Madison is the capital of Wisconsin and home to the University of Wisconsin-Madison. The city is known for its picturesque lakes, including Lake Mendota and Lake Monona. Visitors can explore the State Capitol, visit the Olbrich Botanical Gardens, and enjoy outdoor activities such as biking and hiking around the lakes.
Located south of Milwaukee, Chicago is a vibrant metropolis known for its stunning architecture, diverse neighborhoods, and iconic attractions. Visitors can explore Millennium Park, Navy Pier, the Art Institute of Chicago, and enjoy a variety of world-class dining and entertainment options. The city's rich cultural scene includes theaters, museums, and music venues.
In Greenfield, WI, you can explore the beautiful Konkel Park with its walking trails and recreational facilities. If you're a shopping enthusiast, you'll enjoy Southridge Mall, which offers a variety of stores and dining options. Additionally, Greenfield offers a range of local restaurants serving delicious food, providing a well-rounded experience for visitors.
Modern technology is installed in our private aircraft to improve flight effectiveness while prioritizing passenger safety. Customer happiness is our priority, and we provide personalized services based on their requirements. Please see our "Frequently Asked Questions" section or get in touch with us for further information.