Monarch Air Group provides private air charter in Memphis, TN. Our clients benefit from top-notch service, unrelenting dedication to safety, wide selection of aircraft, and years of experience in chartering private jets. To obtain a free quote, please use our online quoting tool provided below, or call toll-free 1-877-281-3051.
Charter a private jet to&from Memphis
Book a Private Jet Charter to and from Memphis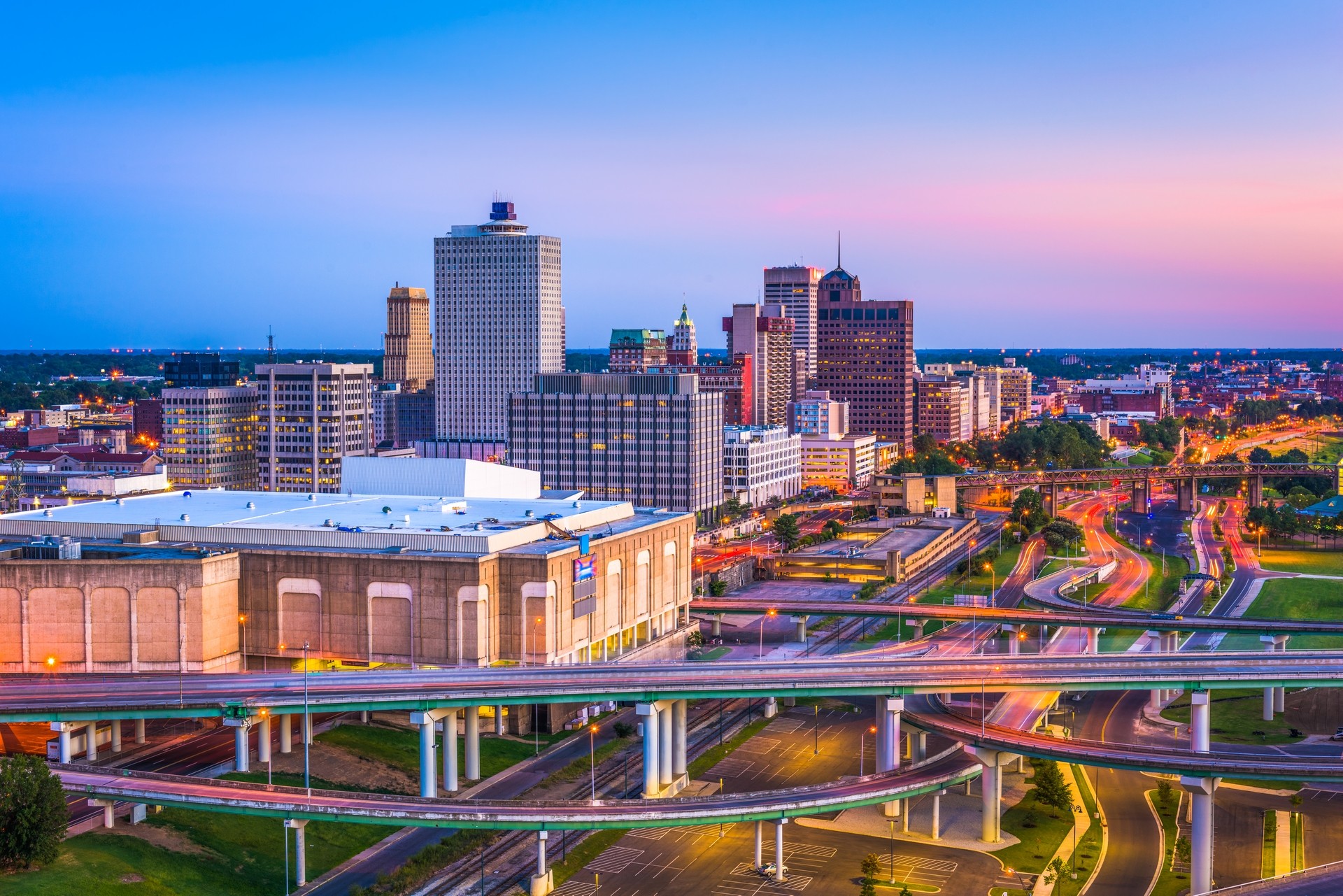 Monarch Air Group offers private jet charter services to and from Memphis, TN, USA.
Memphis is the largest city in the state of Tennessee, located south of the confluence of the Wolf and Mississippi rivers. It is one of the largest economic centers in the south, with excellent opportunities for recreation at any time of the year or business, which is what attracts travelers by private jet to/from Memphis. Memphis is the fifth most populous city in the southeastern United States and includes parts of neighboring Arkansas, Mississippi, and Missouri Butyl.
Memphis is widely known for its ties to the music world. It is home to the Blues and Rock and Roll, legendary artists like B.B. King, Elvis Presley, and John Lee Hooker. Travel to Memphis by private jet service and visit the eclectic galleries around South Main, Cooper Young, Edge, and Power House near Grand Central Station. Other attractions in the city include Liberty Bowl Memorial Stadium, FedExForum, and day river cruises on the Mississippi.
The city's rich cultural heritage emanates its pure energy attracting Memphis private jet charter visitors from different countries. There are also regular events like the International Blues Challenge in January and February and the Mid-South Fair in September. Also, Memphis hosts the annual World Barbecue Championship, which attracts more than 100,000 visitors yearly.
Memphis International Airport (MEM, KMEM) is 12 miles from downtown Memphis. It is the leading international airport serving the city, which is excellent for a private jet to and from Memphis.
Memphis Private Jet Airports within 70 miles
AWM, Municipal, West Memphis, United States.
BYH, Blytheville AFB, Blytheville, United States.
CKM, Fletcher Field, Clarksdale, United States.
FCY, Municipal, Forrest City, United States.
HEE, Thompson-Robbins, Helena, United States.
HKA, Municipal, Blytheville, United States.
JBR, Jonesboro, Jonesboro, United States.
MEM, Memphis International, Memphis, United States.
MMS, Selfs, Marks, United States.
MXA, Municipal, Manila, United States.
NQA, Millington Regional Jetport, Millington, TN, United States.
OLV, Olive Branch Arpt, Olive Branch, United States.
PGR, Municipal, Paragould, United States.
UOX, University-Oxford, Oxford, United States.
Hotels in Memphis
Peabody Hotel, 149 Union Avenue, Memphis.
Peabody Hotel, 149 Union Avenue, Memphis.
Doubletree by Hilton Hotel Memphis Downtown, 185 Union Avenue, Memphis.
Red Roof Memphis Hotel, 42 South Camilla Street, Memphis.
Benchmark Hotel Downtown Memphis, 164 Union Avenue, Memphis.
Union Express, 42 S Camilla St, Memphis.
Vista Inn, United States.
Peabody Hotel, 149 Union Avenue, Memphis.
Crowne Plaza Hotel Memphis, 300 North Second Street, Memphis.
Peabody Hotel, 149 Union Avenue, Memphis.
FAQ for a Private Jet Charter Flights to Memphis
Why choose a charter jet to Memphis with Monarch Air Group?
Monarch Air Group provides private flights to and from Memphis and is uniquely positioned to provide sophisticated, safe, and reliable air charter services. We can provide luxury private jets and exclusive service conditions to ensure our services meet your expectations for Memphis private jet charter. Call one of our agents for charter jet Memphis rentals.
How much does it cost to book a Memphis private jet charter?
Several factors determine the cost of a Memphis private jet. Each deal is unique and is priced according to the route you choose and the type of aircraft. You can contact our specialists if you have not found the necessary information on air charter Memphis. Moreover, you can get a rough flight cost estimate by using a private jet charter cost estimator.
Here are some approximate prices for a private jet to Memphis:
Charter a Private Jet to Memphis from NYC: from $11,330;
Charter Flights to Memphis from LA: from $27,370;
Private Flights to Memphis from Miami: from $10,810.
*Estimated price before taxes & fees.
What types of private jets can use for Memphis charter flights?
We offer different aircraft types for charter, varying in range and size. There are several factors to consider before choosing an aircraft, such as the number of passengers traveling, luggage volume, onboard amenities, destination airport, and budget. With years of experience in the industry, we give customers ample opportunity to always choose the right plane for Memphis charter flights based on their preferences.
| Aircraft type | Passengers | Non-stop range | Cruising speed | Intended use |
| --- | --- | --- | --- | --- |
| Light Jet | up to 6 passengers | about 700 – 2000 miles | 476 to 518 mph | for comfortable short- to mid-range distances |
| Midsize Jet | up to 10 passengers | about 1300 – 1500 miles | 422 to 541 mph | to fly nonstop from coast to coast |
| Super midsize Jet | up to 10 passengers | about 3.500 – 4.000 miles | 490 to 590 mph | for longer flights |
| Heavy Jet | up to 18 passengers | about 6.000 miles | 480 to 551 mph | traveling overseas in luxury for an intercontinental flight |
| Turboprops | up to 10 passengers | about 600 – 1.900 miles | 220 to 360 mph | for short- to mid-range flights |
| Ultra-Long Range Jet | up to 19 passengers | about 2,800 – 7,685 miles | 460 to 594 mph | for long-haul travels |
| Helicopters | up to 28 passengers | about 250 – 600 miles | 150 to 175 mph | for passenger and cargo transportation |
What are the advantages of flying on a Memphis private jet?
Renting a private jet has several undeniable advantages over commercial flights. You can arrive at the airport minutes before your scheduled departure time and make productive use of your time on board with an extensive list of services. Aircraft can be available hours or days in advance if needed. We will provide the necessary level of privacy, the flexibility to adapt the flight to your schedule, and access to hard-to-reach regions. Our specialist is available to you 24/7 for all your private plane charter Memphis needs.
Popular destinations near Memphis by private jet
Gatlinburg – is an excellent base for travelers in East Tennessee who want to spend their vacation in nature.
Knoxville – perfectly combines the outdoors with city conveniences.
Chattanooga – with incredible scenic views of the picturesque city, gets rave reviews from private aviation customers.
Little Rock – is the government, economic, commercial, and cultural center of Arkansas, with scenic parks and outdoor adventures attracting visitors from all over the world.
Our clients travel on efficient and comfortable private jets. If you haven't found the answers to all your questions, you can contact our experienced and reliable team at any time or visit our air charter FAQ page.