Monarch Air Group provides private air charter in Mecca. Our clients benefit from top-notch service, unrelenting dedication to safety, wide selection of aircraft, and years of experience in chartering private jets. To obtain a free quote, please use our online quoting tool provided below, or call toll-free 1-877-281-3051.
Charter a private jet in Mecca:
About Mecca, Saudi Arabia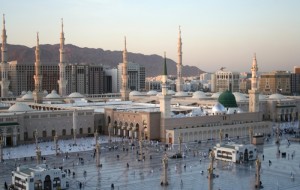 Monarch Air Group offers a great variety of private jet charter options to and from Mecca, Saudi Arabia.
Situated 70 kilometers inland from Jeddah, Mecca, also known as Makkah, is the capital city of Makkah Region in the Hejaz, and the holiest city in the religion of Islam. It is the birthplace of Muhammad and is home to the Kaaba. Mecca attracts more than 6 million people annually during the pilgrimage. Around 15 million Muslims come to Mecca every year. The city is regarded as one of the most cosmopolitan cities in the Muslim world.
Mecca is home to the largest mosque in the world, the Masjid al-Haram, as well as the Qur'an Gate, Hira, Jabal-al-Noor, Makkah Mall, Souq Al-Hijaz, and Abraj Al Bait.
Mecca is served by Mecca East Airport and King Abdulaziz International Airport, which is situated 100 kilometers from the city center at Jeddah. There is a special Hajj terminal for the Hajj season.
Mecca Airports within 70 miles
1. JED, King Abdulaziz International, Jeddah, Saudi Arabia
2. TIF, Taif, Taif, Saudi Arabia
3. XZF, Dammam Port, Dammam, Saudi Arabia
Hotels in Mecca
1. Elaf Bakkah Hotel, Al Rahmah Street, Mecca
2. Drnef Hotel Makkah, 3rd Ring Road, Mecca
3. فندق فيرمونت مكة الحرم, Oum Al Qura Street, King Abdul Aziz Endowment, Abraj Al Bait Complex, Mecca
4. Mövenpick Hotel & Residences Hajar Tower Makkah, Mecca
5. Al Safwah Tower tingkat 3 Baju jubah, Safwa Towers, St, Mecca
6. Swissotel Makkah, King Abdul Aziz Endowment, Street,, Mecca
7. Le Meridien Makkah, Le Meridien Makkah, King Abdul Aziz Road, Mecca, Saudi Arabia, Mecca
8. Makarim Umm Al Qura hotel, Ajyad Street,P.O. Box 7020 Makkah, Mecca
9. Elaf Bakkah Hotel, Al Rahmah Street, Mecca
10. Drnef Hotel Makkah, 3rd Ring Road, Mecca
11. Ramada Dar Al Fayzeen Makkah, Ajyad Street, Makkah
12. Le Méridien Towers Makkah, Kudai Road, Mecca
13. فندق فيرمونت مكة الحرم, Oum Al Qura Street, King Abdul Aziz Endowment, Abraj Al Bait Complex, Mecca
14. Manazel Al Ain Mercure, Mecca
15. Makarem Ajyad Makkah Hotel, Ajyad Street, Mecca
16. Makarim Mina Hotel, Al Surur Street , Al Azeziah District, Mecca
17. Concorde Makkah Hotel, Al Masjid Al Haram Road, Mecca
18. Al Noor Hotel, Noor Street، مكة
19. Mövenpick Hotel & Residences Hajar Tower Makkah, Mecca
20. Al Safwah Tower tingkat 3 Baju jubah, Safwa Towers, St, Mecca
21. Al Rehab Al Makkiah Hotel, Al Taif Road , Aziziah District, Mecca
22. Swissotel Makkah, King Abdul Aziz Endowment, Street,, Mecca
23. Nawazi Ajiad Hotel, Mecca
24. Bab Al Multazim Concorde Hotel, Building No. 4254, Mahbas AlJinn, Al Rahma Road, Makkah – 24236
25. Le Meridien Makkah, Le Meridien Makkah, King Abdul Aziz Road, Mecca, Saudi Arabia, Mecca
26. Concorde Mina Hotel, Sidqi Street, Concorde Makkah, Mecca