Monarch Air Group provides private air charter in Madrid, Spain. Our clients benefit from top-notch service, unrelenting dedication to safety, wide selection of aircraft, and years of experience in chartering private jets. To obtain a free quote, please use our online quoting tool provided below, or call toll-free 1-877-281-3051.
Charter a private jet to&from Madrid, Spain
Book a Private Jet Charter to Madrid, Spain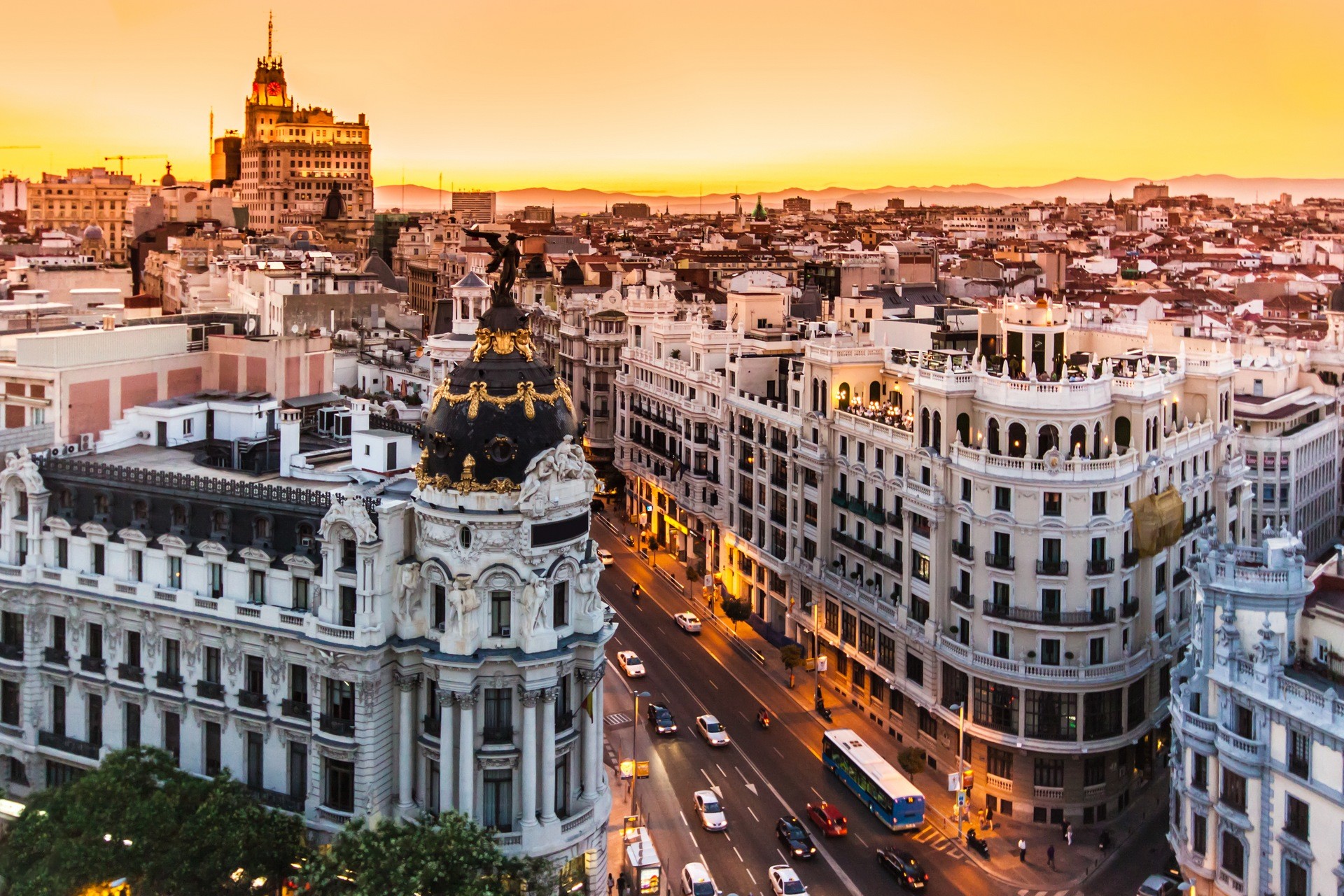 Monarch Air Group provides private jet charter flights in and out of Madrid, Spain.
With a population of 3.3 million, Madrid is Spain's largest city and capital. It is also the residence of the Spanish monarch, the seat of government, and the political center of Spain. Due to its high quality of living and market size, Madrid is considered the leading financial center of the Iberian Peninsula and Southern Europe. It is home to the head offices of prominent Spanish companies, including Telefónica, Repsol, and Iberia. Moreover, it is the third largest metropolitan area in European Union and a popular destination for private jet charter in Spain.
Charter a private jet Madrid to see the most notable tourist attractions, Botanical Gardens, Campo del Moro, Calle de Atocha, Clock Tower, Debod Temple, Crystal Palace, La Montana Park, Palace Gardens, Madrid Skyline, Palace Guards, Plaza Canovas, Parliament, Plaza de Armas, Real Madrid FC, Puerta de Alcala, San Gines Church, Shopping Madrid, San Miguel Market, Spanish Theatre and many others.
If you travel to Madrid at any other time of the year, the city will delight you with various holidays and festivals. Private flight Madrid beckons all lovers of nightlife and adventure. In September, you get to the opening of the soccer season in Spain, and from March until the middle of October, the passion for bullfighting begins.
The Barajas International Airport is Madrid's main airport, serving charter flights Madrid and more than 70 million passengers annually.
Cost to charter a private jet to or from Madrid
The cost of a private jet to Madrid will vary depending on the size of the private jet, duration, flight time, and other factors. Here are some price options for private jets to or from Madrid.
To/From Location
LA
Nice
Ibiza
Aircraft Type
Heavy Jet
Turboprops
Light Jet
Estimated Price
(One-Way)
$172,600 – $211,000
$11,300 – $15,800
$10,200 – $13,900
Flight Duration
12hr 34min
2hr 24min
57min
Madrid Private Jet Airports within 70 miles
MAD, Barajas
TOJ, Torrejon Afb
FAQs: Private Jet Flights to Madrid
Why choose a private jet to Madrid with Monarch Air Group?
Monarch Air Group provides private flights to and from Madrid, offering a range of benefits such as privacy and speed of travel. Madrid private jet charters mean you avoid the crowds of busy airports and lines for security checks. Chartering a private jet may seem complicated if you've never done it before. Call one of our agents for charter jet Madrid rentals to make the process a little easier.
How much does it cost to book a Madrid private jet charter?
Several factors determine the cost of renting a Madrid private jet. These include the aircraft's model and the route's complexity. On average, a flight hour aboard a mid-size jet costs from $3,200 to $4,300, around $5,600 to $8,000 aboard a heavy jet per flight hour, and $16,000 to $23,000 for VIP airliners like BBJs and ACJs. Also, you can get an estimate on the cost of your flight by using our private jet charter cost estimator.
What types of private jets can use for Madrid charter flights?
The private jet market ranges from turboprops to heavy jets. Most private jets allow you to travel with your pet, offer many airports for boarding, and land as close to your destination as possible. We will choose the plane that best suits your needs for your charter flight to Madrid.
What are the advantages of flying on a Madrid private jet?
Renting a private jet has several undeniable advantages over commercial flights. You specify when you want to fly out, and airline schedules do not bind you. We can even provide a car to take you to the airport or provide a shuttle service to your hotel. Our specialist is available 24 hours, seven days a week, for all your questions.
Popular destinations near Madrid by private jet
Valencia – is Spain's third largest city, its long and rich history is reflected in the striking architecture and atmosphere of the town.
Barcelona – is the second largest city in Spain and has one of the country's most dynamic and stylish architecture, attracting millions of tourists.
Zaragoza – on the banks of the Ebro river, with many historical monuments, buildings, lively bars, and gourmet restaurants.
Our clients travel on efficient and comfortable private jets. If you haven't found the answers to all your questions, you can contact our experienced and reliable team at any time or visit our air charter FAQ page.