Monarch Air Group provides private air charter in Luxembourg. Our clients benefit from top-notch service, unrelenting dedication to safety, wide selection of aircraft, and years of experience in chartering private jets. To obtain a free quote, please use our online quoting tool provided below, or call toll-free 1-877-281-3051.
Charter a private jet to&from Luxembourg
Book a Private Jet Charter to Luxembourg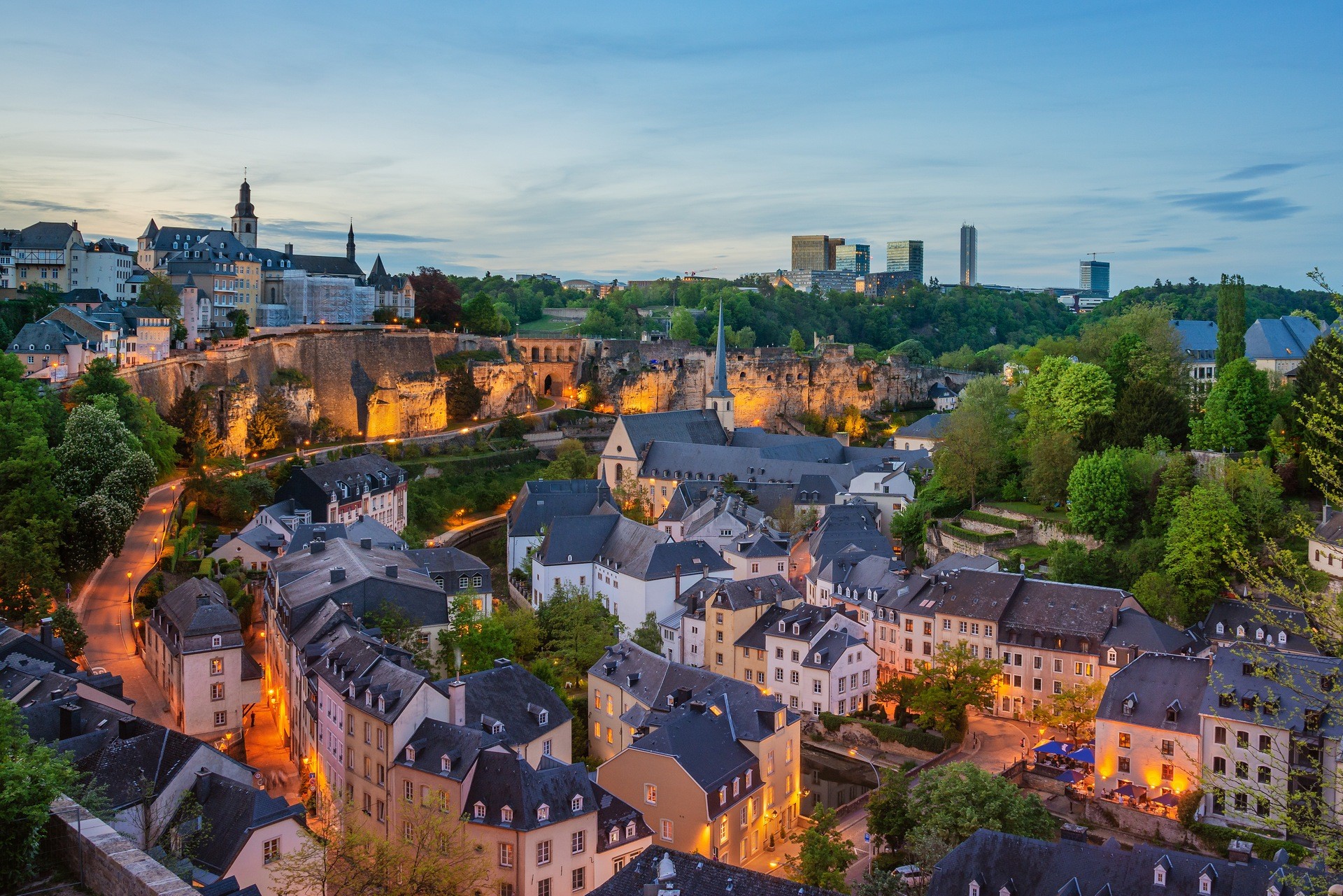 Monarch Air Group offers private jet charter services to and from Luxembourg, Luxembourg.
Between Belgium, Germany, and France, Luxembourg is a country in Western Europe, with a population of 469,000 and its capital Luxembourg City. Luxembourg is a beautiful country with breathtaking valleys and highlands, ancient forested landscape, riverside hamlets, steep vineyards, and medieval historic places. A private flight to Luxembourg is the quickest and most reliable way to visit a city that is so unusual, delightful, and exquisite.
Luxembourg City is the main administrative and banking center of Europe. There are two central districts in the city. One is the Old Town, which has fortress towers, two big pedestrian squares, and beautiful parks, Place d'Armes and Place Guillaume. Book a private jet charter to Luxembourg to see how fascinating the old architecture, museums, ancient fortifications, and garden monuments are. The second district is the modern downtown area of Kirchberg, home to numerous Luxembourg business and financial institutions.
Also renowned as Luxembourg-Ville, Luxembourg City has many tourist attractions such as the Grand Ducal Palace, the Cathedral of Notre Dame, the Luxembourg City Hall, the Place d'Armes, the Neumunster Abbey, the Adolphe Bridge, the Museum of History of Luxembourg City, the National Museum of History and Art, the Music Conservatory, and the National Library. Moreover, the city is surprisingly good in any season and hosts Luxembourg charter flights anytime.
Luxembourg charter jet flights are served by Luxembourg Airport (LUX, ELLX). It is Luxembourg's main airport, 4 miles from the city center, which can handle more than 4 million passengers a year.
Luxembourg Private Jet Airports
LUX, ELLX, Luxembourg Findel Airport
FAQ for Private Jet Flights to Luxembourg
Why choose a private jet to Luxembourg with Monarch Air Group?
Monarch Air Group provides private flights to and from Luxembourg, creating a luxury travel experience tailored to your wishes. We offer complete terms of service, luxury private jets, and charter services to domestic and international destinations. Our team will fulfill all your requirements so that our services will meet your expectations for Luxembourg private jet charter. So call one of our agents, and enjoy VIP charter jet Luxembourg services.
How much does it cost to book a Luxembourg private jet charter?
The cost of renting a Luxembourg private jet is determined by several factors, such as range and aircraft type. You can contact our experts if you can not find information on the air charter Luxembourg. This service is calculated individually based on your travel needs and preferences. Moreover, using our private jet charter cost estimator, you may get a flight cost estimate.
Here are some approximate prices for private flights to Luxembourg:
Charter a Private Jet to Luxembourg from London will cost from $5,180;
Charter Flights from Luxembourg to Nice will cost from $5,180;
Private Flights to Luxembourg from TEB will cost from $81,400;
*Estimated price before taxes & fees.
What types of private jets can use for Luxembourg charter flights?
We can provide VIP jets, airliners, heavy, midsize, light, or turboprops. The main difference between the categories is the size of the cabin, the range, and the number of passenger seats. So remember when considering which plane to choose for Luxembourg charter flights.
| Aircraft type | Passengers | Non-stop range | Cruising speed | Intended use |
| --- | --- | --- | --- | --- |
| Light Jet | up to 6 passengers | about 700 – 2,000 miles | 476 to 518 mph | for comfortable short- to mid-range distances |
| Midsize Jet | up to 10 passengers | about 1,300 – 1,500 miles | 422 to 541 mph | to fly nonstop from coast to coast |
| Super midsize Jet | up to 10 passengers | about 3,500 – 4,000 miles | 490 to 590 mph | for longer flights |
| Heavy Jet | up to 18 passengers | about 6,000 miles | 480 to 551 mph | traveling overseas in luxury for an intercontinental flight |
| Turboprops | up to 10 passengers | about 600 – 1,900 miles | 220 to 360 mph | for short- to mid-range flights |
| Ultra-Long Range Jet | up to 19 passengers | about 2,800 – 7,685 miles | 460 to 594 mph | for long-haul travels |
| Helicopters | up to 28 passengers | about 250 – 600 miles | 150 to 175 mph | for passenger and cargo transportation |
What are the benefits of flying on a Luxembourg private jet?
Enjoy charter services from Monarch Air Group, which include flexible travel arrangements, no queues at security checkpoints and itineraries, private airport departures, and more. We'll provide the level of privacy you need, the flexibility to tailor your flight to your schedule, and access to hard-to-reach regions. Our specialist is available to you 24/7 for all your travel needs.
Popular destinations near Luxembourg by private jet
Reims – with its remarkable historical and cultural heritage, has received rave reviews from private aviation clients.
Strasbourg – close to the border with Germany and Switzerland, is world-renowned as the capital of Europe.
Wiesbaden – is a famous international resort and the capital of the state of Hesse.
Brussels – is the capital of Belgium, which attracts millions of visitors from all over the world every year.
Frankfurt – is the largest city in the German state of Hesse and has many cultures.
Our clients travel on efficient and comfortable private jets. If you haven't found the answers to all your questions, you can contact our experienced and reliable team at any time or visit our air charter FAQ page.