Monarch Air Group provides private air charter in Lucerne, Switzerland. Our clients benefit from top-notch service, unrelenting dedication to safety, wide selection of aircraft, and years of experience in chartering private jets. To obtain a free quote, please use our online quoting tool provided below, or call toll-free 1-877-281-3051.
Charter a private jet to&from Lucerne, Switzerland
About Lucerne, Switzerland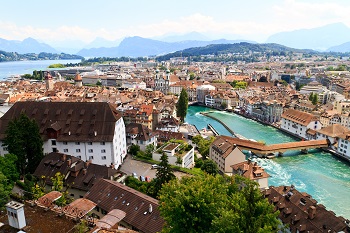 Monarch Air Group offers private jet charter services to and from Lucerne, Switzerland. With access to ten airports within fifty miles, Lucerne is as easy to travel to and from as anywhere in the world. There are three airports situated within just ten miles including the Alpnach Airport (LSMA), Buochs Airport (BXO) and Emmen Airport (EML). The most popular aircraft types include large jets (Challenger 604, Legacy 600, Falcon 900 EX Easy), midsize jets (Learjet 60, Gulfstream G150, Hawker 800 XP) and light jets (Citation CJ3, Premier I, Piaggio Avanti II).
About Lucerne and Places to See
Lucerne is a small and attractive city on the western shore of Lake Lucerne, in central Switzerland. It is stepped in rich culture and colorful history, from the foundation of the Swiss Confederation back in 1291 to the William Tell legend (the bit with the boy and the apple). With its amazing lakes, alpine villages, stunning mountains, and meadows full of edelweiss, Lucerne is one of Europe's most charming cities. The Old Town of Lucerne is one of the most attractive in Switzerland and is gloriously preserved it today. There are many houses, buildings, and hotels ornately decorated on the outside or painted in medieval style, lined with cobbled streets and outdoor shops. Chapel Bridge is Lucerne's most popular tourist attraction, which is an iconic symbol of the city and still retains much that same as it did when it was built in 1333 as a part of the city's fortifications. Lucerne provides easy access to nearby towns including Weggis, Stans, Hergiswil, Kastanienbaum, Hildisrieden, and the capital city of Bern. Airports nearby Lucerne are Lucerne Emmen Airport (EML), Zurich International Airport (ZRH), and Bern-Belp Airport (BRN).