Monarch Air Group provides private air charter in Lisbon, Portugal. Our clients benefit from top-notch service, unrelenting dedication to safety, wide selection of aircraft, and years of experience in chartering private jets. To obtain a free quote, please use our online quoting tool provided below, or call toll-free 1-877-281-3051.
Charter a private jet to&from Lisbon, Portugal
Private Jet Charter to and from Lisbon, Portugal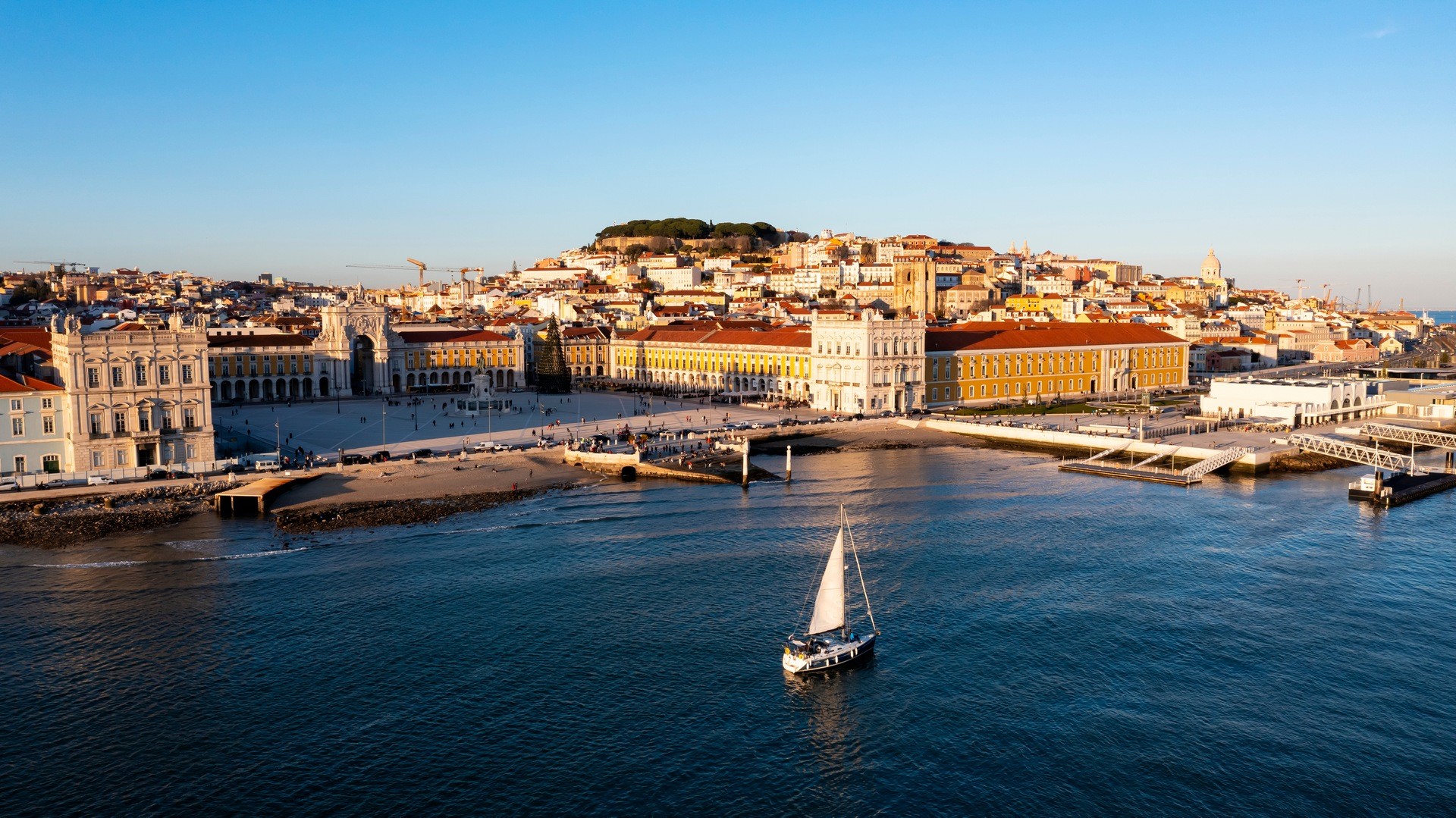 Monarch Air Group offers private jet charter services to and from Lisbon, Portugal.
Lisbon, the vibrant capital city of Portugal, is a treasure trove of history, culture, and stunning architecture. Nestled along the Tagus River and blessed with a Mediterranean climate, Lisbon invites travelers with warm hospitality and an alluring mix of old-world charm and contemporary energy. So book a private jet to Lisbon and indulge in activities for an unforgettable experience in the city.
Once you've chartered a private jet to Lisbon, start your adventure in the historic district of Alfama, where narrow cobbled streets wind their way up to São Jorge Castle. Lose yourself in the labyrinthine alleys with colorful houses, traditional Fado music pouring out from taverns, and small local shops selling handicrafts. Take a ride on the famous Tram 28, which offers a scenic journey through the heart of this captivating neighborhood.
Embark on a journey through Portugal's glorious past by visiting two iconic landmarks in Belém. The Belém Tower, a UNESCO World Heritage site, is an exquisite Manueline-style fortress guarding the entrance to the city's harbor. Adjacent to it is the magnificent Jerónimos Monastery, a masterpiece of late Gothic architecture. When renting a private jet to Lisbon, explore the intricately carved stone facades and the serene cloisters, and don't miss the chance to taste the famous pastéis de Belém, a delectable custard tart found in the area.
Lisbon is blessed with numerous miradouros, or viewpoints, offering breathtaking panoramas of the city. Charter a private jet to Lisbon and head to Miradouro da Senhora do Monte or Miradouro da Graça for stunning Lisbon's red rooftops and the Tagus River vistas. Miradouro de São Pedro de Alcântara, located in the trendy Bairro Alto neighborhood, provides a picturesque setting with beautiful gardens and views stretching to the castle.
For a dose of creativity and urban culture, book a private jet to Lisbon and venture to the LX Factory. This vibrant creative hub is located in a converted industrial complex and is home to trendy shops, art galleries, design studios, and innovative restaurants. Stroll through the streets adorned with street art and browse unique boutiques. Don't forget to grab a bite at one of the trendy eateries or sip a coffee in a hip café.
Lisbon Airport, also known as Humberto Delgado Airport and formerly Portela Airport, is an international airport situated four nautical miles northeast of Lisbon's city center, Portugal's capital.
Lisbon Private Jet Rental Cost
Lisbon private jet rental range from $2,000 – $17,000 per billable flight hour or more. Turboprop jets cost from $1,800 to $2,400 per hour, light jets cost from $2,400 to $3,900, mid-size or super-midsize jets cost from $4,200 to $8,100 per flight hour, while heavy and ultra-long range jets per flight hour cost from $7,200 to $17,800.
Airports for Private Jet near Lisbon
LIS, LPPT, Lisbon Portela Airport
DQB, Montijo Airport
CAT, LPCS, Lisbon Cascais-Tejo Regional Airport
FAQ: Private Jet Flights to Lisbon
Why choose a charter jet to Lisbon with Monarch Air Group?
When you select Monarch Air Group to manage your trip to Lisbon, your comfort and security will always come first. Our private aircraft are equipped with state-of-the-art technology to enhance your flight experience. Your journey should be memorable, delightful, and unique.
What Types of the Private Jets Can Use for Lisbon?
When selecting a private aircraft for a journey to Lisbon, Monarch Air Group takes some factors into account. Included are the route, requisite range, cost, and passengers. While providing charter services, your comfort, safety, and enjoyment of the journey are our top priorities.
What are the Benefits of Flying Lisbon Private Jet?
Private jet travel has numerous advantages. When you reserve a private jet to Lisbon, you can choose the individuals and locations you'll see. Depending on the number of passengers and available seats for departure, we may be able to provide you with a private aircraft. Our travel agent is available to assist you with your travel needs 24 hours a day, seven days a week.
Can I Bring My Pet on a Private Jet to Lisbon?
Monarch Air Group is pleased to offer flights to Lisbon that are pet-friendly because we respect and salute all animals. Nonetheless, it is essential to consider each flight's particular requirements and restrictions. The safety of your fellow travelers is our top priority.
Popular Destinations near Lisbon by Private Jet
Just a short distance from Lisbon, Sintra is a fairytale-like town known for its enchanting palaces, lush gardens, and mystical atmosphere. Explore the colorful Pena Palace, a UNESCO World Heritage site, which sits atop a hill and offers panoramic views of the surrounding area. Don't miss the opportunity to visit Quinta da Regaleira, a mystical estate with secret tunnels and beautiful gardens.
Located along the stunning Portuguese Riviera, Cascais is a charming coastal town that boasts beautiful beaches, a picturesque harbor, and a lively atmosphere. Spend a day relaxing on the sandy shores, explore the narrow streets of the historic center, and indulge in fresh seafood at the local restaurants. Cascais is also an excellent starting point for visiting the stunning Cabo da Roca, the westernmost point of mainland Europe.
A little further from Lisbon, but still within easy reach, lies the medieval town of Óbidos. Encircled by well-preserved walls, Óbidos exudes a fairy tale ambiance with its cobblestone streets, whitewashed houses, and vibrant flowers. Walk along the fortified walls for panoramic views, visit the medieval castle, and sample the famous local liqueur, ginjinha, served in edible chocolate cups.
Our private aircraft are equipped with cutting-edge technology to improve flight safety and effectiveness. We strive to provide you with superior customer service and all the necessary details to make your experience unforgettable. Please visit our "Frequently Asked Questions" section or contact us for additional information.