Monarch Air Group provides private air charter in Lille, France. Our clients benefit from top-notch service, unrelenting dedication to safety, wide selection of aircraft, and years of experience in chartering private jets. To obtain a free quote, please use our online quoting tool provided below, or call toll-free 1-877-281-3051.
Charter a private jet to&from Lille, France
About Lille, France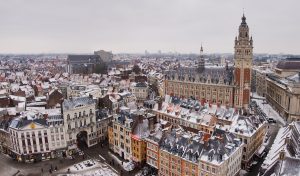 Monarch Air Group specializes in providing the most affordable, efficient, and personalized business jet charter services in the world. Our rates are so competitive that we continually offer a price match guarantee to ensure that our prices are the absolute lowest you can find. Lille has over 10 airports within a 50 mile radius.
The most common choice is the Lesquin Airport (LIL) located within the city itself. Other very convenient airport options are Wevelgem Airport (QKT) and Calonne Airport (HZB), which are both under twenty miles away from the city. The most common aircraft types are light jets (Citation CJ2+, Piaggio Avanti II and Premier I), midsize jets (Learjet 60XR and Hawker 800 XP), and large jets (Challenger 605, Falcon 2000 EX Easy and Falcon 900 LX). We also offer luxury airliner charter services. The most popular VIP airliner in the region is the Airbus 319 Corporate Jet.
About Lille and Places to Visit
Monarch Air Group offers private jet charter services to and from Lille, France. Located in northern France on the Deule River, Lille is the capital of the Region of Nord-Pas-de-Calais and of the Department of Nord. Lille has been developed as the "European Capital of Culture" in 2004.
The beautiful, dynamic city of Lille boasts interesting narrow streets, big square monuments, and old houses lined with shops, cafés and restaurants. The most popular tourist attractions include the Palace of Fine Arts, the Lille Open Air Museum, the Cathedral of Notre Dame de Treille, the Hospice Comtesse Museum, the Old Town of Lille, the Citadel Park, and the Grand Place.
Rich architectural heritage, friendly atmosphere and cultural diversity make Lille an enjoyable place for both business and leisure travelers from all over the world. Lille provides easy access to nearby cities, including Tourcoing, Roubaix, La Madeleine, Mons-en-Baroeul, Lambersart, Marcq-en-Baroeul, Ronchin, Villeneuve-d'Ascq, Wattignies, Croix, Lomme, Mouvaux, and Haubourdin.
Lille Airports within 70 miles
1. LIL, Lille Airport, Lille, France
2. KJK, Kortrijk-Wevelgem International Airport, Kortrijk, Belgium
3. HZB, Merville-Calonne Airport, Merville, France
4. QRV, Arras – Roclincourt Airport, Arras, France
5. XVS, Valenciennes-Denain Airport, Valenciennes, France
6. XDK, Dunkerque – Les Moeres Airport, Dunkerque, France
7. OST, Ostend-Bruges International Airport, Ostend, Belgium