Monarch Air Group provides private air charter in Leeds, UK. Our clients benefit from top-notch service, unrelenting dedication to safety, wide selection of aircraft, and years of experience in chartering private jets. To obtain a free quote, please use our online quoting tool provided below, or call toll-free 1-877-281-3051.
Charter a private jet to&from Leeds, United Kingdom
Book a Private Jet Charter to Leeds, UK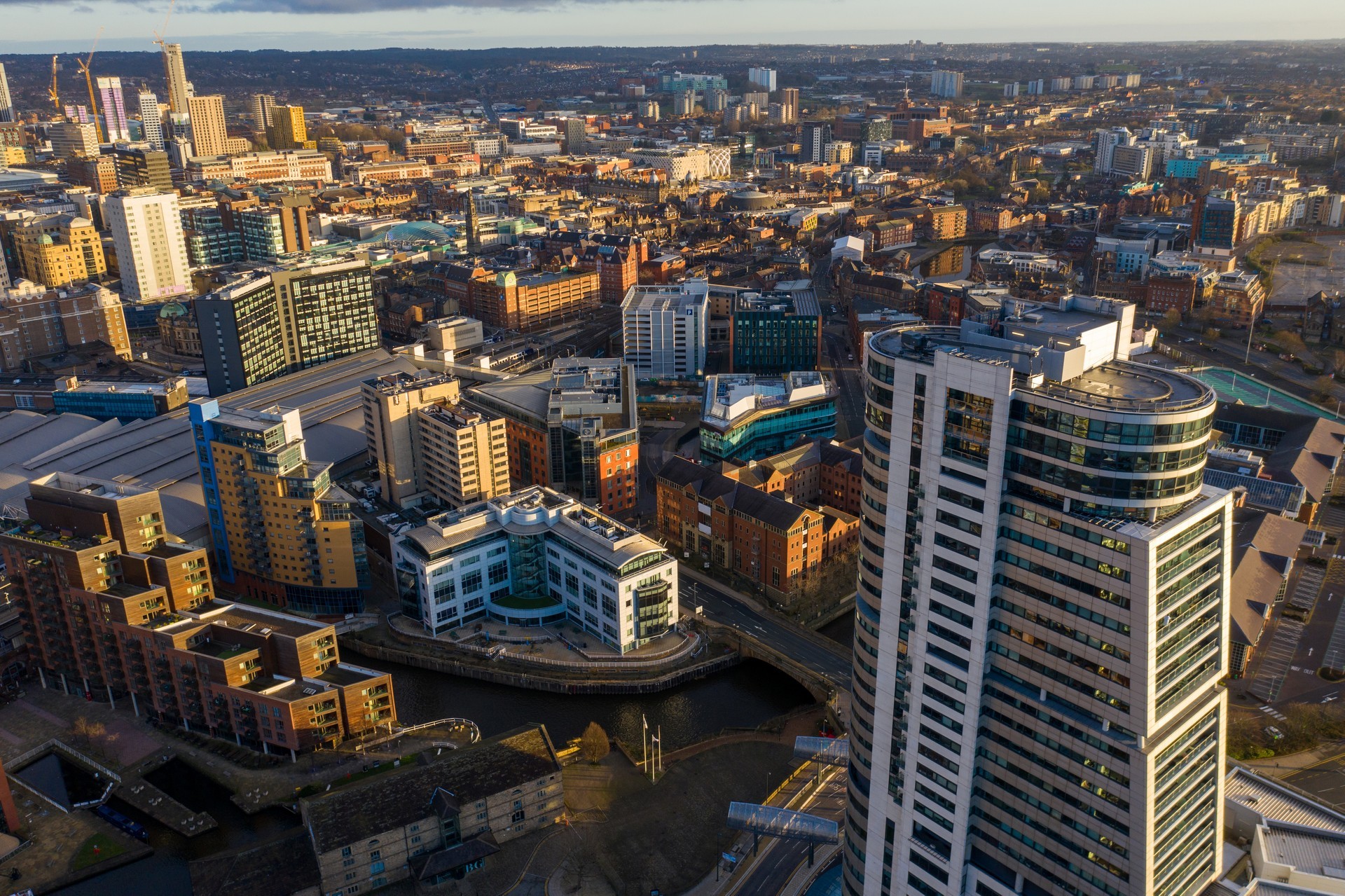 Monarch Air Group offers private jet charter services to and from Leeds, UK.
Renting a private jet to Leeds takes you to a modern city, one of the UK's leading legal and financial services centers, making it one of the best cities in Europe to do business.
Located 34 miles northeast of Manchester, 23 miles southwest of York, and 7 miles east of Bradford, Leeds is situated on the River Eyre in West Yorkshire, Northern England. Leeds began as a Saxon village and developed as a center for wool production during the Middle Ages, becoming the center of the clothing industry during the Industrial Revolution.
It is a vibrant city rich in art, exciting culture, and architecture. For relaxation, there is an abundance of luxurious, expensive restaurants, famous clubs, and cozy bars. With a private jet charter to Leeds, you fall into the central city center of England, renowned for its fascinating museums and art galleries, parks, and world-class chic shopping. The city's economy is mainly based on the media, business and financial sector, advertising sector, engineering, communications, printing, food, and chemicals.
When ordering a private jet to Leeds, be sure that the city is rich in attractions. Coming to Leeds, you must visit Millennium Square, the Victoria Quarter, the City Square, Turks Head Courtyard, Leeds Embankment, the Embsay steam railway, and Bolton Abbey. For lovers of beauty, visits to the Bolshoi Theatre, Leeds City Theatre, West Yorkshire Theatre, Northern Ballet, Phoenix Dance Company, and Opera North are worth a visit. The magnificent Yorkshire Dales National Park is not far from Leeds, where the country's most beautiful landscapes are mixed with unusual wildlife.
Leeds is served by Sheffield City Airport (SZD), Linton-on-Ouse Airport (HRT), and Leeds Bradford International Airport (LBA). The airports are suitable for private charter flights.
Cost to charter a private jet to or from Leeds
The cost of a private jet to Leeds will vary depending on the size of the private jet, duration, flight time, and other factors. Here are some price options for private jets to or from Leeds.
To/From Location
Paris
Zurich
Miami
Aircraft Type
Turboprops
Light Jet
Heavy Jet
Estimated Price
(One-Way)
$9,000 – $15,000
$16,000 – $24,000
$150,000 – $190,000
Flight Duration
3hr 50min
2hr 00min
11hr 00min
Leeds Private Jet Airports within 70 miles
LBA, EGNM, Leeds Bradford International
DSA, EGCN, Robin Hood Doncaster Sheffield
MAN, EGCC, Manchester
HUY, EGNJ, Humberside
MME, EGNV, Durham Tees Valley
LBA, EGNM, Leeds Bradford International
MAN, EGCC, Manchester
HUY, EGNJ, Humberside
FAQs: Private Jet Flights to Leeds
Why choose a private jet to Leeds with Monarch Air Group?
A private jet is a proper solution for people looking for a variety of places and who choose comfort and convenience. Private charter flights allow you to enjoy all the benefits of flying on a private jet. In addition, it's a quick way to save time and travel flexibility.
How much does it cost to book a private jet charter to Leeds?
The price depends on the amenities, the duration of the flight, and its complexity. Charter flight prices can range from $1,800 to $17,800 per hour. Contact us for more info.
What types of private jets can use for Leeds charter flights?
Monarch Air Group offers private charter flights to and from Leeds. Private charter flights are available at different prices depending on complexity and amenities. Our experts will help you choose the aircraft according to your desires.
What are the benefits of flying on a private jet charter to Leeds?
Monarch Air Group provides quality service, superior service, and many benefits. Our work consists of high professionalism, safety, comfort, and efficiency of flights.
You will travel in a comfortable private charter jet by choosing us and explore many new and exciting things. If you did not find the answer you were looking for here, please get in touch with us by phone for additional questions.
Popular destinations near Leeds by private jet
York – York Art Gallery just 22 miles from Leeds;
Bradford – Cartwright Hall just 22 miles from Leeds;
Manchester – Royal Exchange just 22 miles from Leeds;
Sheffield – Beauchief Abbey just 36 miles from Leeds.
Hotels in Leeds
DoubleTree by Hilton Hotel Leeds City Centre, Granary Wharf, 2 Wharf Approach, Leeds.
Radisson Blu Hotel Leeds, 1 The Light, The Headrow, Leeds.
Leeds Marriott Hotel, 4, Trevelyan Square, Boar Lane, Leeds.
Crowne Plaza Leeds, Wellington Street, Leeds.
Holiday Inn Express, Armouries Drive, Leeds.
The Queens Hotel, City Square, Leeds.
Holiday Inn Express Leeds City Centre, Cavendish Street, Kirkstall Road, Leeds.
Jurys Inn, Brewery Wharf, Brewery Place, Leeds.
Hotel Novotel Leeds Centre, 4 Whitehall Quay, Leeds.
Park Plaza Leeds, Boar Lane, City Square, Leeds.
Haleys, Shire Oak Rd, Leeds.
42 The Calls, 42 The Calls, Leeds.
Hotel ibis Leeds Centre, 23 Marlborough Street, Leeds.
Cosmopolitan Hotel, Lower Briggate, Leeds.
The Met Hotel, King Street, Leeds.
Clayton Hotel, Sweet Street, Leeds.
The Chambers Riverside West, Riverside West, Whitehall Road East, Leeds.
Quebecs Hotel, 9 Quebec Street, Leeds.