Monarch Air Group offers a wide variety of private jet charter options to and from Larnaca, Cyprus. Our clients benefit from top-notch service, unrelenting dedication to safety, wide selection of aircraft, and years of experience in chartering private jets. To obtain a free quote, please use our online quoting tool provided below, or call toll-free 1-877-281-3051.
Charter a private jet to/from Larnaca, Cyprus
Book a Private Jet Charter to and from Larnaca, Cyprus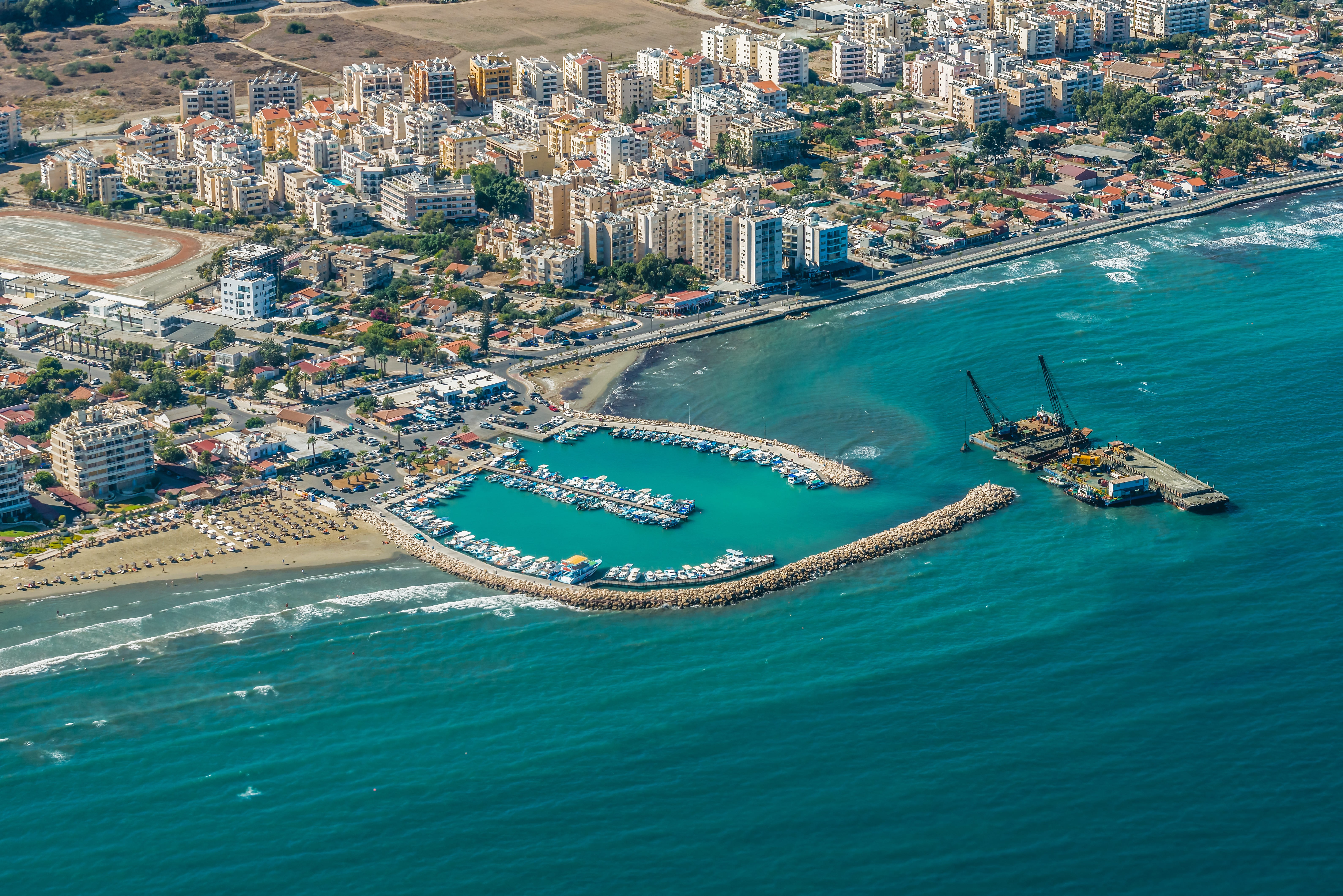 Monarch Air Group offers a wide variety of private jet charter options to and from Larnaca, Cyprus.
Larnaca is the third-largest city in Cyprus and the capital of the eponymous district. It is located on the country's southern coast and plays an essential role in its economy. Charter a private jet in Larnaca to visit one of the oldest cities in Cyprus with a rich past. It's a city where tradition is held sacred, but at the same time, the infrastructure is perfectly developed.
Larnaca is a relatively small resort town with an adjacent beach, beautiful sea harbor, and excellent hotels. The most popular area for travelers on private jet charters in Larnaca is Phinikoudes Promenade. Here are all conditions for a relaxing family vacation or active with many impressions. Larnaca is renowned for its seaport, marina, palm-tree seafront, the Hala Sultan Tekke, the Church of Saint Lazarus, the Larnaca District Archaeological Museum, the Kamares Aqueduct, the Larnaca Castle, excellent seafood restaurants, and the Festival of the Flood.
Larnaca private flights are served by Larnaca International Airport (LCA), the primary airport in the country. It provides international flights and a hub for people traveling between Europe and the Middle East. The airport is situated 4 km southwest of Larnaca.
Our operators are standing by 24/7 to assist you in scheduling your next luxury air charter to Larnaca, Cyprus. Call us today for a free quote.
Larnaca Map
Larnaca Private Jet Airports
LCA, LCLK, Larnaca International Airport, Larnaca, Cyprus
ECN, LCEN, Ercan International Airport, Nicosia, Cyprus
FAQ for a Private Jet Charter Flights to Larnaca
Why choose a charter jet to Larnaca with Monarch Air Group?
Monarch Air Group understands the unique needs of our customers and tailors every charter flight. We provide a wide range of aircraft for a variety of travel types. When you book your Larnaca private jet charter, you choose your flight time, planes, location, airport location, and extras on board. Call one of our agents for charter jet Larnaca rentals.
How much does it cost to book a Larnaca private jet charter?
Several factors determine the cost of chartering a Larnaca private jet. Generally, the longer the flight distance and the larger the plane, the higher the charter flight cost. Therefore, it is best to consult when choosing a destination and the correct aircraft type. If you have not found the necessary information on air charter Larnaca, you can contact our experts always to get the best individual offer. Moreover, you can get a rough flight cost estimate by using the private jet charter cost estimator.
Here are some approximate prices for private flights to Larnaca:
Charter a Private Jet to Larnaca from London: from $22,380;
Charter Flights to Larnaca from Paris: from $24,070;
Private Charter Flights to Larnaca from Milan: from $18,820.
*Estimated price before taxes & fees.
What types of private jets can use for Larnaca charter flights?
Monarch Air Group charter flights are available for individuals and groups to some of the most beautiful destinations in the USA and many international destinations. The best choice of aircraft for Larnaca charter flights depends on the range, comfort level, and number of passengers. We will find a business jet ideal for your needs and wishes.
| Aircraft type | Passengers | Non-stop range | Cruising speed | Intended use |
| --- | --- | --- | --- | --- |
| Light Jet | up to 6 passengers | about 700 – 2000 miles | 476 to 518 mph | for comfortable short- to mid-range distances |
| Midsize Jet | up to 10 passengers | about 1300 – 1500 miles | 422 to 541 mph | to fly nonstop from coast to coast |
| Super midsize Jet | up to 10 passengers | about 3.500 – 4.000 miles | 490 to 590 mph | for longer flights |
| Heavy Jet | up to 18 passengers | about 6.000 miles | 480 to 551 mph | traveling overseas in luxury for an intercontinental flight |
| Turboprops | up to 10 passengers | about 600 – 1.900 miles | 220 to 360 mph | for short- to mid-range flights |
| Ultra-Long Range Jet | up to 19 passengers | about 2,800 – 7,685 miles | 460 to 594 mph | for long-haul travels |
| Helicopters | up to 28 passengers | about 250 – 600 miles | 150 to 175 mph | for passenger and cargo transportation |
What are the advantages of flying on a Larnaca private jet?
Hiring a private jet has several undeniable advantages over commercial flights. Your private jet charter Larnaca will be tailored to your individual needs. We will create the most suitable offer for any condition and any route. Our specialist is available 24 hours, seven days a week for all your needs.
Popular destinations near Larnaca by private jet
Beirut – one of the most diverse and fascinating countries, has a lot to offer to all visitors from around the world.
Amman – located between the desert and the fertile Jordan Valley, offers a wide variety of tourist attractions, ultra-modern buildings, hotels, fine restaurants, and boutiques.
Tel Aviv – is a fantastic city that enjoys hosting cultural events and receives rave reviews from private aviation clients.
Damascus – is one of the oldest cities in the world and has many famous historic religious sites.
Our clients travel on efficient and comfortable private jets. If you haven't found the answers to all your questions, you can contact our experienced and reliable team at any time or visit our air charter FAQ page.