Monarch Air Group provides private air charter in Laguna Beach, California. Our clients benefit from top-notch service, unrelenting dedication to safety, wide selection of aircraft, and years of experience in chartering private jets. To obtain a free quote, please use our online quoting tool provided below, or call toll-free 1-877-281-3051.
Charter a private jet in Laguna Beach, CA:
Book a Private Jet Charter to and from Laguna Beach, California, United States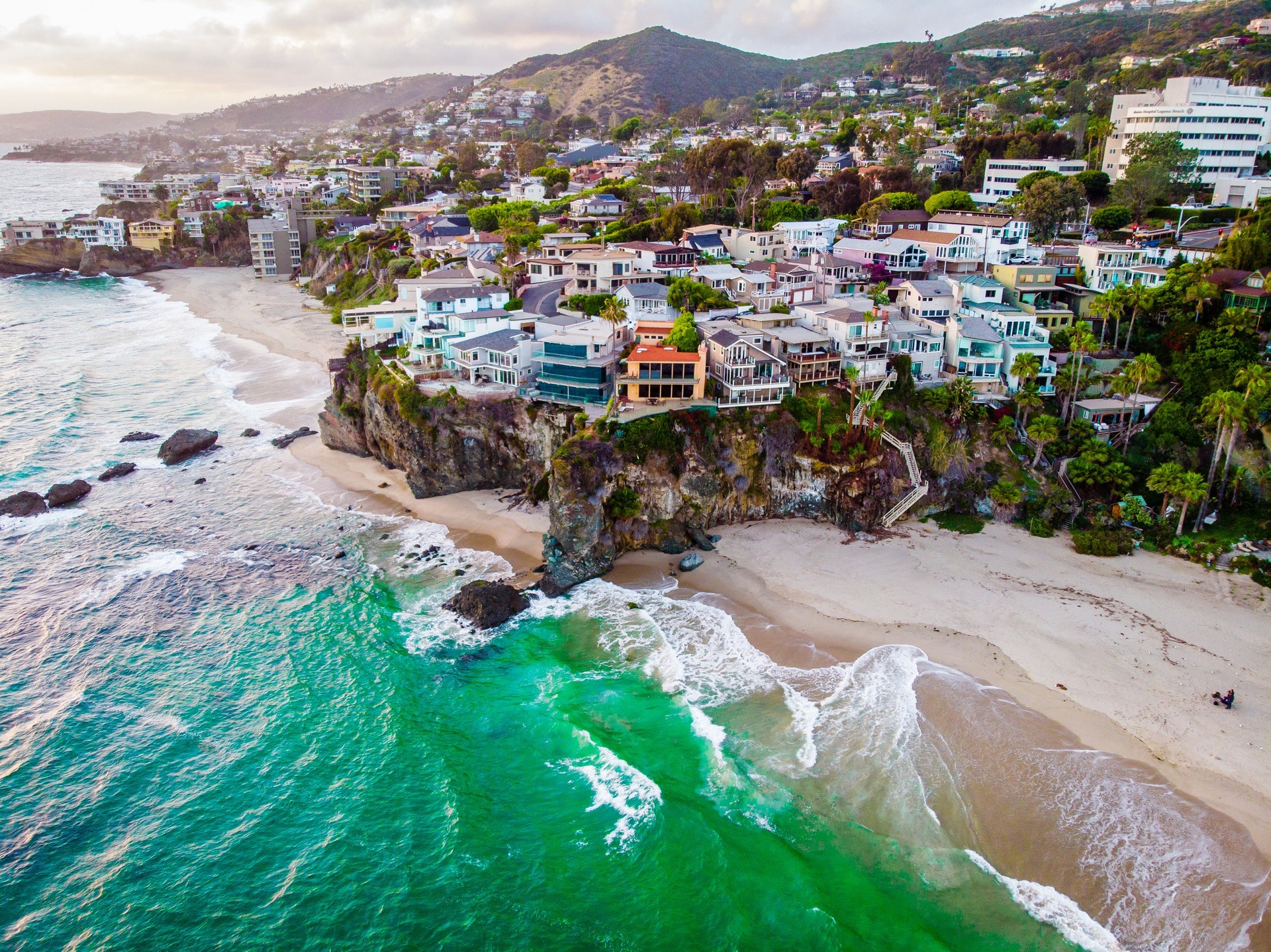 Monarch Air Group offers plenty of private jet charter options to and from Laguna Beach, California, United States.
The famous seaside resort city, Laguna Beach, is a true paradise for locals and visitors. The city lies in the southern part of Orange County and has an estimated population of around 23,190 people. Traveling by private jet Laguna Beach, visit a stunning destination that offers various activities. Plus, the resort city is renowned for its excellent environmental preservation, scenic coves, mild year-round climate, and tons of attractions. Tourism helps the city's economy grow and thrive as the primary industry.
Book a private jet charter Laguna Beach to see the most notable points of interest, like the Virga Gallery, Laguna Coast Wilderness Park, Kush Fine Art Gallery, Table Rock Beach, Treasure Island, Victoria Beach, Aliso Beach Park, Pacific Marine Mammal Center, Crystal Cove State Park, and many more.
Laguna Beach, a resort town with beaches dotted with soft, light yellow sand, beautiful lagoons, and cozy coves, is attractive to ocean swimmers. Also, during the summer is the annual Carnival Masters procession. Choosing a private flight Laguna Beach, art and painting lovers can head to the Laguna Beach Art Museum.
The nearest major airports to serve Laguna Beach charter jet are John Wayne Airport, located 15 miles from the city center, and Long Beach Airport situated 35 miles from the city.
Laguna Beach, CA Private Jet Airports within 70 miles
QEM, Emerald Bay Airport, Emerald Bay
JNP, Newport Beach Airport, Newport Beach
SNA, KSNA, John Wayne Airport, Santa Ana
LGB, KLGB, Long Beach Airport, Long Beach
CLD, KCRQ, CRQ, McClellan-Palomar Airport, Carlsbad
ONT, KONT, LA/Ontario International Airport, Ontario
LAX, KLAX, Los Angeles International Airport, Los Angeles
BUR, KBUR, Bob Hope Airport, Burbank
Hotels in Laguna Beach, CA
Laguna Brisas Hotel, 1600 South Coast Highway.
Art Hotel Laguna Beach, 1404 North Pacific Coast Highway.
14 WEST Boutique Hotel, 690 South Coast Highway.
The Ranch at Laguna Beach, S, 31106 Coast Highway.
Casa Laguna Hotel & Spa, 2510 South Coast Highway.
Pacific Edge Hotel, 647 South Coast Highway.
The Tides Laguna Beach, 460 North Coast Highway.
Holiday Inn Laguna Beach, 696 South Coast Highway.
Hotel Laguna, 425 South Coast Highway.
Crescent Bay Inn Laguna Beach, 1435 North Coast Highway.
Hotel Seven4one, 741 South Coast Highway.
Capri Laguna, 1441 South Coast Highway.
Laguna Shores, 419 North Coast Highway.
Laguna Beach Lodge, 30806 Coast Highway.
Montage Laguna Beach, 30801 Coast Highway.
The Inn at Laguna Beach, 211 North Pacific Coast Highway.
Surf & Sand Resort, 1555 South Coast Highway.
Laguna Beach House, 475 North Coast Highway.
FAQ for a Private Jet Charter Flights to Laguna Beach
Why choose a private jet to Laguna Beach with Monarch Air Group?
Monarch Air Group provides unparalleled flexibility, exclusive service, and many other benefits during private flights to and from Laguna Beach. Our team will meet your requirements to ensure that our services meet your expectations. Call one of our agents for charter jet Laguna Beach rentals.
How much does it cost to book a Laguna Beach private jet charter?
The cost of a Laguna Beach private jet is determined by several factors, like the model of aircraft chosen and the range of the flight. We pride ourselves on high-quality Laguna Beach air charter, fair pricing, and exceptional customer service. This service is not formulaic and is calculated individually in each case. What's more, you can get a rough flight cost estimate by using a private jet charter cost estimator.
Here are some approximate prices for private flights to Laguna Beach:
Charter a Private Jet to Laguna Beach from NYC: from $31,200;
Charter Flights to Laguna Beach from DC: from $28,060;
Private Flights to Laguna Beach from Miami: from $32,300.
*Estimated price before taxes & fees.
What types of private jets can use for Laguna Beach charter flights?
Whether you're traveling for business or pleasure, we'll advise you on selecting a jet based on the route, schedule, number of passengers, or level of service you're looking for. Efficiency, privacy, and security remain our top priorities for every Laguna Beach charter flight.
| Aircraft type | Passengers | Non-stop range | Cruising speed | Intended use |
| --- | --- | --- | --- | --- |
| Light Jet | up to 6 passengers | about 700 – 2000 miles | 476 to 518 mph | for comfortable short- to mid-range distances |
| Midsize Jet | up to 10 passengers | about 1300 – 1500 miles | 422 to 541 mph | to fly nonstop from coast to coast |
| Super midsize Jet | up to 10 passengers | about 3.500 – 4.000 miles | 490 to 590 mph | for longer flights |
| Heavy Jet | up to 18 passengers | about 6.000 miles | 480 to 551 mph | traveling overseas in luxury for an intercontinental flight |
| Turboprops | up to 10 passengers | about 600 – 1.900 miles | 220 to 360 mph | for short- to mid-range flights |
| Ultra-Long Range Jet | up to 19 passengers | about 2,800 – 7,685 miles | 460 to 594 mph | for long-haul travels |
| Helicopters | up to 28 passengers | about 250 – 600 miles | 150 to 175 mph | for passenger and cargo transportation |
What are the benefits of flying a Laguna Beach private jet?
Monarch Air Group will provide you with the privacy and ease of a Laguna Beach private jet charter for business and pleasure. Let your priorities and desires determine your trip by taking control of your flight arrangements. Book your private jet in the shortest time possible while maintaining flexibility in case of unforeseen changes. Our specialist is available 24 hours, seven days a week for all your travel needs.
Popular destinations near Laguna Beach by private jet
Yosemite – 165 miles east of San Francisco, offers every kind of adventure imaginable, like fishing, bird watching, rock climbing, and rafting.
San Francisco – has become a popular vacation destination, getting rave reviews from private aviation clients.
San Diego – endless surf-friendly shorelines and some of the best Mexican cuisine are popular with visitors.
Monterey – in central California, teeming with perfect beaches and charming seaside neighborhoods.
Our clients travel on efficient and comfortable private jets. If you haven't found the answers to all your questions, you can contact our experienced and reliable team at any time or visit our air charter FAQ page.