Monarch Air Group provides private air charter in Krakow. Our clients benefit from top-notch service, unrelenting dedication to safety, wide selection of aircraft, and years of experience in chartering private jets. To obtain a free quote, please use our online quoting tool provided below, or call toll-free 1-877-281-3051.
Charter a private jet in Krakow:
About Krakow, Poland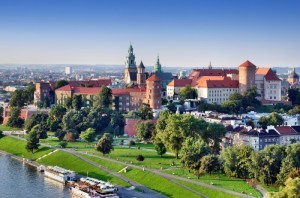 Monarch Air Group offers a wide variety of private jet charter options to and from Krakow, Poland.
One of the oldest cities in Poland, Krakow is the second largest city in the country. It is one of the most important economic hubs in Poland. The city is known for its historic center that includes the Wawel Castle, the Old Town, and the Kazimierz.
The Old Town attracts tourists from different parts of the world and is included in the UNESCO World Heritage Sites. It is home to more than six thousand historic sites, including the Baroque, Renaissance and Gothic buildings, and around two million works of art.
Some of the top-rated tourist attractions in Krakow are the Church of the Virgin Mary, Main Market Square, Lost Souls Alley, Wawel Cathedral, Cracow Historical Museum, Franciscan Church, Planty Park, the Ghetto Heros Square, the Barbican, and many others.
The city is served by John Paul II International Airport Krakow-Balice and Katowice International Airport, which both provide international and domestic flights.
Krakow Airports within 70 miles
1. CZW, Czestochowa, Czestochowa, Poland
2. KRK, J. Paul Ii Balice Intl, Krakow, Poland
3. KTW, Pyrzowice, Katowice, Poland
4. TAT, Poprad/tatry, Poprad, Slovakia
5. ZTD, Schenectady Rail, Schenectady, Poland
Hotels in Krakow
1. Hampton by Hilton Krakow, Dąbska 5, Kraków
2. Sheraton Grand Krakow, Powiśle 7, Kraków
3. Radisson Blu Hotel Krakow, Straszewskiego 17, Kraków
4. Holiday Inn Krakow City Centre, Wielopole 4, Kraków
5. Metropolitan Boutique Hotel Kraków ****, Joselewicza 19, Kraków
6. Hotel Stary, Szczepańska 5, Kraków
7. Hilton Garden Inn Krakow, Marii Konopnickiej 33, Kraków
8. Grand Hotel Kraków, Sławkowska 5/7, Kraków
9. Pokoje Gościnne Rubens, Tadeusza Rejtana 5, Kraków
10. Venetian House Market Square Aparthotel, Rynek Główny 11, Kraków
11. Puro Hotel Kraków, Ogrodowa 10, Kraków
12. Hotel Wawel, Poselska 22, Kraków
13. Hotel Pod Różą, Floriańska 14, Kraków
14. Hotel Senacki, centrum krakowa, Grodzka 51, Kraków
15. Gródek. Hotel, Na Gródku 4, Kraków
16. Andel's Vienna House, Pawia 3, Kraków
17. Queen Boutique Hotel, Dietla 60, Kraków
18. Hotel Columbus, Starowiślna 57, Kraków