Monarch Air Group provides private air charter in Kotor, Montenegro. Our clients benefit from top-notch service, unrelenting dedication to safety, wide selection of aircraft, and years of experience in chartering private jets. To obtain a free quote, please use our online quoting tool provided below, or call toll free 1-877-281-3051.
Charter a private jet to&from Kotor
About Kotor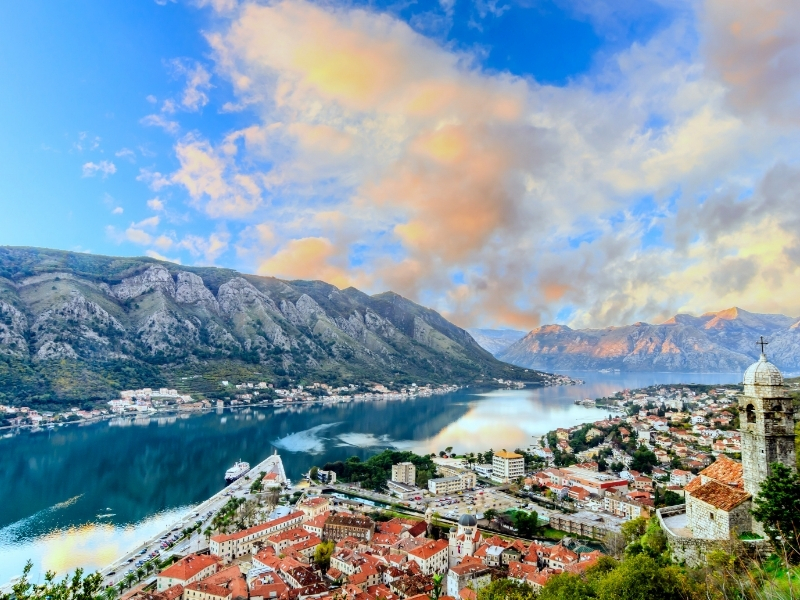 Monarch Air Group offers private jet charter services to and from Kotor, Montenegro.
Kotor is a coastal town in Montenegro on the Adriatic Sea. A UNESCO World Heritage Site, the town was built between the 12th and 14th Centuries. Nearby Mt. Lovćen is recognized as one of the most culturally significant landmarks in Montenegro. From the Bay of Kotor, the mountain's steep limestone cliffs rise 1,640 ft. (500 m) from the sea.
Kotor is a family-friendly city with activities and parks dotted throughout the city. The winding cobblestone streets of Kotor are a portal into the past with the medieval architecture of its churches, museums and palaces. Kotor's medieval old town is considered as one of the best preserved medieval urban areas in the Mediterranean. The Square of the Arms is Kotor's largest square with an iconic clocktower, Napoleon's Theatre and a collection of medieval palaces. The bulwarks on Kotor's south entrance date to the 9th Century and are an example of how early Europeans fortified their towns from foreign invaders.
According to town folklore, in 1452 two fishermen on the coast of Montenegro saw an image of the Virgin Mary in the reef and a chapel was built on the spot. The current church, Our Lady of the Rocks, was built in 1722. To commemorate the date when the image of Mary was first seen, citizens take their boats out each year on July 22 to throw rocks into the sea in a ritual called fašinada.
Montenegro's geological wonders encompass limestone peaks, glacial lakes and the 4,265 ft.-deep (1,300 m) Tara River Canyon. White water rafting on the river is a popular way to see Montenegro's lush green forests, waterfalls and experience the thrill of navigating across more than a dozen river rapids. On this guided tour, your group will take frequent sightseeing stops and enjoy lunch at a riverside restaurant.
If you prefer a slower pace, consider taking a boat tour that will take you on a journey through the history of this area as you pass by the captivating scenery of the Bay of Kotor and stop at the iconic Blue Cave where you and your family can swim and jump from the rocks into the sea.
The nearest airport to Kotor is Tivat Airport (LYTV). The airport is 2.5 miles (4.1 km) from the town center of Kotor. Empty legs and transient aircraft are very popular in the region.
Kotor Map
Airports within 70 miles For Private Jets to Kotor
1. TIV, Tivat Airport, Tivat, Montenegro
2. DBV, Dubrovnik Airport, Dubrovnik, Croatia
3. TGD, Podgorica Airport, Podgorica, Montenegro
4. TIA, Tirana International Airport Mother Teresa, Tirana, Albania
5. OMO, Mostar Airport, Mostar, Bosnia and Herzegovina
6. PRN, Pristina International Airport Adem Jashari, Pristina, Kosovo
7. SJJ, Sarajevo International Airport, Sarajevo, Bosnia and Herzegovina
8. BWK, Bol Airport, Brac, Croatia
9. BRI, Bari Karol Wojtyła Airport, Bari, Italy