Monarch Air Group provides private air charter in Istanbul, Turkey. Our clients benefit from top-notch service, unrelenting dedication to safety, wide selection of aircraft, and years of experience in chartering private jets. To obtain a free quote, please use our online quoting tool provided below, or call toll-free 1-877-281-3051.
Charter a private jet to&from Istanbul, Turkey
Private Jet Charter to and from Istanbul, Turkey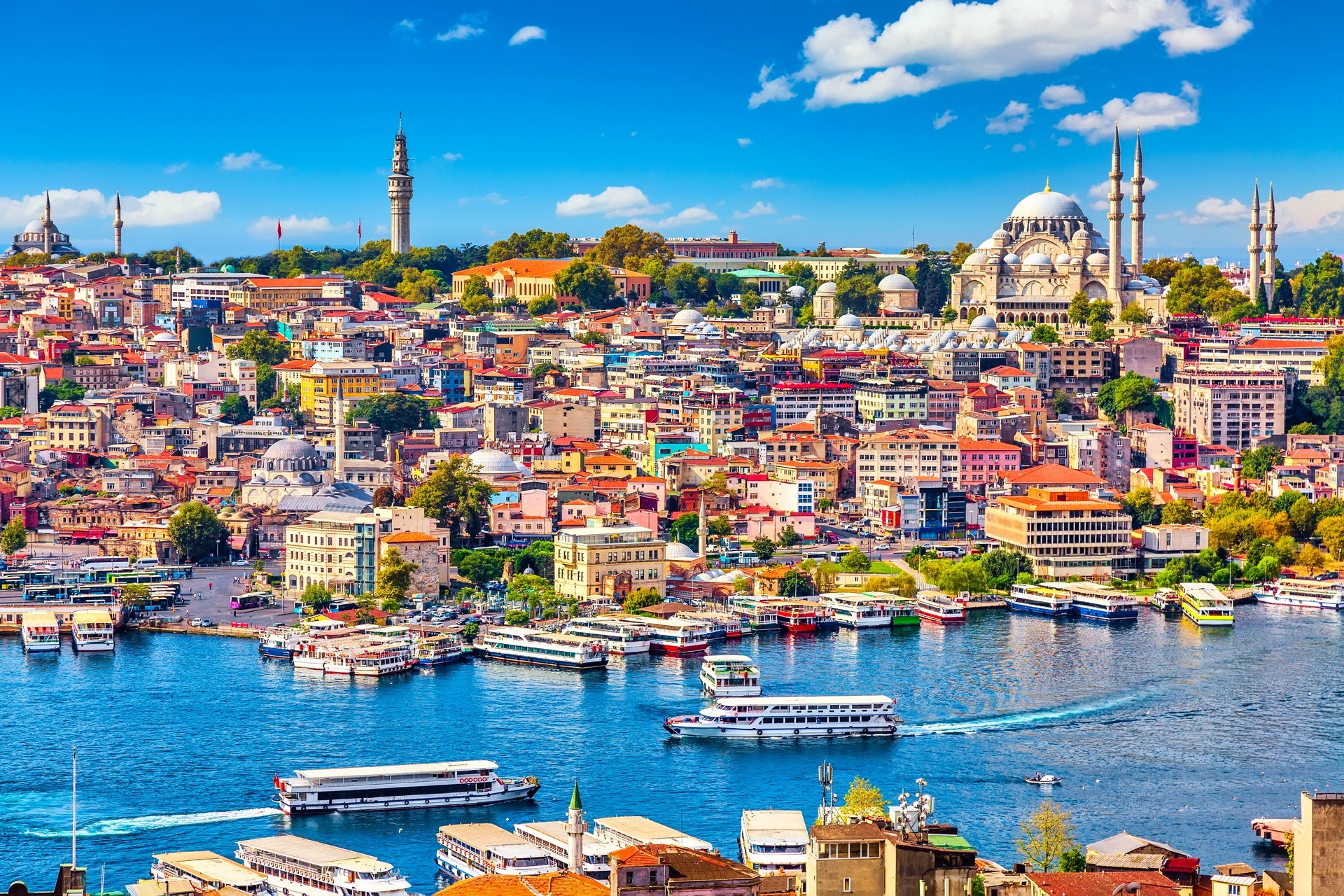 Monarch Air Group provides private jet charter flights in and out of Istanbul, Turkey.
Istanbul is a city of contrasts, where East meets West, ancient history blends with modern culture, and vibrant street life coexists with peaceful gardens and mosques. With its rich heritage and diverse attractions, Istanbul private jet charter offers an exciting mix of things to do for visitors of all interests.
When renting a private jet to Istanbul, enjoy a cruise on the Bosphorus. Istanbul is located on both sides of the Bosphorus Channel, which connects the Black Sea to the Mediterranean. A boat excursion along the strait provides breathtaking views of the city's skyline as well as ancient buildings such as the Galata Tower, Dolmabahce Palace, and Rumeli Fortress.
This majestic mosque, also known as the Sultan Ahmed Mosque, is one of the most recognizable sights worth visiting when booking a private jet to Istanbul. Six minarets and cascading domes form a stunning silhouette, while elaborate tilework and calligraphy adorn the inside. Also, visitors can enjoy the tranquil ambiance of the courtyard and mosque gardens.
Once you've chartered a private jet to Istanbul, explore Topkapi Palace. This huge complex of buildings was formerly the palace of the Ottoman sultans and is now a museum showcasing the lavish lifestyle of the empire. You may explore the palace's beautiful gardens, hallways, and chambers, as well as view its renowned collection of Ottoman artifacts, like jewelry, weapons, and textiles.
The main airport in Istanbul is Istanbul Airport (IST), which is located on the European side of Istanbul, approximately 21 miles northwest of the city center.
Istanbul Private Jet Rental Cost
The price of renting a private jet to Istanbul might vary significantly based on the size and type of aircraft, the duration of the flight, and other factors.
For example, the cost of renting a light jet, such as an Eclipse 500, from London to Istanbul for a one-way trip can start from around $18,280. For a midsize jet, such as a Hawker 850XP cost can range from $31,680 for a one-way trip.
Istanbul Private Jet Airports
ISL, LTBA, Istanbul Atatürk Airport
IST, LTFM, Istanbul Airport
SAW, LTFJ, İstanbul Sabiha Gökçen International Airport
FAQs: Private Jet Flight to Istanbul
Why Choose a Private Jet to Istanbul with Monarch Air Group?
Customized private jet rentals provided by Monarch Air Group to Istanbul put your convenience, security, and safety first. Our opulent flights cater to your particular requirements and provide privacy and time-saving features.
How Much Does it Cost to Charter a Private Jet to Istanbul?
The cost of renting a private jet to Istanbul is influenced by a number of variables, including the kind of aircraft, the flight path, and the location. The price of each billable flying hour often ranges from $2,000 to $17,000 or more.
What Types of the Private Jets Can Use for Istanbul?
Monarch Air Group chooses the best private aircraft based on the number of passengers, the intended length of the flight, and the requested on-board facilities. Therefore, please give us as much information as you can about your charter trip to Istanbul so that we can give you the finest aircraft and service.
What Are the Benefits of Flying an Istanbul Private Jet?
Compared to commercial flights, private jet charters to Istanbul provide several benefits. With our reliable private jet rental company, you can take advantage of rapid, flexible, and cost-effective travel solutions that cater to your unique requirements, spending capacity, and schedule.
Is It Possible to Travel with Pets to Istanbul on a Private Jet?
You can travel to Istanbul with your pet on a private aircraft, but only after researching the city's requirements for importing animals and contacting us first. Also, depending on your pet's size, you might need to rent a bigger plane to ensure they're safe and comfortable during the travel.
Popular Destinations near Istanbul by Private Jet
Bodrum is a scenic seaside town in southwest Turkey well-known for its lovely beaches, quaint old town, and exciting nightlife. Private jet travelers frequently choose it because it's only a short trip from Istanbul.
Another well-liked coastal location in Turkey is Antalya, well-known for its magnificent beaches, interesting historical monuments, and exciting nightlife. Via private plane, it's also conveniently reachable from Istanbul.
Mykonos is a Greek island renowned for its opulent way of life, gorgeous beaches, and exciting nightlife. For those wishing to experience the Greek island way of life, it's a popular vacation and only requires a brief private jet ride from Istanbul.
Another well-known Greek island is Santorini, renowned for its breathtaking scenery, charming villages, and romantic ambiance. It is a well-liked vacation spot for couples and honeymooners and is also conveniently reachable from Istanbul by private aircraft.
Our customers fly in luxurious, modern private aircraft. Contact our friendly and experienced team anytime if you need help locating the answers to your inquiries on our air charter FAQ page.