Monarch Air Group provides private air charter in Innsbruck. Our clients benefit from top-notch service, unrelenting dedication to safety, wide selection of aircraft, and years of experience in chartering private jets. To obtain a free quote, please use our online quoting tool provided below, or call toll-free 1-877-281-3051.
Charter a private jet in Innsbruck:
Private Jet Charter to and from Innsbruck, Austria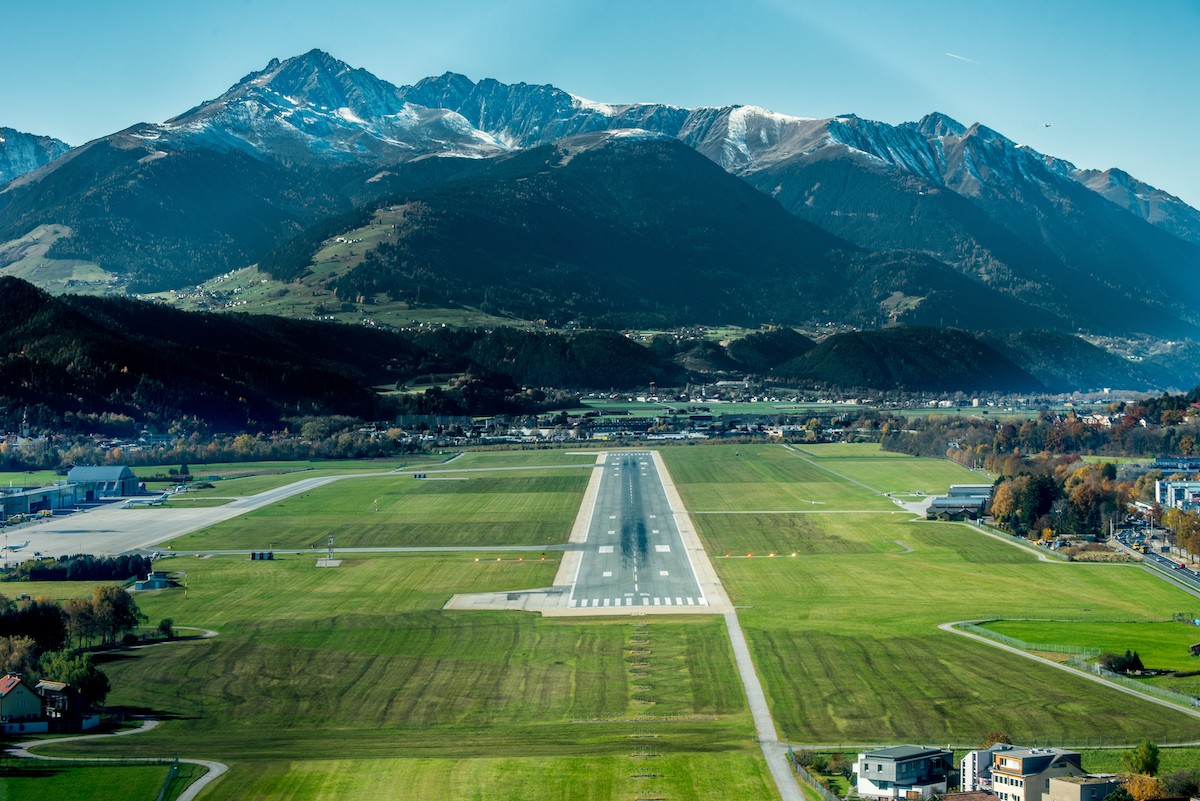 Monarch Air Group offers a wide variety of private jet charter options to and from Innsbruck, Austria.
Innsbruck, located in the Inn Valley in western Austria, is the capital and university city of Tyrol and a renowned winter sports destination. It is one of the country's most prominent tourist destinations and western Austria's economic and cultural hub. Whether you're a history buff, an outdoor enthusiast, or simply looking to explore a new city, Innsbruck private jet charter has plenty to offer.
Once you've chartered a private jet to Innsbruck, explore the Old Town. Innsbruck's Old Town is a beautiful, well-preserved medieval city center with winding streets, colorful buildings, and historical landmarks. Stroll through the narrow lanes and admire the architecture, which features a mix of Baroque, Renaissance, and Gothic styles. Some of the highlights of the Old Town include the Golden Roof, the Hofburg Imperial Palace, and the St. James' Cathedral.
When renting Innsbruck, be sure to check out the Bergisel Ski Jump, one of the city's most famous landmarks. It offers stunning views of the surrounding mountains and the city itself, and you can also take a funicular to the top of the jump and soak in the panoramic vista from the observation deck. Additionally, the ski jump museum provides a great opportunity to learn about the history of ski jumping and the famous events that have taken place at Bergisel.
For those who prefer to explore the great outdoors, Innsbruck private jet offers plenty of hiking opportunities amidst the breathtaking alpine scenery. Take a cable car up to the Nordkette mountain range and tackle the rugged terrain, or venture out to the trails in the Patscherkofel area. Some of the top hikes in the region include the Nordkette Ridgeway Trail, the Zirbenweg Trail, and the Goetheweg Trail.
If you have the time for a day trip, book a private jet to Innsbruck and make your way to Swarovski Crystal Worlds, situated just a short distance outside of the city. This one-of-a-kind attraction merges art, design, and nature in a spectacular display of dazzling crystal installations. Wander through the gardens and water features, and be sure to check out the onsite store to pick up some exquisite crystal souvenirs.
Innsbruck Kranebitten Airport, located 3 miles from the city center and offers both domestic and international aircraft, serves the city.
Innsbruck Private Jet Rental Cost
Innsbruck private jet rental range from $2,000 – $17,000 per billable flight hour or more. Turboprop jets cost from $1,800 to $2,400 per hour, light jets cost from $2,400 to $3,900, mid-size or super-midsize jets cost from $4,200 to $8,100 per flight hour, while heavy and ultra-long range jets per flight hour cost from $7,200 to $17,800.
Airports for Private Jets near Innsbruck
BZO, Bolzano, Bolzano, Italy
FEL, Fuerstenfeldbruck, Fuerstenfeldbruck, Germany
INN, Innsbruck-kranebitten, Innsbruck, Austria
OBF, Oberpfaffenhofen, Oberpfaffenhofen, Germany
FAQ: Private Jet Flights to Innsbruck
Why choose a charter jet to Innsbruck with Monarch Air Group?
When Monarch Air Group organizes your private jet flight to Innsbruck, your comfort, safety, and enjoyment are our highest priorities. Our first-rate private aircraft journeys are tailored to your specific needs and include amenities designed to improve your travel experience.
What Types of the Private Jets Can Use for Innsbruck?
The number of passengers, price, needed range, and preferred travel path all influence private aircraft options for Innsbruck. As a result, our company provides personalized, one-of-a-kind private aircraft charters, ensuring maximum privacy and time savings for a stress-free and joyful travel experience.
What are the Benefits of Flying an Innsbruck Private Jet?
Private plane charter to Innsbruck has various advantages over other modes of transportation. Our well-known private jet rental company offers flexible, cost-effective travel solutions adapted to your needs, time limits, and budget.
Can I Bring My Pet on a Private Jet to Innsbruck?
Our flights to Innsbruck are pet-friendly. However, we recommend notifying us in advance to ensure compliance with the city's pet travel policies. Select an aircraft with a pet-friendly cabin to ensure your pet's safety and comfort further.
Popular Destinations near Innsbruck by Private Jet
Munchen is the capital of the German state of Bavaria and the third-largest city in Germany, with a population of approximately 1.5 million people. It is known for its beautiful architecture, world-renowned museums, and cultural events such as Oktoberfest, the annual beer festival that attracts millions of visitors worldwide.
Salzburg is a picturesque city in western Austria, situated at the foothills of the Alps. It is known for its stunning baroque architecture, historical landmarks, and association with the composer Wolfgang Amadeus Mozart, who was born there in 1756.
Stuttgart is the capital of the state of Baden-Württemberg in southwestern Germany. It is a major industrial center and is home to several large companies, including Porsche and Mercedes-Benz. The city is also known for its cultural institutions, such as the State Opera, and its many parks and green spaces.
Nuremberg is a city in the northern part of Bavaria, Germany. It is known for its well-preserved medieval architecture, including the Nuremberg Castle and the historic Old Town. Nuremberg was an important center of the Holy Roman Empire and later played a key role in the Nazi regime as the site of the infamous Nuremberg Trials after World War II.
For all of your transportation needs, our company provides the most luxurious and advanced private aircraft. The "Frequently Asked Questions" section of our website contains additional information. Our team is always available to assist you.