Monarch Air Group provides private air charter in Hong Kong. Our clients benefit from top-notch service, unrelenting dedication to safety, wide selection of aircraft, and years of experience in chartering private jets. To obtain a free quote, please use our online quoting tool provided below, or call toll-free 1-877-281-3051.
Charter a private jet to&from Hong Kong
Book a Private Jet Charter to Hong Kong, China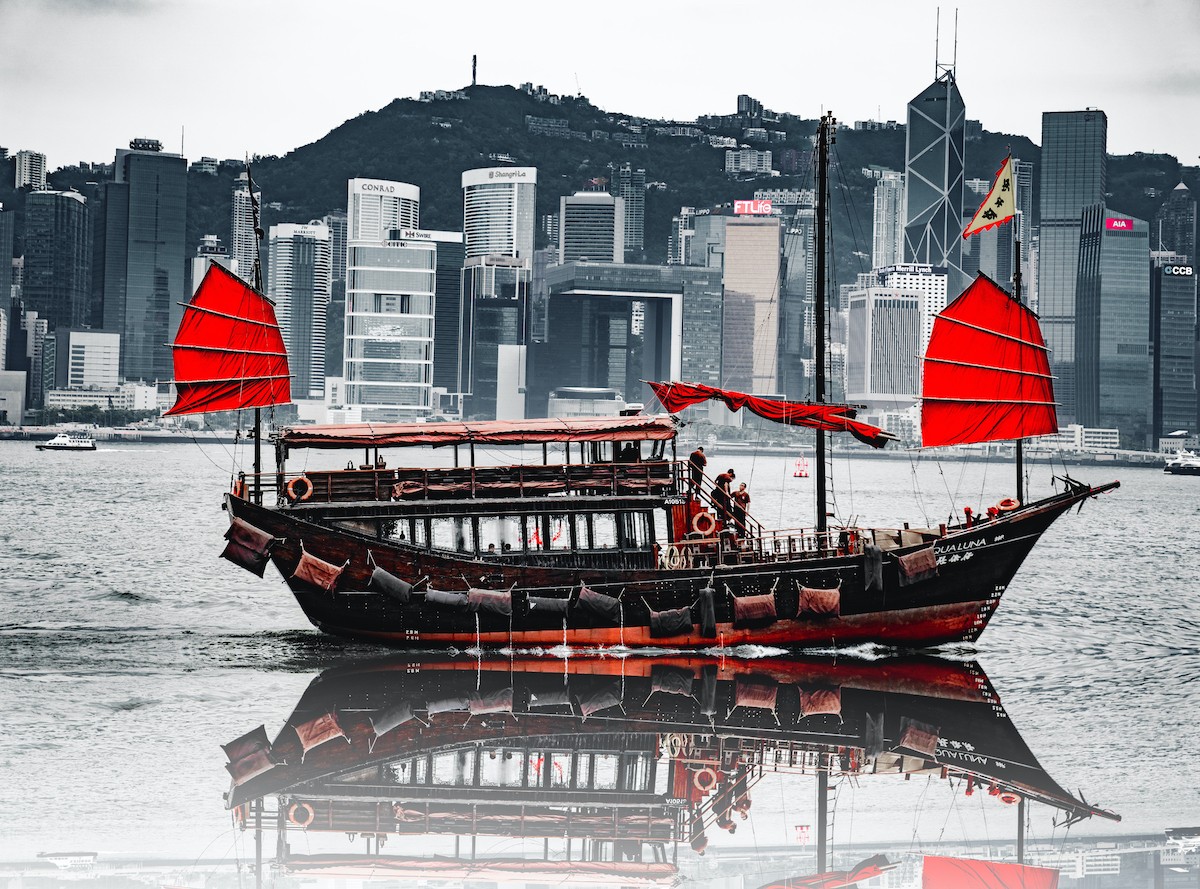 Monarch Air Group provides private jet charter flights in and out of Hong Kong, China.
East of the Pearl River Delta in South China lies Hong Kong, one of the most developed cities in the world and a major global financial center. The incredible blend of Eastern and Western cultures makes a private jet charter Hong Kong a popular choice.
Often called the "Pearl of the Orient" and "Asia's World City," Hong Kong is a vibrant and diverse city with various traditions, cultures, and exotic influences attracting tourists from all over the world. Modern skyscrapers, massive amusement centers for children, chic restaurants with exotic cuisine, exciting attractions, picturesque parks, and luxurious beaches await travelers on private charter flights to Hong Kong.
With beautiful natural scenery, mild climate, rich history and culture, and unique traditions, Hong Kong is one of the most popular travel destinations in the world. Charter a private jet to Hong Kong to see the most notable tourist attractions are the Hong Kong Coliseum, Peak, Hong Kong Heritage Museum, Hong Kong Space Museum, Hong Kong Museum of Art, Ocean Park, Victoria Harbor, Repulse Bay, Po Lin Monastery and the Giant Buddha, Temple Street Night Market, Tai O Fishing Village, Lantau Island and much more.
January offers Chinese New Year and the Toy and Games Show if you want to combine a private flight to Hong Kong with visits to festivals and celebrations. Also, March offers a gastronomic arts festival and a film festival, while May sees the original Bun Festival. All of the festivities in Hong Kong are spectacular.
Hong Kong jet charters are serviced by Shenzhen Bao'an International Airport (SZX), Macau International Airport (MFM), and Hong Kong International Airport (HKG). All airports are well-equipped and can accommodate private jets of various sizes.
Cost to charter a private jet to or from Hong Kong
The cost of a private jet to Hong Kong will vary depending on the size of the private jet, duration, flight time, and other factors. Here are some price options for private jets to or from Hong Kong.
To/From Location
London
Singapore
Sydney
Aircraft Type
Heavy Jet
Light Jet
Ultra Long-Range Jet
Estimated Price
(One-Way)
$171,000 – $209,000
$34,000 – $43,000
$207,000 – $255,000
Flight Duration
12hr 25min
4hr 25min
10hr 30min
Hong Kong Private Jet Airports within 70 miles
HHP, H K Heliport, Hong Kong, Hong Kong.
HKG, Hong Kong International, Hong Kong, Hong Kong.
HUZ, Huizhou, Huizhou, China.
KTZ, Kwun Tong, Kwun Tong, Hong Kong.
MFM, Macau International, Macau, Macau.
QDM, Shek Mum, Shek Mum, Hong Kong.
SZO, Shanzhou, Shanzhou, China.
SZX, Shenzhen, Shenzhen, China.
ZAS, Shunde Ferry, Shunde, China.
ZCU, She Kou Ferry, She Kou, China.
ZGN, Zhongshan Ferry Port, Zhongshan, China.
ZJK, Off Line Point, Chek Lap Kok, Hong Kong.
ZTI, Humen Port, Humen, China.
ZUH, Zhuhai Airport, Zhuhai, China.
FAQs: Private Jet Flights to Hong Kong
Why choose a private jet to Hong Kong with Monarch Air Group?
Monarch Air Group offers private jet charter to Hong Kong, China, any time of the day or night on your terms. Hong Kong private charter flight is the only way to meet all your business and leisure travel needs. With a private jet rental in Hong Kong, you can quietly prepare for important business meetings or relax aboard a comfortable business jet.
How much does it cost to book a Hong Kong private jet charter?
Hong Kong jet rental prices range from $5,600 and $11,000 per billable flight hour. The aircraft type, range, and availability of additional services influence the cost of a Hong Kong charter flight.
What types of private jets can use for Hong Kong charter flights?
Monarch Air Group has access to a network of private jets and offers customers a wide range of Hong Kong jets. When choosing a private jet for a Hong Kong air charter service, key factors include range, number of passengers, luggage allowance, and desired level of onboard amenities.
What are the benefits of flying on a Hong Kong private jet?
With private jet charters Hong Kong, enjoy the convenience, flexibility, and premium experience of flying on luxury private jets. We can help you choose from popular private jets to comfort you and your group to your destination. Moreover, private aviation can help you avoid the hassle of busy airports and lines at security checkpoints.
Popular destinations near Hong Kong by private jet
Beijing – is home to many of China's major attractions.
Shanghai – is an elegant, historical, and cosmopolitan city with many fine restaurants and bars.
Guangzhou – is one of China's largest and most exciting centers.
Chengdu – is known for its lively nightlife, tea houses, and searing Sichuan cuisine.
Our clients travel on efficient and comfortable private jets. If you have yet to find the answers to all your questions here, you can contact our experienced and reliable team at any time or visit our air charter FAQ page.