Monarch Air Group provides private air charter in Havana, Cuba. Our clients benefit from top-notch service, unrelenting dedication to safety, wide selection of aircraft, and years of experience in chartering private jets. To obtain a free quote, please use our online quoting tool provided below, or call toll-free 1-877-281-3051.
Charter a private jet to/from Havana, Cuba
Here we provide private jets in a variety of sizes that are available in just a few hours notice along with helicopters, turbo props, and long-range jets. We pride ourselves on the highest level of standards, personal service, flexibility, safety, and competitive pricing than any other private jet provider.
Need to arrange your travel based on your own schedule? Our jets let you travel when you want and avoid connecting flights as well as unnecessary layovers.
Choose from any Citation, Hawker, Lear, Falcon, Challenger, Gulfstream, Global Express, Boeing Business Jet or our large selection of long-range jets. Don't see what you're looking for? We have access to all other jet types as well. Please feel free to call our account executives to book your next jet charter flight.
Mid-size Jets to/from Havana
Mid-size jets accommodate up to nine passengers and offer an enclosed lavatory and outside luggage compartment. Select jets offer seats in a club-center pattern, ideal for in-flight meetings. Additional amenities further enhance the flight experience.
Mid-size jets are ideal for smaller groups, short-range flights, and those seeking a cost-effective private jet without sacrificing speed, convenience and luxury.
Heavy Jets to/from Havana
Heavy jets can accommodate up to 16 passengers and offer a more spacious interior, with a cabin height of over 6 ft. Select jets offer seats that recline into full-length beds, as well as galleys and refreshment bars. Heavy jets are ideal for large groups or long-range nonstop flights. Additional amenities enhance the flight experience. Cruising speed is high while the ride is smooth, quiet and enjoyable.
About Havana and Places to Discover
Havana, the capital of Cuba, is the largest city in the Caribbean and one of the most culturally significant and colorful cities in the world. Situated on the north coast of the island, and one of the fourteen provinces of the Republic of Cuba, Havana has a lot to offer private luxury jet travelers. From its culturally celebrated revolutionary history, magnificent 19th-century Spanish colonial architecture, and miles of shimmering beaches, to a variety of exclusive hotels and resorts for luxury getaways, business trips, and special events, Havana is the ultimate tropical paradise getaway.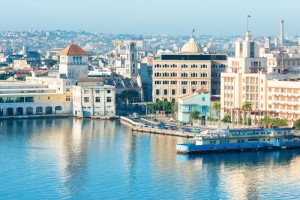 Havana was founded in 1515 by Spanish conqueror Diego Velazquez de Cuellar and is built around a beautiful natural harbor embellished with glorious Spanish architecture, ranging from colonial, classical and contemporary buildings. It's popular attractions include the National Capital Building, the Museum of the
Revolution, the Museum of the City, the National Museum of Natural History, the Cathedral de San Cristobal, the Partagas Cigar Factory, the National Aquarium, and the Basilica National Botanical Gardens.
The Old Town of Havana, also known as "La Habana Vieja", was designated a UNESCO World Heritage Site in 1982, and many buildings have been restored to preserve its heritage. Havana hosts variety of festivals and events throughout the year the Havana Carnival, the Havana International Book Fair, the International
Festival de Musica de Benny More, the Tecnotur Trade Fair, the Cigar Festival, and the Vuelta a Cuba. Havana is one of the most interesting cities in the world, offering its beautiful natural surroundings, magnificent cultural heritage, and a rich mix of Spanish, Caribbean and African traditions.
Looking for something a little more laid back? Feel free to walk the 'El Malecon' ocean drive, dance the day and night away in local salsa clubs, or bask in the sun of legendary Varadero beach while sipping on a mojito and puffing a freshly rolled Romeo y Julieta… the choice is yours.
Whether traveling from the United States, Europe or anywhere else in the world, newly re-authorized travel allows our clientele to explore this tropical playground.
While chartering a private flight provides extra efficiency, flexibility, comfort, privacy and peace of mind, keep in mind that there are still a number of restrictions and rules in effect when flying to Cuba. You can count on our team of brokers to answer any questions you may have in arranging your charter flight.
Every client is a VIP. On your next private jet to Havana, enjoy Wi-Fi, catering, massage chairs, flight attendants, digital entertainment, catering and more. Our operators are standing by 24/7 to assist you in scheduling your next luxury air charter to Havana. Call us today for a free quote.
Monarch Air Group – Because Experience Matters.