Monarch Air Group provides private air charter in Groningen, Netherlands. Our clients benefit from top-notch service, unrelenting dedication to safety, a wide selection of aircraft, and years of experience in chartering private jets. To obtain a free quote, please use our online quoting tool provided below, or call toll-free at 1-877-281-3051.
Charter a private jet to&from Groningen
Book a Private Jet Charter to and from Groningen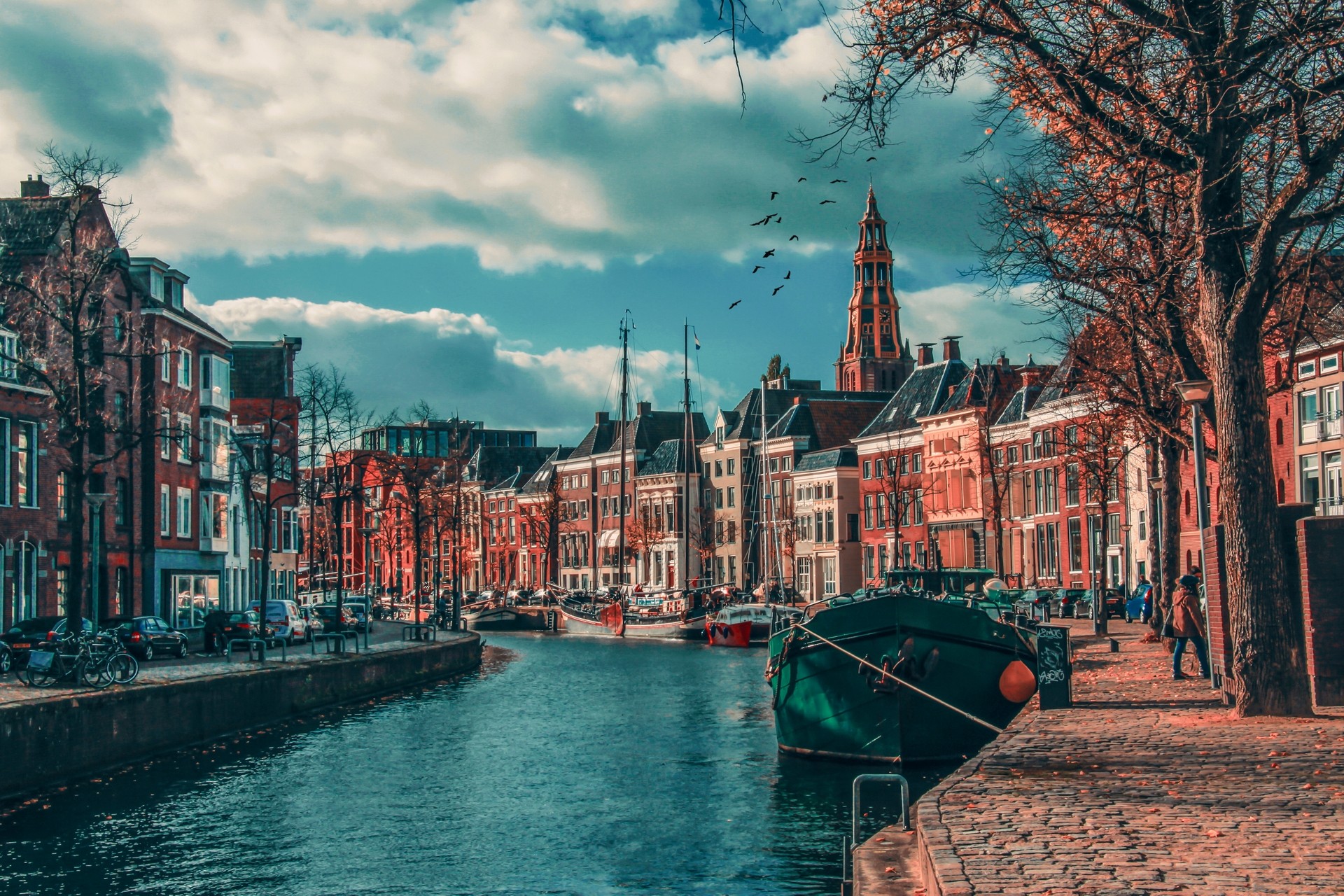 Monarch Air Group provides private jet charter flights to and from Groningen.
Groningen is one of the cities of the Netherlands, with a population of about 184,777, famous for its centuries-old culture and history. It is a small city where you may relax and enjoy the greenery of nature, canoe and catamaran trips on the water canals that intersect and skirt Groningen in various directions.
Additionally, Groningen is a university and modern city, and students make up around one-fourth of the total population. Many young people are in the city, and new cafés, bars, and nightclubs are constantly opening up. Life in Groningen never stops being exciting.
More than 57% of the city's transportation needs are met by bicycles in Groningen, making it the "Bicycle Capital of the World." Groningen's transportation infrastructure features a wide network of bike lanes, bike parking facilities, and vast pedestrian areas in the city center. So if you want to have an excellent bike ride and a wonderful time, rent a private jet to Groningen.
Groningen private jet rentals are available year-round. Each season offers advantages. Springtime's flower season, when tulips blossom, is one of its many benefits. In December, there's a festival of ships, and summer is an excellent time to relax by the water.
When you book a private plane to Groningen, you'll see why its history and attractions draw tourists from all over the world. It's an architectural paradise with its historic cathedrals, churches, luxurious residences, and small houses. There are also beautiful parks, gardens, and lovely alleys. Groninger Museum, Noordelijk Scheepvaartmuseum, Universiteitsmuseum Groningen, GRID Graphic Museum Groningen, and others are must-sees in the city. Zeilcharter Willem Jacob offers wonderful schooner trips. Also, explore Martinikerk, Hoofdstation Groningen, and Provinciehuis Groningen. Relax by admiring lovely canals or attending festivals.
At Groningen Eelde Airport, there is a runway that is 1,800 meters in length. This runway can accommodate turboprops, light private jets, mid-size aircraft, long-haul aircraft, and regional aircraft.
Groningen Private Jet Airports
GRQ, EHGG, Groningen Airport Eelde, Groningen, Netherlands
FAQ for a Private Jet Charter Flights to Groningen
Why choose a charter jet to Groningen with Monarch Air Group?
Monarch Air Group provides private flights to and from Groningen, offering luxury private jets suitable for you depending on the number of passengers and departure seats. We can provide VIP jets, airliners, heavy, light, or turboprop aircraft, at competitive prices for private charter flights to Groningen. When you charter a private jet to Groningen from our company, we guarantee that we will satisfy all of your needs. On a private jet, you have complete control over when and where you go, who you bring along, and what you want to see on board.
How much does it cost to book a Groningen private jet charter?
Our professionals will assist you in organizing a charter of a private jet to Groningen without any difficulties. The price of renting a private jet to go to Groningen is determined by several factors, including the length of the journey, the day of the flight, the number of passengers, and the aircraft type.
Here are some approximate prices for private flights to Groningen:
Charter a Private Jet to Groningen from Copenhagen: from $5,180;
Charter Flights to Groningen from Berlin: from $5,180;
Private Charter Flights to Groningen from Prague: from $5,180.
*Estimated price before taxes & fees.
What types of private jets can use for Groningen charter flights?
Monarch Air Group provides you with access to thousands of private jets of all types and models worldwide for your private jet charter flight to Groningen. Discover the different business jet models available and choose the option that best suits your needs.
| Aircraft type | Passengers | Non-stop range | Cruising speed | Intended use |
| --- | --- | --- | --- | --- |
| Light Jet | up to 6 passengers | about 700 – 2000 miles | 476 to 518 mph | for comfortable short- to mid-range distances |
| Midsize Jet | up to 10 passengers | about 1300 – 1500 miles | 422 to 541 mph | to fly nonstop from coast to coast |
| Super midsize Jet | up to 10 passengers | about 3.500 – 4.000 miles | 490 to 590 mph | for longer flights |
| Heavy Jet | up to 18 passengers | about 6.000 miles | 480 to 551 mph | traveling overseas in luxury for an intercontinental flight |
| Turboprops | up to 10 passengers | about 600 – 1.900 miles | 220 to 360 mph | for short- to mid-range flights |
| Ultra-Long Range Jet | up to 19 passengers | about 2,800 – 7,685 miles | 460 to 594 mph | for long-haul travels |
| Helicopters | up to 28 passengers | about 250 – 600 miles | 150 to 175 mph | for passenger and cargo transportation |
What are the advantages of flying on a Groningen private jet?
Private jet flights are much more luxurious and comfortable than first-class commercial ones. There is no waiting time on the runway due to streamlined check-in and security processes. It's important to note that if you rent a private jet to Groningen, you won't have to share the terminal with any other passengers.
Popular destinations near Groningen by private jet
Rotterdam is the architectural center of Europe, and some even refer to it as the "city of the future." You will not be able to get enough of the city's futuristic architecture and art, as well as the countless canals, ponds, and wildlife islands.
Eindhoven is a lovely city, where you can visit one of the main attractions – Philips Museum, and many other famous sights.
Amsterdam, one of the most famous city, where you can visit the Bloemenmarkt floating market and the famous Keukenhof Park, also you are welcomed in the Museum Quarter, and if you are keen on diamonds, you can visit the Gassan Diamonds factory and the Diamond Museum.
Utrecht – one of the oldest cities in the country, is famous for its unique two-tier canals.
Nijmegen is a cozy Dutch city with a complex history, a measured pace of life, and a friendly atmosphere.
Our clients travel on efficient and comfortable private jets. If you haven't found the answers to all your questions, you can contact our experienced and reliable team at any time or visit our air charter FAQ page.