Monarch Air Group provides private air charter in Graz. Our clients benefit from top-notch service, unrelenting dedication to safety, wide selection of aircraft, and years of experience in chartering private jets. To obtain a free quote, please use our online quoting tool provided below, or call toll-free 1-877-281-3051.
Charter a private jet in Graz:
Book a Private Jet Charter to Graz, Austria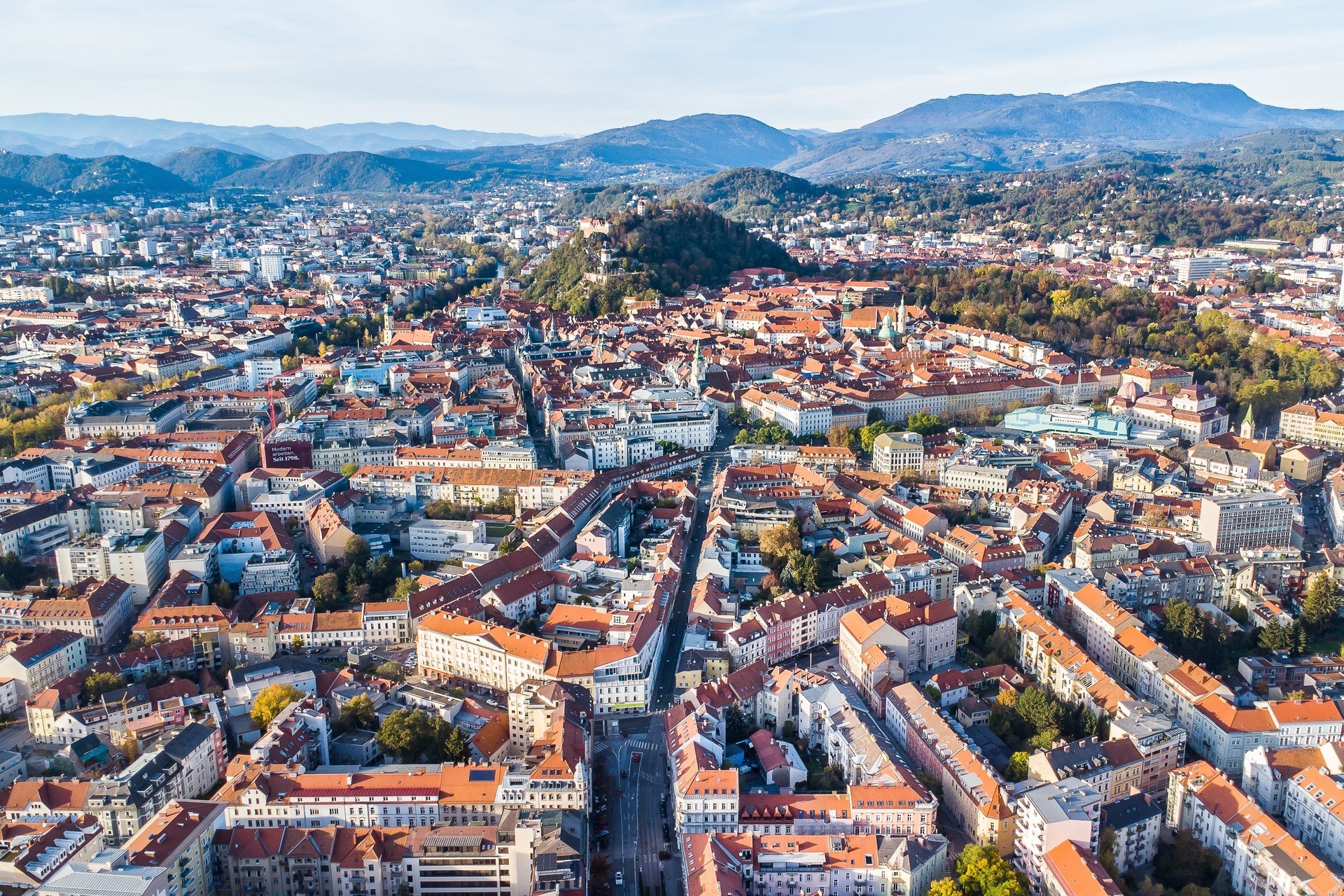 Monarch Air Group offers a great variety of private jet charter options to and from Graz, Austria.
Graz is a strange city, the second largest in Austria, and is the capital of historical Styria. The city is rich in unique culture and history and attracts travelers from all over the world. With a private jet to Graz, you can see the Old Town, which is the main attraction and is listed as a UNESCO World Heritage Site.
Buildings in the city combine different styles and directions. For example, the main square, which combines many eras with the parliament building, is the Landhaus in the Renaissance style, and the City Hall is made in the classicist style. Renting a private jet charter allows you to explore every corner of this beautiful city, visit the ruins of the first fortress on the Schlossberg mountain and learn about the history of Graz. The hill can be reached by funicular or on foot.
It would be best to visit the piece island Murinzel, a glass structure on the water, and in the evening, illumination is turned on here. By chartering a private jet to Graz, you can visit the Winter Palm Garden with an expansive view of exotic plants.
The main tourist attractions in Graz include the Town Hall, Dom, Landhaus, Mausoleum of Emperor Ferdinand II, Burg, Kunsthaus, Schloss Eggenberg, Murinsel, Riegersburg, Calvary Hill, Mariatrost Basilica, Warnemung Museum, Graz Botanical Garden and Natural History Museum. among others.
The city is served by Graz Airport, located 13 km from the city center, and receives international and domestic flights. In addition, the airport is suitable for private charter aircraft.
Graz Private Jet Rental Cost
The cost to charter a private jet to Graz will vary depending on the size of the private jet, duration, flight time, and other factors. Here are some price options for private jets to or from Graz.
Here are some approximate prices for private jet flights to Graz:
Charter a Private Jet to Graz from Londo: light jet – starting at $12,200;
Charter Flights from Paris to Graz: light jet – starting at $10,500;
Private Charter Flights from Copenhagen to Graz: light jet – starting at $9,600.
Graz Private Jet Airports within 70 miles
GRZ, Thalerhof, Graz, Austria
KLU, Alpe Adria, Klagenfurt, Austria
MBX, Maribor International Airport, Maribor, Slovenia
Hotels in Graz
Schlossberghotel – Das Kunsthotel, Kaiser-Franz-Josef-Kai 30, Graz
Hotel Wiesler, Grieskai 4-8, Graz
Hotel Das Weitzer, Grieskai 12-16, Graz
Austria Trend Hotel Europa Graz, Bahnhofgürtel 89, Graz
Hotel Gollner, Schlögelgasse 14, Graz
Hotel Daniel, Europaplatz 1, Graz
Star Inn Hotel Graz, Waltendorfer Gürtel 8-10, Graz
Amedia Hotel Graz, Conrad-von-Hötzendorf-Straße 60, Graz
Augartenhotel Art & Design a member of Design Hotels™, Schönaugasse 53, Graz
Parkhotel Graz, Leonhardstraße 8, Graz
Hotel Villa Rückert, Rückertgasse 4, Graz
Hotel Bokan, Mainersbergstraße 1, Graz-Gösting
Hotel Kern Buam, Kärntner Straße 245, Graz-Straßgang
Palais-Hotel Erzherzog Johann, Sackstraße 3, Graz
Wirtshaus Greiner, Grabenstraße 64, Graz
Römerstube Restaurant & Hotel, Liebenauer Hauptstraße 103, Graz
FAQ for flying private to Graz
Why choose charter jet Graz with Monarch Air Group?
Private jets are chosen by people for whom time savings, personal boundaries, and comfort are a priority. The Monarch Air Group team will help you select your private jet.
How much does it cost to book a private jet charter to Graz?
Charter flights price can range from $1,800 to $17,800 per hour. Rates for specific aircraft in each class may vary turboprop $1,800 – $2,600, light jet $2,400 – $3,900, midsize jet $4,200 – $6,400, super-midsize jet $4,900– $8,100, heavy jet: $7,200– $17,800. Contact our team, and we will help you calculate the cost based on your trip details.
What types of private jets can use for Graz charter flights?
Austrian airports accept different types of private aircraft. Therefore, don't hesitate to contact us to choose a private jet; we will select the best option based on your trip details.
What are the benefits of flying on a private jet charter to Graz?
We are meticulous about our work. Our priority is speed, luxury, safety, and comfort. With Graz private jet charters, you can enjoy your flight's benefits. We take the issue seriously to meet your needs in full.
Popular destinations near Graz by private jet
Leibnitz – Schloss Seggau is a luxurious complex for the perfect vacation just 23 miles from Graz;
Maribor – you can visit the oldest winery and taste great drinks just 43 miles from Graz;
Vienna – the historic center of Vienna, the luxurious Beldever palace complex, and other attractions only 120 miles from Graz.