Monarch Air Group provides private air charter in Graz. Our clients benefit from top-notch service, unrelenting dedication to safety, wide selection of aircraft, and years of experience in chartering private jets. To obtain a free quote, please use our online quoting tool provided below, or call toll-free 1-877-281-3051.
Charter a private jet in Graz:
About Graz, Austria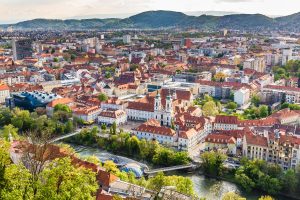 Monarch Air Group offers a great variety of private jet charter options to and from Graz, Austria.
The second-largest city in Austria, Graz is the capital of Styria, also known as a university town. It is one of the most popular tourist destinations in the country that boasts a unique culture and rich history. The old town of Graz is added to the UNESCO World Heritage List and stays the main tourist attraction in the city.
The major tourist sights in Graz include the Rathaus, Dom, Landhaus, Mausoleum of Emperor Ferdinand II, Burg, Kunsthaus, Schloss Eggenberg, Murinsel, Riegersburg, Calvary Hill, Basilika Mariatrost, Museum der Wahrnehmung, Botanical Garden of Graz and Natural History Museum, among the others.
The city is served by Graz Airport, which is located 13 kilometers from the city center and offers international and domestic flights.
Graz Airports within 70 miles
1. GRZ, Thalerhof, Graz, Austria
2. KLU, Alpe Adria, Klagenfurt, Austria
3. MBX, Maribor International Airport, Maribor, Slovenia
Hotels in Graz
1. Schlossberghotel – Das Kunsthotel, Kaiser-Franz-Josef-Kai 30, Graz
2. Hotel Wiesler, Grieskai 4-8, Graz
3. Hotel Das Weitzer, Grieskai 12-16, Graz
4. Austria Trend Hotel Europa Graz, Bahnhofgürtel 89, Graz
5. Hotel Gollner, Schlögelgasse 14, Graz
6. Hotel Daniel, Europaplatz 1, Graz
7. Star Inn Hotel Graz, Waltendorfer Gürtel 8-10, Graz
8. Amedia Hotel Graz, Conrad-von-Hötzendorf-Straße 60, Graz
9. Augartenhotel Art & Design a member of Design Hotels™, Schönaugasse 53, Graz
10. Parkhotel Graz, Leonhardstraße 8, Graz
11. Hotel Villa Rückert, Rückertgasse 4, Graz
12. Hotel Bokan, Mainersbergstraße 1, Graz-Gösting
13. Hotel Kern Buam, Kärntner Straße 245, Graz-Straßgang
14. Palais-Hotel Erzherzog Johann, Sackstraße 3, Graz
15. Wirtshaus Greiner, Grabenstraße 64, Graz
16. Römerstube Restaurant & Hotel, Liebenauer Hauptstraße 103, Graz