Monarch Air Group provides private air charter in Goa. Our clients benefit from top-notch service, unrelenting dedication to safety, wide selection of aircraft, and years of experience in chartering private jets. To obtain a free quote, please use our online quoting tool provided below, or call toll-free 1-877-281-3051.
Charter a private jet in Goa:
Book a Private Jet Charter to and from Goa, India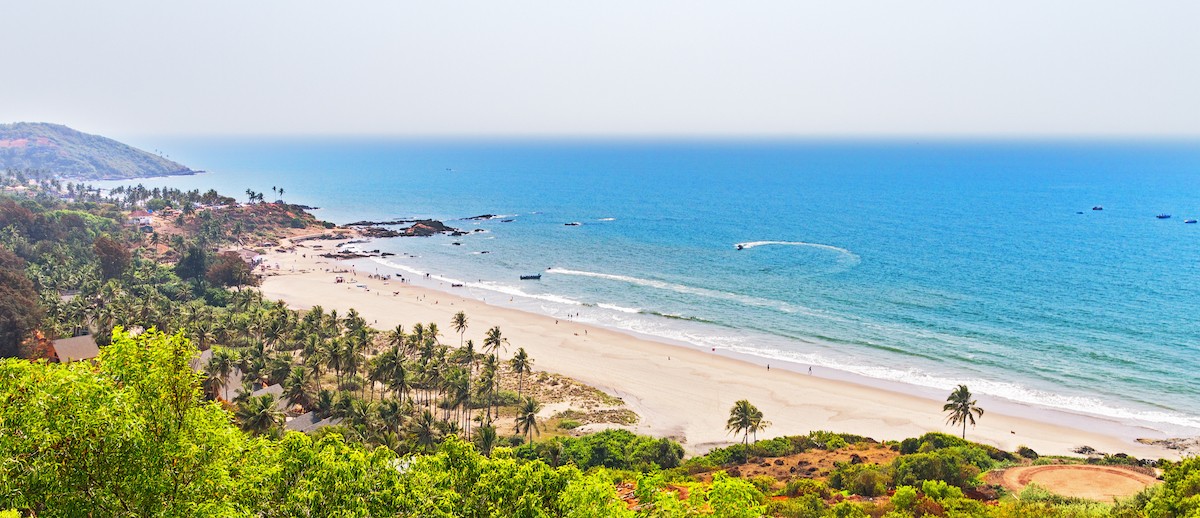 Monarch Air Group offers a wide variety of private jet charter options to and from Goa, India.
Bounded by Karnataka to the south and east and Maharashtra to the north, Goa is the country's fourth-smallest state by population and the smallest by area. It was ranked as the state with the best quality of life in India. Book a private flight to Goa for a sporting activity or a serene vacation on the pristine deserted beaches.
Known for its world heritage architecture, spectacular beaches, rich flora and fauna, and places of worship, Goa charter flight draws many domestic and international travelers annually. In the resorts of Goa, all kinds of festivals are celebrated very often. However, the annual carnival, the noisiest and most colorful event, takes place in February each year, including dance contests and costumed processions in the streets.
The state's largest city, Panaji, is the capital, famous for its colorful cobblestone streets, luxurious villas, and buildings. Here the temple of the Immaculate Conception of the Mother of God in Church Square, the Mahalakshmi Temple, and the Menezes Braganza Institute building are the most popular places. Not far from here, the magnificent monument of Portuguese colonial architecture, Old Goa, is also popular among tourists. In the city's historic center, there are quite a few ancient churches, the ruins of the Palace of the Inquisition, a small beach, and more. Each state area offers respectable resorts, hotels, and villas at private jet charters Goa.
Goa charter jet is served by Goa International Airport, best known as Dabolim Airport, which provides domestic and international flights. The airport is located 2 mi from Vasco da Gama's closest city.
Goa Private Jet Airports within 70 miles
GOI, Dabolim, Goa
HBX, Hubli, Hubli
IXG, Sambre, Belgaum
Hotels in Goa
The Leela Goa
Bougainvillea Guest House Goa
Acron Waterfront Resort
Taj Exotica Goa
Shanti Morada
Seashell Beach Suites
Goa Marriott Resort & Spa
Afonso Guest House
Alila Diwa Goa
Planet Hollywood Beach Resort
Fortune Acron Regina
FAQ for a Private Jet Charter Flights to Goa
Why choose a private jet to Goa with Monarch Air Group?
Monarch Air Group provides private jet charter Goa, superior service, and performance. This means you fly out of the airport from a private terminal, avoiding tedious lines at the airport. Business travelers flying a private jet to Goa have amenities aboard the private aircraft. Our team works around the clock to provide the perfect Goa private jet charter. Call one of our agents for a private jet rental to  Goa.
How much does it cost to book a Goa private jet charter?
The cost of a Goa private jet hire is determined by several factors, like the model of the Goa jet you choose and the complexity of the itinerary. Combined with proper planning, you can benefit from some of the best prices for charter flights in Goa. You can contact our experts if you have not found the necessary information on air charter Goa. Moreover, you can get a rough flight cost estimate by using a private jet charter cost estimator.
Here are some approximate prices for private flights to Goa:
Private Jet Flights to Goa from Hyderabad from $19,000;
Private Jet to Goa from Kolkata from $7,800;
Charter Flights to Goa from Delhi from $17,400.
*Estimated price before taxes & fees.
What types of private jets can use for Goa charter flights?
Monarch Air Group will provide the right option for Goa jets according to your requirements. We have access to a wide range of private jets of different sizes. For more information, check out our aircraft guide for Goa charter flights.
| Aircraft type | Passengers | Non-stop range | Cruising speed | Intended use |
| --- | --- | --- | --- | --- |
| Light Jet | up to 6 passengers | about 700 – 2,000 miles | 476 to 518 mph | for comfortable short- to mid-range distances |
| Midsize Jet | up to 10 passengers | about 1,300 – 1,500 miles | 422 to 541 mph | to fly nonstop from coast to coast |
| Super midsize Jet | up to 10 passengers | about 3,500 – 4,000 miles | 490 to 590 mph | for longer flights |
| Heavy Jet | up to 18 passengers | about 6,000 miles | 480 to 551 mph | traveling overseas in luxury for an intercontinental flight |
| Turboprops | up to 10 passengers | about 600 – 1,900 miles | 220 to 360 mph | for short- to mid-range flights |
| Ultra-Long Range Jet | up to 19 passengers | about 2,800 – 7,685 miles | 460 to 594 mph | for long-haul travels |
| Helicopters | up to 28 passengers | about 250 – 600 miles | 150 to 175 mph | for passenger and cargo transportation |
What are the benefits of flying a Goa private jet?
A Goa jet charter allows you to decide when and where you want to fly out. Not to mention, with a Goa private jet charter, you are in control of your schedule. We are ready to listen to your needs and respond quickly to offer the best private jet rental options. Also, with private plane charter Goa you can book a personalized in-flight catering, hotel transfer, or group charter flight.
Popular destinations near Goa by private jet
Agra – is a beautiful city with a rich history, is considered one of the best vacation spots for architecture enthusiasts.
Rajasthan – is in the northwestern part of India with an impressive combination of natural beauty and artificial structures.
New Delhi – is one of the most popular tourist destinations in the country.
Munnar – is considered one of India's most tranquil and beautiful places.
Our clients travel on efficient and comfortable private jets. If you haven't found the answers to all your questions, you can contact our experienced and reliable team at any time or visit our air charter FAQ page.