Monarch Air Group provides private air charter in Genoa, Italy. Our clients benefit from top-notch service, unrelenting dedication to safety, wide selection of aircraft, and years of experience in chartering private jets. To obtain a free quote, please use our online quoting tool provided below, or call toll-free 1-877-281-3051.
Charter a private jet to&from Genoa, Italy
About Genoa, Italy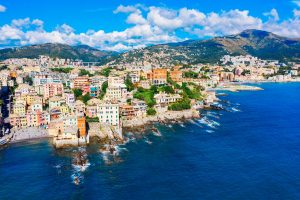 Monarch Air Group provides private jet charter flights in and out of Genoa, Italy.
Genoa is the capital of the Region of Liguria and a seaport city in northwestern Italy. Founded in pre-Roman times, Genoa has been a main commercial seaport and a powerful trade centre for centuries. With its artistic, architectural, and cultural wealth of place to visit, Genoa is one of the largest Italy's cities, welcoming visitors from all parts of the world. It was the birthplace of Christopher Columbus and the world-known violinist Niccolo Paganini.
Genoa's Old Town is the largest old city in Europe, which boasts grand palaces, narrow streets, ancient churches, ancient Renaissance buildings and famous museums.
The most popular tourist attractions include the Aquarium, the Museum of Natural History, the San Lorenzo Cathedral, the Museum of Modern Art, the Cathedral Museum of the Royal Palace, the Chiossone Museum of Oriental Art, the Museum at the Prince's Palace, and the National Ligurian Gallery at the Spinola Palace. With its rich cultural heritage and long history, Genoa is a famous holiday resort well-known all over Europe.
There is Genoa Cristoforo Colombo Airport situated 4.6 mi west of Genoa's city center.
Genoa Airports within 70 miles
1. ALL, Albenga, Albenga, Italy
2. CUF, Levaldigi, Cuneo, Italy
3. GOA, Cristoforo Colombo, Genova, Italy
4. QMM, Marina Di Massa, Marina Di Massa, Italy
Hotels in Genoa
1. Holiday Inn Genoa City, Via Milano, 47, Genova
2. Grand Hotel Savoia, Via Arsenale di Terra, 5, Genova
3. Hotel NH Genova Centro, Via Martin Piaggio, 11, Genova
4. Hotel Melià, Via Corsica, 4, Genova
5. Hotel Bristol Palace, Via XX Settembre, 35, Genova
6. OLYMPIA HOTEL, Via XX Settembre, 21, Genova
7. Hotel NH Collection Genova Marina, Via Al Ponte Calvi, 5, Genova
8. Hotel Continental Genova, Via Arsenale di Terra, 1, Genova
9. Hotel Nologo, Viale Sauli, 5, Genova
10. Starhotels President, Corte Lambruschini, 4, Genova
11. Le Nuvole Residenza d'epoca, Piazza delle Vigne, 6, Genova
12. Hotel Cairoli, Via Cairoli, 14, Genova
13. AC Hotel Genova, Corso Europa, 1075, Genova
14. Hotel Fiume, Via Fiume, 9, Genova
15. Hotel Vittoria, Via Balbi, 33, Genova
16. Hotel Nuovo Nord, Via Balbi, 155, Genova